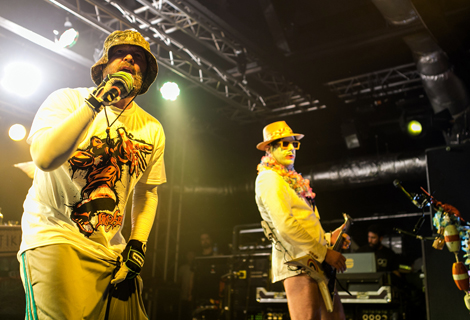 Limp Bizkit brought back some teenage angst to Liverpool, Getintothis' Michael Fowler grabbed his keychains and skateboard.

Tonight the Academy has been taken over by alternative music magazine, Kerrang.
The magazine, first published 33 years ago, has set up possibly their biggest annual tour to date by signing up the supreme kings of nu-metal, Limp Bizkit, a band now twenty years in the making.
Though a lot of time has passed since Getintothis last played Chocolate Starfish on our Mini Disc Walkmans, and the band have become more dated than the Mini Discs themselves, we're pretty excited about this gig. It was never going to be dull.
Upon our arrival, we're introduced to Nekrogoblikon, who were hyped before the gig by their funny and expensive looking music video, No One Survives.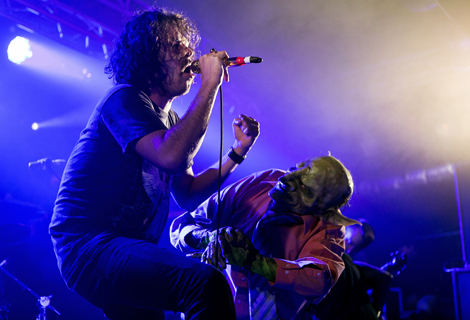 Nekrogoblikon at O2 Academy, Liverpool
Their tunes were an instantly forgettable wall of shouting, screams and fuzz, accompanied on stage by an annoying, green goblin who offered absolutely nothing to the band but their name, and some embarrassing and dire air guitar. They were loud, dumb and disappointing.
Japanese metal-core band Crossfaith soon showed the goblin how to put on a show. If you're presuming this writer is just plain against screaming in a song, then you're mistaken. Crossfaith did it superbly. Every single member of that band could have been a frontman.
Every single song they played was an encore. They were stage diving, raising their instruments to the heavens and playing rock music like kids who've studied a BA in MTV2. The metal headed boy band even got more than half the crowd to get down to their knees before stirring them into a frenzy and finishing their set in real style.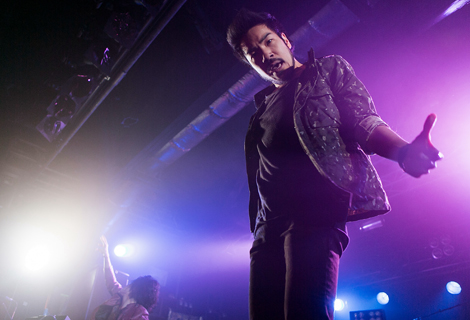 Crossfaith at O2 Academy, Liverpool
As Crossfaith took their leave a giant man dressed as a Hawaiian witch doctor, with tiki dress and face paint, was helping set up the Limp Bizkit stage.
He'd created a candlelit Tiki bar in the right hand corner, which could only have been for the eccentric and always dressed up Wes Borland. Part of the fun seeing any Limp Bizkit gig is the incredible outfits that Borland is renowned for.
This time Borland was dressed as a cartoon tourist, in a boater hat, cream suit and no trousers. If it was a reference to something it went over our heads, if you know, tell us.
Then a beardy Fred Durst appeared and Limp Bizkit jumped straight into their cover of Faith from the Three Dollar Bill Yall$ album. Apparently George Michael hates this version, which makes us love it all the more.


Limp Bizkit at O2 Academy, Liverpool
It's a wild and unforgiving, guttural and obnoxious song. With lyrics changed from "I know not everybody has a body like you," to "a body like me," it's unsurprising that Durst is often called an "asshole," a moniker he's learnt to accept, calling himself 'The Chocolate Starfish,' and yeah, that's how they named that album.
After flying through the 48 fucks in the lyrics of Hot Dog, they started rollin' out the hits of Fast Lane, My Generation and of course, nu-metal's version of The Hokie-Cokey, Rollin'.
Each song was fondly remembered by the crowd, most of them knowing every single word. Instead of coming to a halt here, Limp Bizkit offered their LB-heads covers of Pearl Jam and Nirvana.
Both covers seemed pretty spontaneous, which made it less ridiculous than if they were to start spewing out crowd pleasing covers, but for all we know it was always the scheme.
The set ended with Nookie, the Mission Impossible 2 theme song Take a Look Around, and Break Stuff.


Limp Bizkit at O2 Academy, Liverpool
By Break Stuff, the mosh pit was deep and thick and violent and messy, and people were jumping four or five feet high, having the time of their lives.
For anyone to be there and sneer at the gig, you'd have to ask why did you even bother coming? The gig was a celebratory time machine, a portal to a past of teenage angst and despair.
Sure, we can laugh at listening to Limp Bizkit now, but tonight they played their songs as they always have, without a hint of irony.
Fred Durst was thirty when he recorded the lyrics for My Generation, Limp Bizkit have never been a young band. They always wanted to represent the voices of angry kids everywhere, and in whatever they produced they embody that character.
Limp Bizkit are still the reckless youth with the middle finger raised to the haters, it just happens that they're middle aged men now.
Pictures by Getintothis' Tom Adam.
Further reading on Getintothis:
Comments
comments