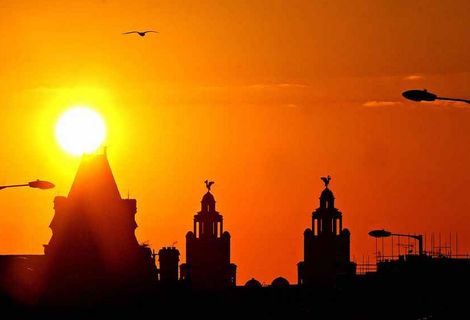 Liverpool's gig schedule for the first half 2014 throws up some fantastic shows, Getintothis' Joseph Viney compiles the best of what's on offer.

Well, well, well…looks like we're back where we started!
No sooner has 2013 left us than 2014 barges in; uninvited but inevitable.
With that, a plethora of cracking shows that proves the city's artists and promoters deign to rest on their laurels after the peaks and troughs of the last 12 months.
It's a veritable feast of superb acts that will be decamping on our collective doorsteps. Luckily, Getintothis' Joseph Viney has brought together the pick of the gigs spanning the next few months.
We also have a Spotify playlist available at the bottom of the guide.
Nathaniel Rateliff at Leaf – Friday January 24
A Liverpool debut show beckons for Denver, Colorado's Mr. Rateliff.
Racking up support slots with Bon Iver, The Low Anthem and Laura Marling, Rateliff became known in the UK through a superb appearance on Later…with Jools Holland last year.
Details.

Neighbourhood BBQ Fairytale Party at Camp & Furnace – Friday January 24
The Neighbourhood BBQ series relaunches in January for a monthly installment of themed block party events, combining Camp & Furnace's Foodslam with a collection of exciting live music acts.
Dropping in will be The Fire Beneath The Sea, Charlotte Ashdown and many more.
Details.
Poltergeist and Baltic Fleet at East Village Arts Club – Friday January 24
Rescheduled from December's cancelled date, Will Sergeant and his charges in Poltergeist finally hit EVAC with 2013 GIT Award winners Baltic Fleet in tow.
Getintothis interviews Will Sergeant.
Details.
Lindi Ortega at Leaf – Saturday January 25
Following her sold out show at Leaf last year, alt. country singer Lindi Ortega returns to Liverpool.
Inspired by songwriting icons Johnny Cash and Leonard Cohen and possessing a voice frequently compared to country legends Emmylou Harris and Dolly Parton, Lindi is on the road in support of her latest album Tin Star released last October though Last Gang Records.
Details.
Terence Parker at Kitchen Street – Saturday January 25
Detroit's Terence Parker pops in to Kitchen Street's pop-up venue for the Shake a Leg night to launch his new LP Life On The Back 9.
Details.
Esco Williams at East Village Arts Club – Saturday January 25
Championed early and frequently by Getintothis, Esco starts 2014 in typically brazen style with a show guaranteed to bring the house down.
Support comes from Mic Lowry and the night will showcase the best of the newest emerging talent.
Details.
Bobby Womack at Philharmonic Hall – Sunday January 26
Soul legend Bobby Womack heads to our fair city and to the cosy and historical confines of the Philharmonic Hall.
Womack has always been chipping away in his own inimitable fashion, and the fruits of his labours will be plain for all to see.
Details.
INKARTA (with Shigeto & Dauwd) at the Kazimier – Thursday January 30
The Kazimier are presenting their first ever club night, showcasing some of the best live acts and DJs in the electronic-field and bringing artists from around the world to create a captivating and immersive experience, laced with tailored set designs and visual stimuli.
Details.

Foals and Outfit at East Village Arts Club – Sunday February 2
What more can be said about either group?
Foals have quickly and strongly positioned themselves as one of Britain's most popular and interesting propositions, while Liverpool's Outfit have ascended sharply with the release of their corking debut album Performance.
An early nod for gig of the year is on the cards here.
Details.
Tera Melos at the Kazimier – Monday February 3
Credited as one of the leading lights in the math-rock club, Tera Melos paradoxically bring forth musical acrobatics allied to a thin pop edge. Chaos will ensue.
Details.
Young Fathers at East Village Arts Club – Wednesday February 5
A blistering set at last summer's FestEVOL showed a newly-adoring audience that Young Fathers are set for a memorable 2014. Get there before they become a very well-known secret.
Details.
London Grammar at O2 Academy – Friday February 7
A strong showing at Liverpool Sound City 2013 proved that London Grammar are more than their singer being, as Radio 1 so clumsily put it, "fit".
Details.

Fiesta Bombarda at Sefton Park Palm House – Saturday February 8
Beginning a highly ambitious and incredibly exciting program for 2014, Fiesta Bombarda invite you to their first carnival of the year, hosted in Liverpool's iconic Sefton Park Palm House.
Headlining the night will be the exhilarating Renegade Brass Band; a 12-piece jazz hip hop ensemble that never fail to entertain audiences with their big band shenanigans.
Details.
Kerrang! Tour feat. Limp Bizkit, Crossfaith and Nekrogoblin at O2 Academy – Sunday February 9
Dust off your red baseball cap, squeeze into those cargo shorts once more and relive some of your awful youth via Fred Durst and his nu-metal cronies.
What can you expect? Lurid rapping, some riffing and no doubt a puzzling attendance demographic. Go 'ead, you know you want to.
In the meantime, check out Durst's mad guitar skills below…
Details.

Cate le Bon at Leaf – Tuesday February 11
The sultry Ms. le Bon returns to Liverpool and Leaf Tea Shop.
In addition to her own career le Bon has been a featured vocalist on Gruff Rhys's Neon Neon project.
Her musical wares are at once playful, ethereal, fun and mysterious. How could you possibly refuse?
Details.
The Wytches at Shipping Forecast – Thursday February 13
Wilfully weird, The Wytches bring their own twisted dimensions to the Shipping Forecast's own underground twisted dimension.
It's a match made in heaven.
Details.
Mikill Pane at O2 Academy – Saturday February 15
Mikill Pane has a nice habit of making the mundane and serious a little more fun than it should be. His infectious tunes and odd outlook on life will have those in attendance bouncing.
Details.

The Strypes at East Village Arts Club – Thursday February 20
Young and energetic enough to make even twenty-somethings jealous, The Strypes are riding the crest of a wave from the rehearsal room and into your frontal lobe.
Already providing great live performances, 2014 is the year they may well mature into something big.
Details.
Warpaint at O2 Academy – Thursday February 20
Warpaint are aptly-named; their music floats in around the senses like a ghostly marching army.
Back on the trail after their first flourishes of public recognition, the quartet will have their blood up and be ready to do battle.
Details.
Presidents Of The USA at East Village Arts Club – Monday February 24
Seemingly around forever now, the Presidents retain a major following thanks to a number of certified smash songs.
Peaches, Lump, Kitty, Bo Weevil and many more will be dusted down and ground out by this rather unhinged trio.
Details.
Penguin Cafe at Epstein Theatre – Monday February 24
Penguin Cafe's music has infiltrated daily life from films like Napoleon Dynamite to countless theme tunes.
It is a sound that relies on the eccentricity of both audience and performer.
Your invite to this weird and wonderful world awaits.
Details.
Foxes at East Village Arts Club – Monday February 24
The beautiful Foxes heads to EVAC on the back of a promising 2013.
Her tunes evoke memories, youth and everything on the spectrum with a smokey, pop tinge. One not to miss.
Details.

Paper Aeroplanes at the Kazimier – Wednesday February 26
Paper Aeroplanes have a little more substance and consistency than their schoolyard-favourite namesake, they bring impressively fine melodies, gentle melancholia and the occasional burst of jaunty pop to the Kazimier.
Details.
Eagulls at Shipping Forecast – Thursday February 27
Eagulls have made a clear flight-path for themselves thanks to some impressive Liverpool outings last year and they should feather a nice nest for themselves with this show in February.
Hopefully we will have come up with some more aviary-based puns by then too.
Toy at East Village Arts Club – Friday February 28
Toy brought their swirling repetition and krautrock mores to Sound City 2013, and this traditions looks set to continue at EVAC.
Details.
George Ezra at Leaf – Friday February 28
Ezra was featured on the BBC Sound of 2014 list, and no doubt he will find this year both an interesting and challenging one.
His echo-laden, serene music is perfectly matched to Leaf's confines and tastes. About time you saw what the hype was about, huh?
Details.

The Selecter at O2 Academy – Saturday March 1
The ska legends return to Liverpool after a support slot with PiL last year. Prepare for social and political commentary mixed with inescapably bouncy tunes as they celebrate their 35th anniversary.
Details.
Luke Sital-Singh, Eliza and the Bear at Leaf – Saturday March 1
Another member of the Sound of 2014 club, Singh's music presents a nice challenge to the listener, with many layers to unwrap.
Eliza & The Bear offer support and look to build on what they have established already.
Details.

Me First and The Gimme Gimme Gimmes at O2 Academy – Sunday March 2
Led by Fat Mike of NOFX fame, Me First… present something of a punk cabaret act with fast-paced covers of all manner of songs, popular or otherwise.
Details.
The Stranglers at O2 Academy – Monday March 3
Punk and new wave stalwarts The Stranglers celebrate their 40th anniversary with another tour.
They haven't lost any of the energy or confrontation that made them a success in the first place, even if original drummer Jet Black has to wear an oxygen mask on stage…
Details.
Crowbar at O2 Academy – Monday March 6
Metal warriors Crowbar come to Liverpool on a mission to wreak destruction and havoc.
They feature Rex Brown on bass, formerly of Pantera and Down, so expect some fine pedigree on display.
Details.
Maximo Park at O2 Academy – Monday March 10
With a new album, Too Much Information, due imminently, north east's finest are back on the road.
Infused with literary pretensions and an ear for a fine blend of rock and pop, Maximo Park are set to be here for a long while yet.
Details.
Lee Scratch Perry at the Kazimier – Wednesday March 12
Age doesn't appear to be a problem for this certified dub and reggae hero, as his showing at Eric's last year and his recent collaboration with Forest Swords show.
Everybody will want a piece of this one so get your house in order early.
Details.
Metronomy at O2 Academy – Thursday March 13
Liverpool is the first stop on a tour in support of new album Love Letters.
Details.

Bombay Bicycle Club at O2 Academy – Saturday March 15
The north London boys get on their bikes for their first UK headline tour in two years. A new album and single have been released so it's time familiarise yourself once again.
Details.
Kathryn Williams at Leaf – Wednesday March 19
This captivating performer will fully inhabit Leaf and hypnotise those in attendance; her lush songs setting a calming and curious tone.
Details.
Trans at Leaf – Thursday March 20
The latest project from ex-Suede guitarist Bernard Butler and Jackie McKeown, Trans create mesmeric psych/Krautrock inspired grooves described as the sound of Television crossed with Neu! and a bit of the Velvets thrown in.
Details.
Dan Croll at the Kazimier – Friday March 28
Old Danny boy has had something of an eventful year, culminating in his music being selected to be a part of FIFA '14 and Grand Theft Auto V.
With a new album on the way and popularity, 2014 could be the year Croll makes a big mark.
Details.

The Orb at East Village Arts Club – Friday March 28
Legendary DJ duo The Orb hit Liverpool with the promise of a crammed, sweaty and thud-laden night ahead.
Details.
Threshold Festival at The Baltic Triangle – Friday March 28 to Saturday March 29
Threshold returns once again with a mouth-watering mix of music, arts, performance, ale, food and Lord knows what else.
Acts confirmed thus far include Natalie McCool, Etches, Wild Eyes and The Mono LPs.
Details.
Radstock Festival feat. Funeral For A Friend, Kids In Glass Houses and more at O2 Academy – Saturday March 29
The home-grown success of Radstock Festival returns for a second year. Some of the acts already confirmed include Funeral For A Friend, Kids In Glass Houses and Hacktivist.
Details.
Molotov Jukebox at the Kazimier – Thursday April 3
Jamaican rhythms aided by trumpet, violin, accordion and a whole host of other sounds, Molotov Jukebox do to your brain exactly what you would expect.
Details.
British Sea Power at East Village Arts Club – Friday April 4
BSP had two strong showings in Liverpool during 2013, firstly at Liverpool Calling before a well-received support slot with Editors.
Always providing more than meets the eye, BSP look to continue mining the rich seam of extreme talent they possess.
Details.
King Khan & The Shrines at Korova – Wednesday April 23
The willfully wicked and groovy King Khan brings his band of loyal subject to the Korova in April, for what should be one of the most entertaining shows of 2014.
Bow down, mortals!
Details.
Liverpool Sound City 2014 at various venues – Thursday 1 to Saturday May 3
The annual bonanza returns and promises even more than the fantastic 2013 showcase.
Details.
Bo Ningen at East Village Arts Club – Wednesday May 14
Japanese noise-terrorists Bo Ningen will be keen to unleash even more mayhem on a city that has come to adore our weird friends from the Far East.
Details.

John Bramwell (I Am Kloot) at the Kazimier – Saturday May 17
Bramwell, leader of cult indie types I Am Kloot, is striking out on his own in a series of shows that guarantee good times, intimacy and a chance to see a genuine man of craft do what he does best.
Details.
White Denim at East Village Arts Club – Wednesday May 21
The slicked-back, effortless ease upon which White Denim base their brand of skewed sunny guitar pop should be seen to be believed.
Most recent LP Corsicana Lemonade is an absolute belter and worthy of your attention.
Details.
Liverpool Psych Fest at Camp & Furnace – Friday 26 to Saturday September 27
Already a major part of not just Liverpool's but the national music calendar, Liverpool Psych Fest delivers as much as it promises.
Already confirmed for this year's kaleidoscopic fun-fest are Goat, Teeth Of The Sea, Anthroprophh, Lay Llamas and Gnod.
Details.

We have also compiled a Spotify playlist for you to enjoy, so get listening, subscribe and keep up to date with other Getintothis playlists that will be surfacing over the year.

Lead image by Gareth Jones.
Further reading on Getintothis:
Comments
comments