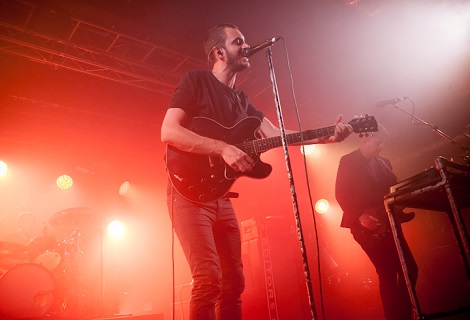 Editors are on the comeback trail after what feels like something of a continued absence, Getintothis' Emma Walsh re-acquainted herself with old memories and a bright future.

Whatever happened to Editors? Once upon a time they were responsible for something of an 'out of body' gig experience at a mud-soaked Oxegen Festival about six years ago.
Since then their albums have gathered dust on a shelf, and you wouldn't be blamed for assuming that the band have done much the same in some shadowy music recess.
News of a comeback LP and a long awaited return to Liverpool was welcome indeed. Back with a bang, Editors opened with Sugar from the new album, The Weight Of Your Love, and proceeded to delight the huge body of fans who were practically vibrating with excitement.
Our favourite fan of the night was the adorable little boy, no more than eight, in the Happy Mondays t-shirt who watched the show from his dad's shoulders (that, dear readers, is good parenting).
We did not, however, adore the group of drunk middle-aged women who had descended behind me, intent of lodging their elbows in our delicate rib cage, showering everyone in the vicinity in vodka and coke, and squawking over every song.
It's difficult to appreciate the poetic brilliance and heartfelt lyrics of Smokers Outside The Hospital Doors when it's being screamed in your ear like a football chant.
Thankfully the epic lights show was enough to drown them and it was a relief to hear something a little less well known that they couldn't screech over.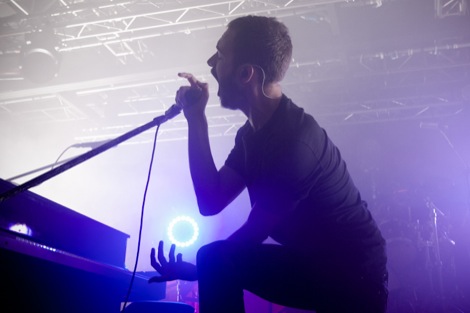 Editors' Tom Smith in typically fine fettle at O2 Academy, Liverpool
Tom Smith, in fine form as usual, delivered with Eat Raw Meat = Blood Drool from In This Light and On This Evening, naturally sung from atop of the upright piano.
Tom Smith is something that has to be seen to be believed; his physical twists, contortions and outreached arms are involuntary actions, as though he's been possessed by the music.
And not to be outdone, the rest of the band are determined to bounce around and sweat just as much as their front man.
With such a wealthy back catalogue, Editors never failed to thrill the audience, every opening riff so well known that it launched another instrumental singalong.
Songs like All Sparks, Munich and Racing Rats have been permanently lodged in the public mind, triggering an outburst of frenzied energy in both band and audience alike.
The band really let loose though when it came to Bullets and In This Light and On This Evening, at times pushing right to the front of the stage to sing back at the audience just as loudly in return.
It's quite something to see so much energy and enthusiasm thrown into songs which are lyrically so poetic.
Despite the shadowy tones that shade their songs, the sheer sweat that goes into the performing of them, and the crazed responses they elicit from fans, most Editors songs are essentially love songs and beautifully written ones at that.
But they are love songs that grown men are perfectly comfortable belting out at the top of their lungs while punching the air with clenched fists.
The final flurry of Papillon and an epileptic fit inducing lights show brought everyone to the point of exhaustion, even the veins in Tom Smith's arms were showing signs of popping.
For as frenzied and chaotic as things can get during their performances, Editors are equally as genteel and polite after them. Apologetic for the long absence and beholden for crowd's appreciation, and such a big turnout on a Monday evening, the band took a humble bow before disappearing off, hopefully for not quite so long an absence as the last.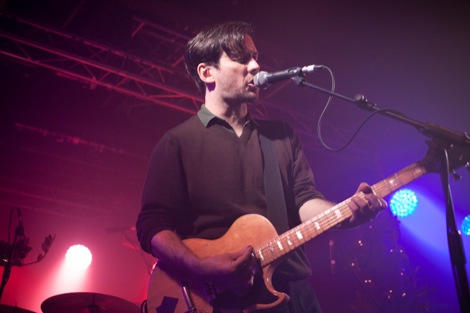 British Sea Power at O2 Academy, Liverpool
Kickstarting the evening, British Sea Power took to the stage with an unholy scream and a series of inarticulate grunts and involuntary noises like James Brown-gone-indie.
They have a sound that makes us sentimental for the Britpop cult movies, their songs should be played over the backdrop of some non distinct smoky industrial town in a story about a boy who just doesn't belong.
Aptly named for such a cinematic vision, Machineries of Joy was the highlight of their set, which was otherwise a bit disappointing.
Although there were some magnificent orchestral moments of choral harmonies and an undeniable festive aura created by the fairy-lit shrubberies on stage, but the crowd's enthusiasm did little to excite vocalist Jan Scott Wilkinson.
Switching up lead vocalists, his brother Neil Hamilton Wilkinson at least gave an appreciative wave to the cheering crowd, but Jan appeared not to have noticed them.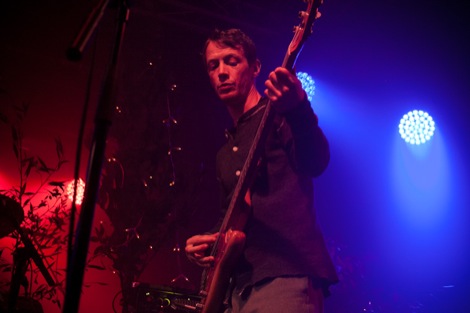 British Sea Power's Neil Hamilton Wilkinson at O2 Academy, Liverpool
It was difficult to know whether this onstage arrogance was his 'thing' or if he might be a bit spaced out, but when he broke his guitar strap and started flinging the instrument around the stage we did begin to worry for the safety of the front rows.
And as if things weren't weird enough already, cue the giant dancing bears.
From a little distance back the two giant, furry bear heads bobbed along above the crowd obviously delighting everyone as the show of smartphones appeared aloft, and fortunate too that they could distract from the rather bland goings-on on stage.
Dancing bears departed and shrubberies removed the stage was readied for the main attraction, oh the welcome sight of an upright piano!
Pictures by Getintothis' Marie Hazelwood.
Further reading on Getintothis:
Liverpool Calling feat. British Sea Power: St. Luke's Church/ Shipping Forecast, Liverpool
Liverpool Sound City – British Sea Power: The Masque Theatre, Liverpool
Comments
comments