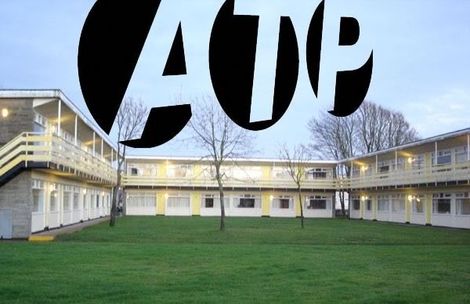 All Tomorrow's Parties waves goodbye to more than a decade of chalet-imbued rock and roll good times this weekend, Getintothis' Peter Guy picks his top 10 moments.

All Tomorrow's Parties has held a special place in our hearts since we first made the trip to Camber Sands almost a decade ago.
Introducing us to a galaxy of new music, expertly curated by passionate leftfield artists and performers, this very British of festivals held at Pontins or Butlins holiday camps, reimagined the traditional festival into something altogether more magical.
Incorporating whacked out alternative cinema, literary quizzes, popstar-hosted knitting clubs, alt-rock discos, musical bingo, merchandise stands manned by the bands themselves and organisers clearly as passionate about the music as the fans themselves, ATP fast became the independent music lover's festival of choice.
Getintothis' first of 10 ATPs was the Mars Volta-curated A Nightmare Before Christmas in a blisteringly cold December 2005 but it wasn't long before the musty waft of hotdog/homebrew-stained carpet seeped into our system forever.
Getintothis could fill a weighty volume of good time memories from our trips to Camber Sands and Minehead, but we're off in a little over 48 hours to the last ever UK-based ATP, so, in no particularly order, here's 10 of the best from All Tomorrow's Parties.

1. The Mars Volta's three-hour epic set in 2005
You never forget your first ATP and ours was fucking insane. The Volta's Omar and Cedric curated a ridiculous line up – of which we'd heard roughly about 30% – expanding our horizons to Battles (they opened the festival at around 3pm playing to a crowd of around seven, cementing our ethos of *never miss the opening act at ATP* – see also Avi Buffalo, The Holloys), Jaga Jazzist, Peanut Butter Wolf, Quintron and Miss Pussycat (complete with puppet show), The Fucking Champs, High On Fire, Weird War and The Locust.
They topped it off with one of our all-time sets ripping up 20 minute jams with blockbuster virtuoso musicianship from every member of their outfit before smashing the stage up in OTT hysterical style. It felt like a prog-punk apocalypse staged in a boutique ballroom. In fact, it was exactly that.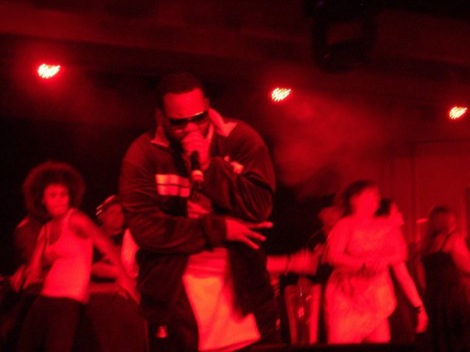 Raekwon in full effect at ATP in 2008
2. Ghostface Killah and Raekwon at UK 2008 Weekend Two – curated by Explosions in the Sky
One of the fun elements of ATP is undoubtedly 'meeting/hanging out' with alt-rock superstars; no matter how cool you consider yourself, the inner fanboy will ultimately get the better of you at ATP. With the chalet system and 'the universe under one campsite' environment one minute you're playing spot Nick Cave, the next you're sat off passing your lighter to J Mascis. After a while sharing a urinal with Damo Suzuki just seems kinda natural.
However, sitting off with The Wu-Tang's Raekwon at the back of the Centre Stage while watching Mono was a truly odd experience. First we shared beers, then we strolled down to nod along to some prophetic Japanese doom, then he went on stage and forgot most of the lyrics to Only Built 4 Cuban Linx only for everyone to go batshit crazy as he invited most of the crowd onstage for an impromptu boogie with fellow Wu member Ghostface Killah and we finally bumped into each other outside in the smoking area as he became increasingly frisky with two young ladies. Our friendship ended almost as quickly as it began with him insisting we 'better back the fuck up, G, I need to get me some pussy tonight.'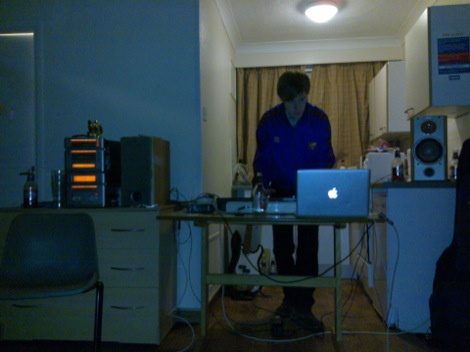 East India Youth playing his chalet party
3. East India Youth at UK 2012 ATP Curated by The National
Another of the ATP cliche boxes to tick off is the impromptu chalet gig. We've attended several – most are rubbish. In 2012 we had a brief but brilliant time discovering an awesome new artist named East India Youth.
Surrounded by a small gaggle of assorted characters – some trading rather potent legal highs – young, affable Mancunian William Doyle managed to plug in for at-best 20 minutes, and through live bass guitar, laptop electronica and treated synths play beautiful cosmic ambience for us no-marks and Fuck Buttons' Andrew Hung. As is standard in these cases, the electricity was quickly pulled by the onsite security and we were whisked out into the cold night air leaving Doyle to pack up his gear. A year down the line, those good folks at the Quietus snapped him up on their label created specifically to release his debut EP, Hostel – we've a treasured CDR of the early incarnations of that record at home. Neat.
4. Monotonix at UK 2010 curated by Pavement
Of all the daft, dressing-up box-assisted, prop-induced, gong-thumping, additional WTF madness that artists like to bring to ATP, Monotonix top it all.
The garage rock dopes from Tel Aviv, Israel, are essentially, when it all boils down to it, stuntmen with the ability to rock out. At ATP they managed to play in the crowd – then on top of the crowd – while balanced atop a bass drum which was paraded through the prefab shopping mall until one of the long-haired Jesus-lookalikes fell off and seemingly broke a few bones then continued on while in agony. That they go about their business in wrestling suits caked in sweat appears quite normal by comparison. Complete certified whack jobs. More of this, please.
5. Foals at UK 2009 Weekend Two – curated by The Breeders
Sometimes ATP makes bands. While it'd be unfair to say Foals weren't destined for big things, you could tell just how much Yannis and co. were gagging to prove their worth at ATP. Here was a festival which thrives on the super-cool, anti-sponsorship, non-industry bullshit schlock yet Oxford's Foals were automatically (whether they liked it or not) absorbed in the 'indie' mainstream commercialism which was desperate for a UK guitar band to rise from the landfill marked Britpop.
Not only did they own the weekend, they debuted much of Total Life Forever, including an incendiary version of Spanish Sahara but Yannis perfected his 'run around the audience with his guitar' while the band smashed their way through Two Steps Twice – it felt heroic and hugely special.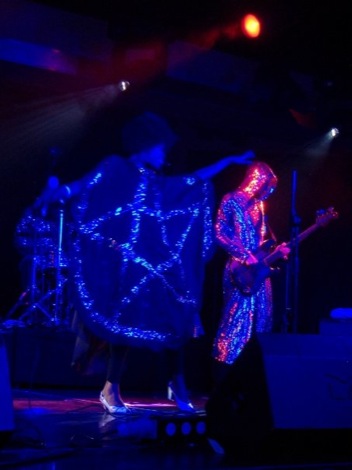 Like Fuck Buttons and many others, Chrome Hoof seemed to become adopted ATP in-house bands
6. Fuck Buttons at UK 2007 A Nightmare Before Christmas – curated by Portishead
Of all the ATPs we've attended – with the possible exception of our Mars Volta debut – Portishead's felt like a momentous weekender. Geoff Barrow's Bristol lot returned and were determined to end you. Drone after drone after drone after mind-numbing drone of heavy-hitters obliterated the senses from beginning to end – the weight of musical heaviness seemed endless.
Earth, Boris, Chrome Hoof, Oren Ambarchi, Blood Island Raiders, Sunn O))), Aphex Twin and more decimated the senses but it was the ATP debut of the festival's in-house death disco duo, Fuck Buttons that proceedings hit ridiculous levels of delirium. Dropping tracks from their first record, Street Horrrsing, Reds' arcade's spring-loaded floor was tested to breaking point – and the queue for the merchandise stall afterwards stretched even further. A new era of 'dance' music was born. And then Portishead played Machine Gun and a little part of us never returned.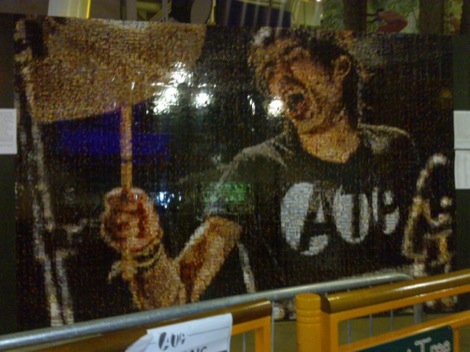 A massive photo mosaic made up of hundreds of ATP artists forming Shellac's Todd Trainer
7. Shellac at UK 2009 Weekend Two – curated by The Breeders
The official ATP house band, Shellac, are unlike any other band – and playing a trio of sets in 2009 they proved why; charismatic, vitriolic, clinical, theatrical, primal but most of all entertainment to a tee. Todd Trainer, Bob Weston and Steve Albini are the ATP anti-heroes you're always rooting for.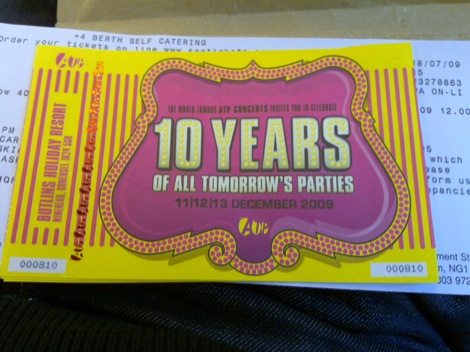 Ten Years of ATP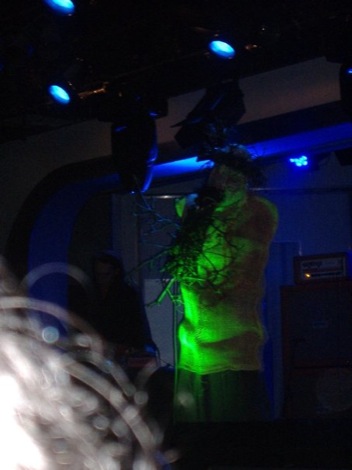 Sunn O))) live at ATP
8. Sunn O))) at UK 2009 Tenth Birthday Party
ATP's tenth birthday was a strange one; organisers collected many of the festival's big hitters for one big blow out. Yet, for the first time it felt like the whole idea had come full circle and there was a sense of repetition and mutual appreciation. Sure, it was still one of the very few festivals which retained individuality and the music was almost beyond comparison, but there was a sense the line ups were becoming staid and formulaic.
However, while some of acts seemed to go through the motions, Sunn O))) had other ideas transforming the weekend into some kind of macabre dystopian ritual with a duel set performing The Grimmrobe Demos and new epic Monoliths & Dimensions. What unfolded will live long in the memory; a transcendental experience which saw dozens of people lying on the floor – almost overcome with the instrumental force or succumbing to the quasi-religious doom-songs of prayer – before demons rose from the stage, fire emitted skywards and guitars were plunged like axes into the ceiling.


Michael Rother at ATP in 2012
9. Michael Rother at UK 2012 ATP Curated by The National
Another pioneer of contemporary music transmitting his wealth of sonic armoury to an unsuspecting crowd. The Neu! and Harmonia German guitar wizard took to the stage with young Berlin-based backing band trio, Camera, in the mid-afternoon and before too long had transformed the Pontins backdrop into a small army of terrace-style football fans bouncing up and down relentlessly like team Rother had won the World Cup. He saved an epic Hallogallo til the finale before Camera repeated the trick in the on-site pub in the early hours of Sunday morning.
10. UK 2011 ATP curated by Animal Collective
Animal Collective's 2011 was the first sign of ATP having some kind of scaling back/financial difficulties. Some stages were shut, there were fewer acts and notably fewer people. Yet, our hosts were determined to bring the good times – and as well as pitching in with Kurt Vile And The Violators, Big Boi, Gang Gang Dance, Lee "Scratch" Perry, Spectrum, Ariel Pink's Haunted Graffiti and Omar-S, Animal Collective rolled out two sets.
We can't remember which, but one was great, the other was unfuckingbelievable. Combining the grooves of Merriweather Post Pavilion and a new live dance-orientated live soundsystem, the boys nailed it and sent everyone home grinning from ear to ear. While singing, My Girls, of course.
All of which leaves us to say, roll on End of an Era 2 – we intend to party like there is no tomorrow.
Tweet @Getintothis your ATP memories.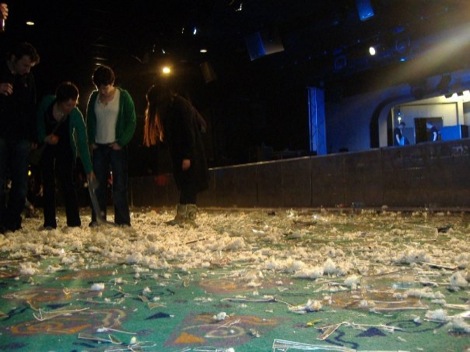 The end of Aphex Twin's phenomenal set at ATP in 2007

Pictures by Getintothis' Peter Guy.
Further reading on Getintothis
Getintothis on All Tomorrow's Parties: End Of An Era Part 2: Stage times and Tall Firs tribute.
Getintothis on All Tomorrow's Parties curated by Explosions in the Sky: Minehead.
Getintothis on All Tomorrow's Parties The Nightmare Before Christmas curated by Portishead: Minehead.
Getintothis on All Tomorrow's Parties curated by Pavement.
Getintothis on Warp's All Tomorrow's Parties film.
Getintothis' ATP fantasy festival line up.
Getintothis on All Tomorrow's Parties end UK weekenders.
Comments
comments