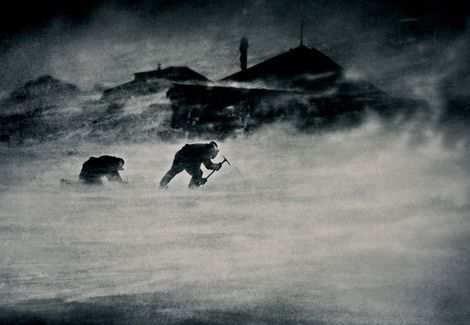 Poltergiest and Bunnies guitarist unveils latest foray into sound manipulation revealing sheer scope of his instrumental tapestry.

Possibly the most exemplary quality to Will Sergeant's work is his restless adventure.
His technique is up there with the best of them, yet his constant evolution into more experimental territory is what sets him apart from those labelled 'Godlike Genius'.
The easy route doesn't sit well with Sergeant, his music – similarly to his artwork – thrives on the abstract, delving into modern past masters but imbued with enough personal touches to rarely be considered mere pastiche.
His current group Poltergeist thrives on walls of driving rhythms and searing guitar set to a backdrop of psychedelic visuals; it works because of his melodic craft but more so because he's willing to shake things up and not stick to the script.
His latest solo project – there are many – is Glide consisting of two 20 minute instrumental passages which collate much of his recent influences – ambient Eno-like plateaus of bliss, manipulated six-string textures which exude an almost non-guitar technique (relying on noise and feel, rather than riffs and chords), sound collage and vocal found-sounds, a distinctly English pastoral whimsy reflected recently on solo outing Things Inside and a menacing echo chamber of undulating percussion.
It all bodes well for the finished product.
Sergeant says: 'This is a compilation of five short sound bites off my new Glide album. Working title 'Assemblage One and Two'. It Will Coming out very soon Via Pledge Music and 92 Happy Customers. I have been trying to evoke the world of electronic music before the advent of computers. The album is two long tracks of roughly 20 minutes per side. It's an ever evolving soundtrack to your life.

Poltergeist play East Village Arts Club on Friday, December 13.
Further reading on Getintothis
Read the Getintothis verdict on Poltergeist's debut gig in Liverpool here.
Poltergeist: The Kazimier, Liverpool – picture gallery.
Poltergiest: Your Mind Is A Box (Let Us Fill It With Wonder)
Getintothis talks to Will Sergeant on his new record and his love affair with psych music.
Getintothis reviews the Liverpool International Festival of Psychedelia featuring The Time And Space Machine, Dead Skeletons, Wolf People and more at Camp and Furnace.
Getintothis' Liverpool International Festival of Psychedelia – picture gallery.
Echo and the Bunnymen review from O2 Academy, Liverpool 2012
Getintothis reviews Echo and the Bunnymen live at the ECHO Arena performing Ocean Rain.
Comments
comments