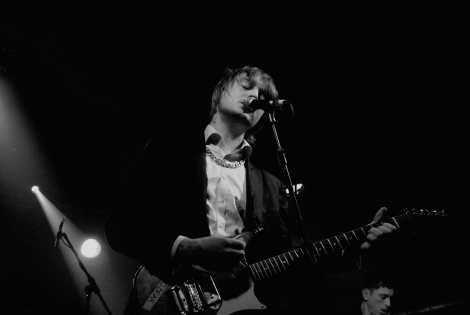 Babyshambles and Pete Doherty are more famous for their failures than their successes these days, Getintothis' Joseph Viney remained curious as to whether redemption is close at hand.

The omens weren't good.
90 minutes late for their own album launch show in Brixton and a Manchester show two days prior marred by fuck ups and fighting. Yes, it can only be Babyshambles.
There was a time when Pete Doherty was adorned with the oft-worn Saviour of British Rock crown, but a series of errors, brushes with the law and extensive drug use saw his stock diminish rapidly and ignominiously.
Despite all of this, Doherty still commands fevered devotion from his followers; be they first-gen Libertines fans or the younger set who, rightly or wrongly, view him as a nu-Cobain figure.
A teeming crowd packed out the O2 Academy, but there was a certain tension in the air.
What time would Babyshambles hit the stage? Would they even come on at all? What state would Pete Doherty be in?
A gallows humour permeated, semi-serious sweepstakes being wagered on what time the show would actually begin.
Only twenty minutes late tonight, Babyshambes defied all expectations and started brightly and strongly with Delivery.
Shine a light! This might just turn out alright after all…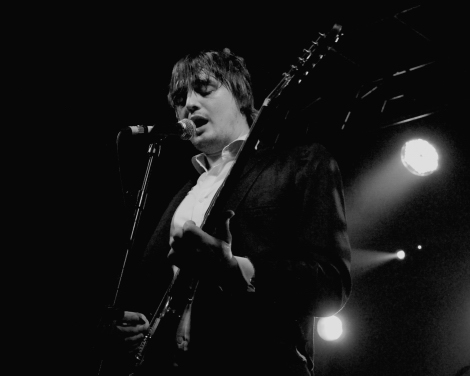 Babyshambles at O2 Academy, Liverpool
Seemingly without a change of clothes since 2005, Doherty blazed around the stage and worked up the biggest sweat since Operation Yewtree began.
On the road in support of their new LP Sequel To The Prequel, Doherty has assembled yet another new line-up.
This time they play as a more professional outfit, with actual musicians as opposed to people Doherty might employ from the toilets of Camden's Hawley Arms or HMP Pentonville.
Their multi-instrumentalist keyboard player aided in adding texture to the rougher earlier songs such as Gang Of Gin and adding deft touches to the Parisian streets vibe of newer cuts like Dr. No.
Most recent single Nothing Comes To Nothing, with its big-time, sing-along chorus fit in nicely among the debris of the more ragged Killamangiro and his paean to crack-smoking, Pipedown.
As time wore on though, things began to unravel slightly.
Doherty became less lucid, substituting actual lyrics with random yelps and odd non-sequiturs. Towards the end of the set, he was either leaning in towards the bassist for a cheeky kiss or a reminder of what line was next.
It wasn't car-crash material, but more of a sad reminder of a wasted talent.
Finishing with Fireman (which, as fun as it is, has some outrageously bad lyrics), Doherty and Co. left the stage briefly for that rather tired 'go off stage for five minutes before an encore' routine (seriously, just play all of the songs you want to and THEN go) before re-emerging for a subdued Seven Shades.
The inevitable end to the night came with Fuck Forever (remember kids, NME once called the song 'this generation's Smells Like Teen Spirit'!) and Doherty's willingness to engage with his own material disappeared entirely.
Do you remember the lyrics to the song? Do they go "yahhhhh woahahahh blurghhhhhhh"? No? Well, they do now!
Luckily for ol' Petey D, the crowd were able to fill in the many glaring gaps for him.
Further reading on Getintothis
Why The Libertines reunion makes me ill
Liverpool's gig calendar 2013: Guide to essential gigs not to miss the rest of this year
Merseyside music's top 25 tracks of 2013 so far.
Liverpool music 2013: Highs, lows and best of year so far.
MONEY return to Liverpool with Blade Factory date.
Deptford Goth to haunt Liverpool's Leaf Tea Shop.
Yo La Tengo set for rare Liverpool date.
Comments
comments