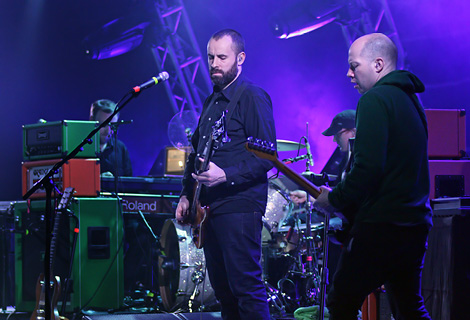 Mogwai return to Manchester armed with Rave Tapes, their first top 10 album, and as Getintothis' Andy Kelly argues a live show which is an altogether more fulfilling experience.

It's half an hour before showtime and Stuart Braithwaite is wandering the back corridors of the Bridgewater Hall, apparently searching for the dressing room.
Somewhat ironic that the Mogwai front man has lost his sense of direction just as his band seem to have rediscovered theirs. After those thrilling early EPs and albums, Mogwai had felt like a band that had somewhat plateaued, still making great music but did they have anything fresh in their locker to make us fall in love with them all over again?
That question was well and truly answered with 2011's Hardcore Will Never Die, as accessible a record as they've ever made, and followed up by the excellent French soundtrack Les Revenants.
And now comes Rave Tapes, the sound of a band not just at the top of their game, but seemingly having fun again. The live Mogwai experience certainly relies little on visuals or interaction with the audience.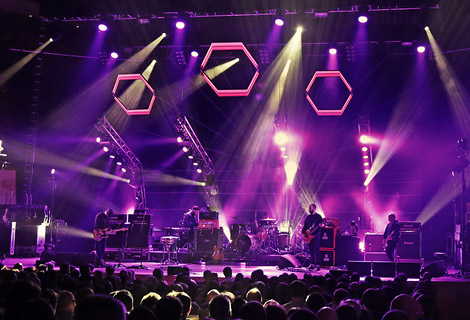 Mogwai live at Bridgewater Hall, Manchester
"Hello, we're Mogwai from Glasgow, Scotland," is the traditional greeting from Braithwaite and apart from a few "thank yous" that's it for conversation. Along with the rest of his five-strong Young Team (joined by occasional violin), he's happy to let the music do the talking.
The old Mogwai template of 'quiet, quiet, VERY LOUD' has long since morphed into an altogether more fulfilling experience although they still have the capacity to induce a mild coronary with an unexpected blast of (white) noise.
First though we have Heard About You Last Night from Rave Tapes, a languid, almost soporific opener underpinned by a lovely keyboard/piano, something that can also be said of Friend of the Night, the first of several times tonight when a gorgeous instrumental makes us want to stand up and shout "that is just beautiful".
A rare miss step comes with Blues Hour, where Stuart's creaky, whispered vocal reminds us why Mogwai are an almost entirely instrumental affair but I'm Jim Morrison, I'm Dead builds with restrained intent to a swirling, looping climax which disappears into the upper echelons of the Bridgewater where a big crowd is stretched across three storeys.
Highlight among the new tracks is Remurdered, driven by a bouncy Casio-style keyboard while song of the night is Hardcore highlight White Noise, a fuzzy blast of instrumental rock that delivers right to the soles of your feet.
Mexican Grand Prix brings the main set to a close, appropriately threatening to turn into band favourites Joy Division's Transmission at every turn.
A deserved encore includes Rave Tapes closer The Lord is Out of Control – where the strangely hypnotic robotic vocal evokes memories of Air's Kelly Watch the Stars but sadder and more Barrowlands than Parisian – while Stuart switches to bass to subtly bookend fan favourite New Paths to Helicon Pt 1, complete with a full-on white light attack.
At the bar fans are talking about whether they've seen them 10 or 11 times now. Mogwai evoke that sort of devotion and long may they continue to produce this special, incredibly atmospheric music. Rave On, in other words.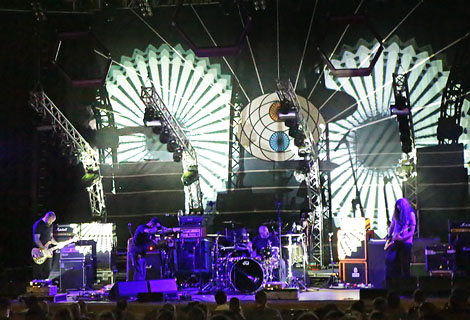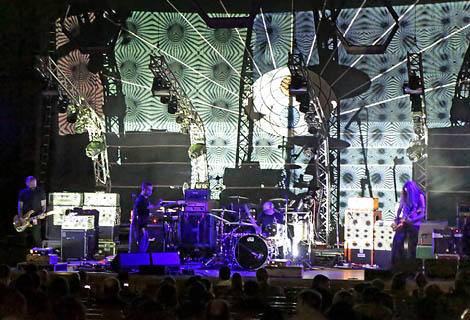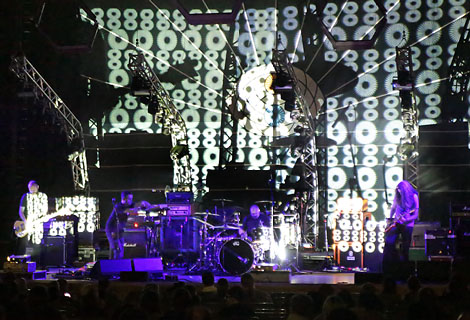 Mugstar live at Bridgewater Hall, Manchester
Earlier, Liverpool's own brand of sonic hypnosis was brought to the spectacular setting of the Bridgewater Hall, as Mugstar opened proceedings in characteristic fashion. Tailor-made for these wide open expanses, Peter Smyth's intricate guitar notes trade with Neil Murphy's incessant riffs all the while Jason Stoll and Steve Ashton provide a thunderous rhythmic backbone.
The white walls, acting like some kind of Starship Enterprise-shaped echo chamber, allow the brute force to smack you full in the temple while their in-house lighting graphics add to the thunderous psychosis.
Pictures by Getintothis' Sakura Zilla
Further reading on Getintothis
Getintothis reviews Mogwai, Twilight Sad: Manchester Academy.
Getintothis' Top 10: All Tomorrow's Parties Festival.
GIT Award 2012 nominee profile – Mugstar.
Comments
comments