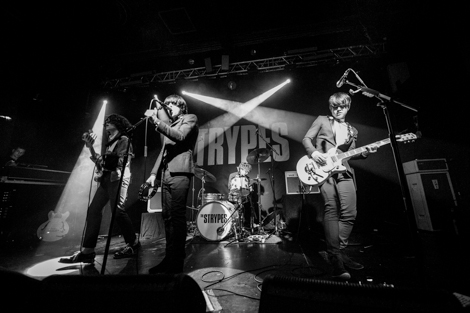 When The Strypes first came to Liverpool there was startled amazement, but with Alex Turner's 'rock 'n' roll' speech still ringing in his ears, Getintothis John Gibbons asks is there more to this super-young collective from Ireland?

The last time we saw The Strypes in Liverpool, they were relatively unknown and the crowd were full of musicians coming to see what all the fuss was about.
The audience started the show all crossed arms waiting to be impressed and ending it looking like they wanted to go and throw their guitars in the Mersey. Now the aging musicians have gone – well, apart from this one – and have been replaced with actual fans: teenagers and above who love the songs and know all the words.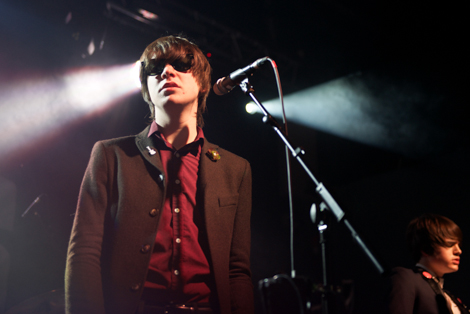 The singer, not the song. The Strypes at EVAC.
It actually takes a while for their set to get going, but fourth song She's So Fine really kicks things off and they don't look back. After 20 minutes, they have already fizzed through about eight songs and given no one, not least themselves, chance to catch their breath. It's very busy and stiflingly hot… we worry about the band, especially in those jackets, but they have the youthful exuberance to cope and bounce around the stage, climbing all over the set regardless.
They are famously young, of course, to the degree that you don't want to mention it, but the 18 balloon to celebrate bass player Pete O'Hanlon's birthday at the back of a stage is a reminder of the ridiculousness of what they are able to do.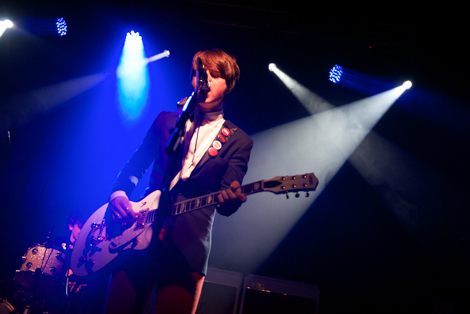 Josh McClorey on the electric guitar.
Their sound is incredible, you start suspect they might be miming (like some sort of modern day Milli Vanilli), especially as guitarist Josh McClorey seems able to continue playing solos when he barely has his hands on his guitar. They even swap instruments around to show they have somehow managed to become equally proficient on each others – and don't even start me on the drummer.
That first show we mentioned earlier remains, in terms of sheer impact, one of the most exciting things we have ever seen.
The challenge for The Strypes, now the shock factor is gone, is to keep surprisingly people and prove they can write songs to the same level as the blues classics that still populate their set. It almost seems unfair to judge a bunch of teenagers by those levels, when they are just starting out as songwriters, but that is the position their talent has put them in.
But they have wisely signed a five year deal – and it might even take until fourth album before they write a classic. In the meantime, we'll just have these phenomenal live shows to keep us gripped and entertained.
We wonder actually if the set is too long – in the encore they play versions of Louie Louie and Rockaway Beach which are fun, but seem rather unnecessary. They may feel now they are charging slightly more that they need to play for a bit longer or maybe they are still at the age when playing your favourite songs with your mates is great fun.
The Sex Pistols would have done 40 minutes and got off and there is nothing wrong with leaving people wanting more at this stage of their career. They finish with another cover, the much more relevant You Can't Judge a Book by the Cover , and then jump into the crowd, instruments and all.
We leave thinking of the now infamous speech given the night before by Alex Turner at The Brits. It might have been rambling, slightly too cocky and complete with cheesy finale, but we agreed with the essence of what he was trying to say.
As new types of music emerge, rock 'n' roll in its traditional form is continuously written off as irrelevant and stuck. But Arctic Monkeys can still write an album that sweeps up all the awards – just like The Strypes can still put on a show that leaves everyone in attendance open mouthed.
There is still something about four lads with a drum kit and guitars that people love going crazy to, getting drunk to, getting sweaty to and anyone who has attempted to read out its obituary may have changed their minds, had they seen The Strypes tonight.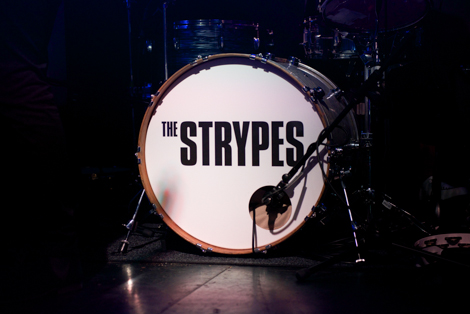 The Strypes from Caven, Ireland.
On the way in, a gentleman is trying to get people in to see the support band The Turning. He is handing out flyers saying 'If you like The Strypes, you'll like these'.
It seems like a curious thing to say, given that we all clearly like The Strypes, having come to see them and all, but it quickly becomes apparent that The Turning are pinning all their hopes on enough people who like the headliners, liking them as well.
It feels like when you go and watch certain sports and they put the reserves on to play first – you stand wondering why you aren't still in the bar, instead of watching an inferior version of what you came for. I don't want to seem rude – they are perfectly fine in some ways.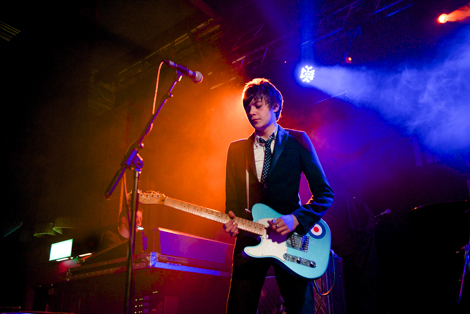 The Turning had all mod cons.
It just makes me laugh that pop music is described as manufactured, when there is nothing as contrived as rock 'n' roll for jumping on something (even relatively) successful and spitting out any number of cheap imitations. Even the singer's riffs on the mouth organ sound the same. They seem like nice enough lads, so good luck to them. But five minutes after I can't remember a single song.
Pictures by Getintothis' John Johnson.
Further reading on Getintothis:
The Strypes: Leaf, Bold Street
The Strypes picture gallery from Leaf, Bold Street.
Arctic Monkeys cover Lou Reed's Walk On The Wild Side: Echo Arena, Liverpool
Sugarmen, The Black Tambourines, Go Fiasco, Leon Fender Walker: District, Liverpool
Comments
comments