Kawabata Makoto's Japanese collective roll into the Kazimier this month, Getintothis' Jamie Bowman gears himself up for some gobsmacking musical histrionics.
For anyone desperate to unlock the door to a new sound, the emergence of Japanese rock n roll over the past decade had been a heady and seductive balm.
The long-sustained underground careers of such heads as the Boredoms, Boris, Ghost and Bo Ningen have inspired and cajoled many a wearisome musical traveller with their modern take on psychedelia leaving audiences gobsmacked with their out there sounds and glorious facial hair.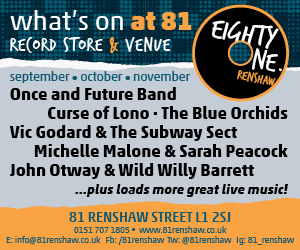 Leading this welcome charge since the 1990s are the mighty collective known as Acid Mothers Temple – a group who's serpentine history has seen them metamorphose through an estimated ten different bands and off shoots over the past twenty years.
Whether its Acid Mothers Temple & The Melting Paraiso U.F.O. (the core group and incarnation visiting Liverpool), Acid Mothers Afrirampo or Acid Mothers Guru Guru Gong, the one thing linking these wildly trippy outfits is legendary guitarist Kawabata Makoto (or 'speed guru' to give him his official nickname). Taking elements from Funkadelic, Amon Duul and Gong, Acid Mothers  regurgitate huge slabs of sound ranging from funk influenced psychedelia to multitudinous, ambient soundscapes.
On album sleeves, this squad of freaks cultivate a mysterious aura: photographed by ancient monuments, holding bones, clad in robes, wearing monks hoods and quite often with a naked girl or two in tow. Leader and self-styled shaman Makoto is certainly a sight to behold. A mass of hair and attitude he leads the band with a quiet authority which belies the madness which goes on around him.
Their album titles speak volumes: Pink Lady Lemonade: You're from Outer Space and 41st Century Splendid Man Returns to give two examples. If you're game for taking your imagination galactic, this is your ticket. Watch them at The Kazimier, Liverpool on Sunday August 24.
Comments
comments