Getintothis' Will Neville enjoys a drizzly, instrumental evening at The Kazimier Gardens with Remember Remember and a touch of folk-drone from Trouble With Books.  
Remember Remember played a free gig at a drizzly Kazimier Garden on Friday night, the latest in a long line of somewhat unusual venues for this Scottish all-instrumental band. The garden is a great venue for an intimate, outdoor musical evening, but maybe slightly more conventional than some of their previous gig spots like Glasgow's Planetarium or the Dundee Ice Arena, where they accompanied the Scottish Olympic ice skating team! The ability to get a decent pint and some tempting cooked-to-order fare from the charcoal grill sets it apart from the more run-of-the-mill places to see bands.
Remember Remember started out as the moniker of Graeme Ronald who played all the instruments himself, both standard and more unusual, with the first self-titled album from 2008 featuring wind-up toys and cutlery! The second album, The Quickening three years later, added a string quartet and guest musicians as the band became seven strong. A third album, Forgetting The Present, produced by Tony Doogan (whose CV includes The Delgados, Belle And Sebastian and Wintersleep) was due to be released three days after their live appearance in Liverpool.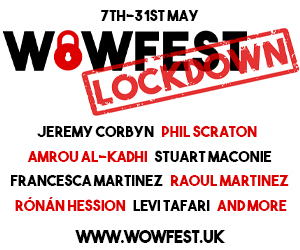 The Mogwai-approved outfit did their best to help the healthy crowd to ignore the rain and lose themselves in their expansive sound. They've often been compared with Krautrockers such as Neu!, as well as more recent modern pysch from The Bees and Animal Collective, and all those influences can be detected in their music, if you listen closely enough. The subtly repetitive tones showed that the impact of Eno's ambient experiments from the 1970's lingers on in more adventurous corners of the UK music scene.
The lack of any vocals meant the audience had to focus more on the way the music was arranged and layered, with Joanne Murtagh's lovely glockenspiel perfectly complementing Joseph Quimby's fluid guitar work, if you could avoid being distracted by his bushy beard and shin-length shorts. Unfortunately, another side effect is not really knowing which tunes were played, although much certainly came from the new album. Despite the lack of any singing (or much talking), it was very noticeable how archetypally Scottish they managed to sound, with hints of The Pastels, Bert Jansch and The Blue Nile as well as all the other bands already mentioned.
On before Remember Remember were the intriguingly-named Trouble With Books, who bill themselves as a "folk-drone trio", which is a pretty good summation of their music, making them something out of the norm. They certainly look like a band who've not had any difficulty in reading plenty of volumes in their time, and have been gigging occasionally in Liverpool for the past five years.
Their tunes started out with Paul Hirons and the Joan Baez-esque Angela Walker both strumming acoustic guitars, often accompanied by Angela's somewhat metallic voice. As each song developed, the music was taken over by Sean Wars' distorted samples and treatments of his bandmates' work. Needle Beard began like an outtake from Felt's Let The Snakes Crinkle Their Heads To Death before mutating into something darker and stranger. Once their set was over, the band members simply slipped off the stage into the welcoming embrace of their friends, just as they had suddenly appeared from the audience when they started.
Keeping the crowd entertained between bands were Wax Museum DJ's Golden Hank Mondo and Evil Joe Mangel who spun a variety of soulful and funky tunes, with an oddball highlight being Bernard Cribbins' Gossip Calypso.
Pictures by Getintothis' Jazamin Sinclair
---
Comments
comments