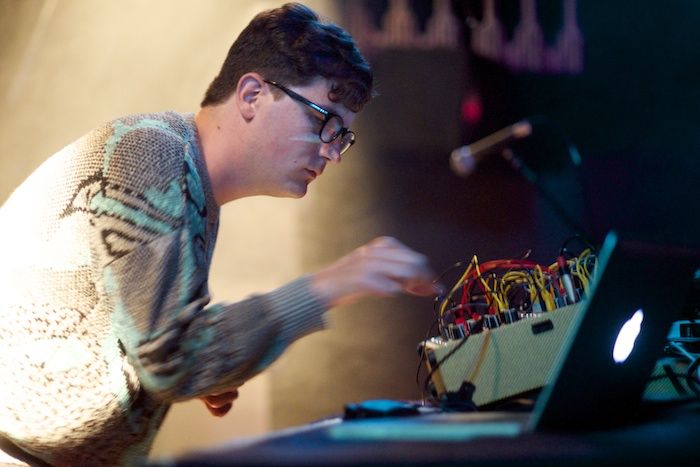 Luke Abbott & co. inject a taste of literary delight when the Minor Characters project comes to The Kazimier, Getintothis' Laurence Thompson finds
Minor Characters, the project organised by The Quietus featuring Forest Swords, Lone Taxidermist, Ten Mouth Electron, English Heretic, East India Youth and Luke Abbott all arranging music around background characters from famous works of literature, was something of a coup for those enjoying the more underground flavours of LIMF.
Only two of them featured here, however: Manchester four-piece Ten Mouth Electron, and Luke Abbott of James Holden's Border Community label. The conspicuous absence of William Doyle, best known as East India Youth, was an expressed downside for attendees hip enough to keep their ear to the left-slant music blogs and websites, which must surely be everyone patronising a project set up by The Quietus: his new album is their second highest rated of the year so far.
Things started badly when technical issues meant Ten Mouth Electron were late going on, and then further hampered in their first two tracks – the second, in fact, just became a drum and bass jam between the two remaining instruments. This felt like the spirit of lit-saboteur Flann O'Brien himself punishing these mere mortals for their hubris in choosing De Selby from O'Brien's The Third Policeman. The context, then, fit the theme far better than the content, which only showed hints of the band's talent. There's plenty of 'grain', to take a phrase from Barthes, to the vocals, which wavered from a tidied-up Mark E. Smith to a PA-assisted riot-scream trying to rise above a froth of urban disobedience.
Support act James Binary, free from the concept-album confines of his fellow acts, took to the stage next to deliver a set of palpably dark soundscapes. As if to show Wolves in the Throne Room how it's done, Binary embarked upon a cultivation of dread, foreboding and doom, bringing a rising chorus of beats to meet a descending sky of shimmering dissonance, structure arriving like blades of illuminating moonlight in the pitch blackness. The effect recalled an ambient version of Penderecki's famed cello concertos in their evocations of nervy fear and uncertainty.
Luke Abbott prefers a more nostalgic aesthetic. His latest album, Wysling Forest, could sometimes almost be Ash Ra Tempel, or a Popol Vuh soundtrack for a Herzog film, as though electronic, like pop was prophesied to do, is now eating itself.
In some ways, Abbott is a minor character in Border Community, simply reacting to and absorbing James Holden's The Inheritors with modular synths – which is like trying to respond to a complex C++- written programme in cuneiform script. But here, his analogue mastery conjured a penthouse suite of rippling, unfolding sonic tides above a basement of familiarly kosmische bleeps and fizzes. Licks of electric whips through fields of oscillating sine wave patterns, horn and trumpet sounds disembodied from their brass tombs, and echolocative depth probes dropped into the sound-tank later, and absent friends were quite forgotten. As was whatever this had to do with Organ Morgan from Under Milk Wood, but never mind.
Pictures by Getintothis Martin Saleh
Comments
comments