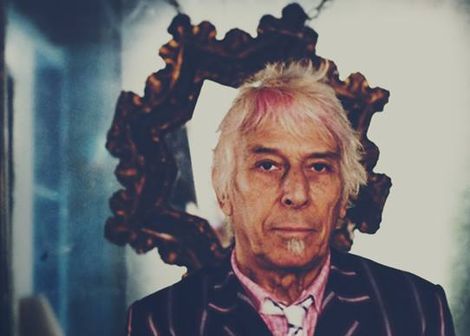 Ahead of his talk at Liverpool Sound City 2014, Getintothis' Alistair Houghton reflects on the majesty and music of John Cale.

There was an irritating phase, somewhere in the early 2000s, when anyone who heard I was from Wales would say "Ah yes, The Stereophonics!" and expect me to be pleased about it.
They were seen as Welsh music' flag carriers, y'see. And before and wrapping around that there were the Manics, and even Catatonia. Terris never took off, did they? And no-one ever said "ah, the Super Furries", even though I would have been jolly pleased with that.
But around the same time, I finally "got" the Velvet Underground's first album, and then literally got – walked into a CD store and got, you digital generation types, you- their second, White Light/White Heat. And I could start wondering "why don't people think of John Cale as the spirit of Welsh music?"
The simple reading of the Velvets is that they were Lou Reed and band. He was their songwriter and lead singer, of course, so that's understandable. But where would they be without Cale those first two records, those sometimes tender, sometimes crushingly brutal, always majestic beasts that I just can't imagine popular music without?
Where indeed. That first album tricks you from the off with the lushly tender Sunday Morning – a Reed/ Cale co-write, in fact. Here it's Cale's chiming celesta that sets the tone – what's a celesta? Try here – and leaves you reflecting on the fact that it was Cale's deep musical education that could bring that level of knowledge to transform the Velvets' sound.
So that moment of sleepy beauty fades and then *crunch*. I'm Waiting for The Man would pound so much less poundingly without Cale's unearthly hammering piano. Venus in Furs, of course, is defined by those swooping viola hiccups, framing Reed's malevolent lyrical visions. Cale's pounding, ringing piano is at it again on All Tomorrow's Parties.
Heroin, one of Reed's defining songs, is anchored by Cale's viola droning and brought to crescendos by its screaming. The electric viola loops and shrieks through The Black Angel's Death Song– another Reed/Cale co-write.
The feedback hissing that bursts through the song is also Cale's, by the way. And there are more Cale sound effects on European Son – "hitting a stack of plates with a metal chair", say.
Then Cale stepped closer to the front on White Light/White Heat. He takes two lead vocals, the slow and swampy Lady Godiva's Operation and on Reed's shaggy dog story, The Gift. That tale of poor old Waldo Jeffers and his long-distance love with Marsha, just wouldn't be the same without Cale's deadpan welsh lilt.
And then, of course, there's Sister Ray, that 17-minute explosion of sound that's not only one of the finest things ever recorded but also a sonic representation of the Reed/Cale divide that would soon tear the Welshman from the group.
It starts conventionally enough, a thudding Velvets beat. But then Cale's organ cranks up the skronk and starts duelling it out with Reed's metallic guitar. It's that screaming organ, so harsh and so obnoxious, that drives Sister Ray – recorded in one take so loud that the engineer walked out and left the band to it.
Whenever Reed pauses in his deadpan tale of a debauched party and the music is on the verge of collapse, Cale pounds that organ drone into a scream and gets it going again. He's toying with slabs of noise, drawing sounds out of that organ that are somewhere between the howls of a cornered animal and the sound of galaxies colliding.
When I hear that organ I can't help thinking that the instrument itself must have been a massive Wurlitzer-style beast built entirely from stone, something from a Dark Side Flintstones, with Cale hammering at keys the size of Stonehenge lintels, struggling to keep control. Just a couple of months back I watched Ira Kaplan of Yo la Tengo get those same sounds out from a tiny keyboard, so I'm sure Cale's playing wasn't that dramatic. But don't spoil my illusions. See? I try to write about Sister Ray and get a bit carried away. It's impossible not to.
Anyway, White Light/White Heat marked the end of the Reed/Cale combo. Perhaps the sheer fury of Sister Ray was just something they couldn't face again.
So the Velvets went a bit softer with their third album and poppier with their fourth.
Actually Reed's next VU accomplice Doug Yule also deserves more credit, and then there's Cale's solo career… but they're whole other subjects.
The Velvet Underground needed that John Cale magic – or grit in the oyster, perhaps – to give them the sound we still worship today. And now Sound City is getting some Cale magic too. He'll be well worth a listen.
John Cale is in conversation with The Quietus' John Doran in the Circus Room on Friday May 2, 5.30pm-6.30pm
Further reading on Getintothis:
Lou Reed: The man, the myth and Metal Machine Music.
Liverpool Sound City 2014: Revo's routeplanner – the insider's guide.
Liverpool Sound City 2014: Top 10 Merseyside bands to watch
Liverpool Sound City 2014: Top 10 international bands to watch.
Liverpool Sound City 2014: Top 10 UK bands to watch.
Liverpool Sound City 2014: Getintothis' guide to the venues.
Liverpool Sound City 2013: Top 10 bands and review round up of the festival
Liverpool Sound City 2014: Getintothis presents Jon Hopkins and stellar Merseyside show at Nation.
Liverpool Sound City 2014: Fringe events and John Peel World Cup revealed.
Comments
comments