As a wave of Scottish bands hit the city, Getintothis' Paul Higham looks ahead to the leftfield folk stylings of James Yorkston.
It feels like Liverpool is in the throes of a mini Scottish invasion.
On Tuesday night Edinburgh art-rock collective The Phantom Band impressively wowed the Kazimier with their unique brand of kraut-folk while on Wednesday night Fence Records founder Kenny Anderson (aka King Creosote) played The Epstein Theatre hot-on-the-heels of his impressive From Scotland With Love soundtrack LP.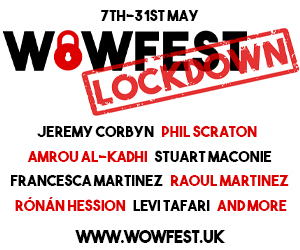 This week (Tuesday 14 October) erstwhile Fence Collective member, James Yorkston, plays the intimate and rather lovely Leaf Café on Bold Street in support of his new record The Cellardyke Recording and Wassailing Society, which was released earlier this year.
It is now over ten years since James released his seminal LP and John Peel favourite Moving up Country and those who have regularly followed him in the subsequent years will be aware that he has continued to produce records of similar quality, warmth, honesty and humour.
His new LP finds him on good form with his collaborative instincts remaining to the fore: he is joined on his latest release by KT Tunstall, who provides additional vocals, and Hot Chip's Alexis Taylor who is on production duties. The LP is conversational and immediate with its most poignant moment being Broken Wave, a tribute to the late Doogie Paul, James's long-time friend and bass player who died of cancer in November 2012.
A James Yorkston show is not to be missed. At Leaf he is performing as a duo with Jon Thorne on double bass with Randolph's Leap providing support (we're big fans so well worth getting in early for). Without doubt, if previous experience is anything to go by, Tuesday will be sad, happy, wryly funny and above all highly entertaining and ultimately uplifting.
James Yorkston is one of these shores most compelling songwriters and storytellers in the best folk tradition (albeit with a slightly leftfield slant). He possesses a talent to be cherished and this show promises to be a highlight in Liverpool's already congested October calendar.
Comments
comments