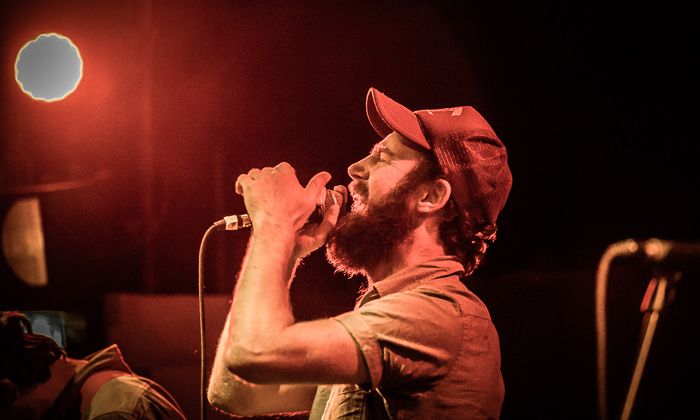 The Phantom Band conclude their latest UK tour in Liverpool, Getintothis' Will Neville reports on a triple treat of talent.
The six members of The Phantom Band from Glasgow strode out in front of a disappointingly half full Kaz crowd and launched straight into the pulsing rhythms and wailing chorus of The Wind That Cried The World; the opening track and first single off this year's fine Strange Friend album.
Their eclectic groove-based sound incorporates folky arrangements, undulating Krautrock rhythms, pastoral elements and a healthy dose of pop. This is backed up by a wide range of extra instrumentation including melodica, and lazer noises on Into The Corn from second album The Wants.
Rick Anthony, who released the wonderful No Selfish Heart as Rick Redbeard last year, recalls a trucker-hat sporting Highlands Nick Cave, plays guitar and has a nice line in wry stage banter. The other members of the band, Duncan Marquiss and Greg Sinclair trade cyclical guitar motifs with intricate noise while Andy Wake stage right adds added dimensions of driving keyboards. Meanwhile, Gerry Hart (bass) and Iain Stewart (drums) lock into tight, undulating rhythms with the latter, new boy, fitting in well.
Many older songs were interspersed among the best from their new release, including the motorik Folk Song Oblivion from 2009's first album Checkmate Savage and the wonderful A Glamour, another off their sophomore release. Other highlights were the driving doo wop of Throwing Bones and the percussion-heavy Burial Sounds, underpinned by furious drumming, both of which are also off the debut.
They closed with the lengthy Women Of Ghent from Strange Friend, which works better live than on record, returning to encore with The Howling from their debut, followed by a lengthy instrumental jam based on the debut's Crocodile, leaving the audience wanting more.
Main support were Gulp, whose core duo are bassist Guto Pryce from Super Furry Animals and his partner Lindsey Leven, who reminds us a little vocally of Cate Le Bon, which initially worried us could be deemed the lazy comparison of a non-Welshman, before we discovered that she is actually Scottish. She brought sunflowers onto the stage which suited their psychedelic-tinged, woozy indie pop with a hint of Stereolab.
Guitarist Gid Goundrey and ex-Race Horses drummer Gwion Llewellyn completed the line-up. The silent lulls between songs were forgotten each time they started up another tune, with the occasionally slightly twee hippie-ish lyrics fitting in quite well.
A Young Marble Giants influence on their music came across much more live than it does on their debut Season Sun album, most notably during the intro to Vast Space. The lovely album-closing I Want To Dance was followed by Seasoned Sun, the most obviously 'flower power' number in the set, and then the darker Play which suggested the presence of some Jefferson Airplane in their record collection. They ended with the slightly plinky plonky b-side Diamonds In The Sky, closing out a very enjoyable support slot.
First up were Liverpool band LIVES, who stepped onto the stage all dressed in black and made a tuneful indie rock racket, surprisingly loudly so for a support act. The main focus was their lanky, somewhat simian singer who menaced the microphone in a friendly way – so, kind of like of an Ian Brown who can actually sing. The heartfelt vocals sat nicely on top of the very solid band who also contributed a lot of 'woo woo' backing vocals, as you can hear for yourself on the two tunes they have on their Soundcloud.
Pictures by Getintothis' Martin Waters
Comments
comments