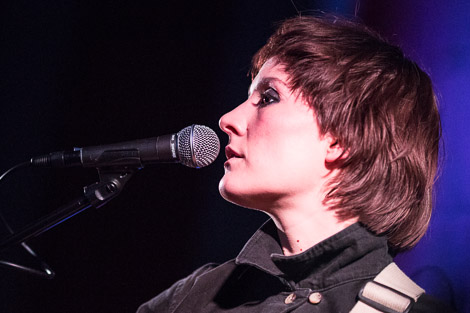 Wales' latest singing export arrived on Bold Street to a near sold out Leaf Tea Shop, Getintothis' Alan O'Hare walks four lonely roads to hear an artist at the top of her game.

Cate Le Bon lives on the wrong coast.
The Welsh songstress relocated to Los Angeles in 2013, to record her critically-acclaimed third album, Mug Museum. The decision was a good one, as the record is a belter. But, witnessing her and the tight-as-a-pair-of-skinny-jeans-on-a-hipster-walking-down-Bold-Street band she's brought to Leaf, her east coast sensibilities and influences reveal themselves.
The ghost of CBGBs howls through the bones of her body.
The Fender Telecaster she attacks is straight and true, the bass lines bob along like Talking Heads and the whole thing has a serious early Blondie vibe to it. Sure, the tempos are more esoteric than those of the Bowery pop rockers, and that vocal more Nico and The Velvet Underground than Debbie Harry, but the sense is one of pop urgency.
And Cate Le Bon certainly trades in pop music. Classic, guitar pop music that is – all Graham Coxon guitar solos, filtered through the quirkiness of fellow Welsh literates Super Furry Animals, Gorky's Zygotic Mynci and Sweet Baboo (who is on bass duty here).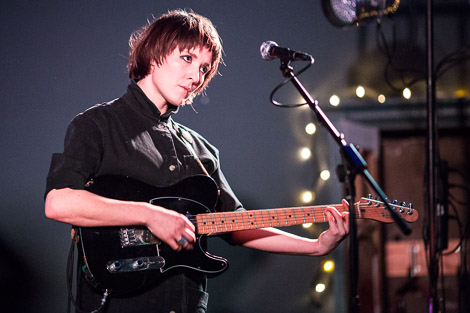 Cate Le Bon at Leaf Tea Shop
She stands apart from said influences though. This is an artist on a path of her own and each tempo change, ambient chord sequence and keyboard wash thrown at the songs does nothing but enhance the experience. With one song dedicated to her Uncle Joe (who had unexpectedly arrived at a near sell-out Leaf earlier in the day!), the former Neon Neon and Gruff Rhys guest vocalist charmed the expectant crowd too.
The songs were great. Melodic, beautifully sung and attacked on the top of the beat, Le Bon is the real deal in amongst the relative hype thrown at her recently. Sure, the Manic Street Preachers' guest spots have helped – but she's got the tunes to keep the interest in her alive when the spotlight moves on.
I Can't Help You, Are You With Me Now and the Alabama Shakes-esque opener No God were all highlights, while the cool keyboard riff of Sisters got the gawping crowd moving (the atmosphere created by Leaf still doesn't sit right for a rocking gig). Fold The Cloth took song of the night honours, however, moving from its effortlessly cool arpeggio riff to a full on wig out at the end.
The latter tune is Cate Le Bon all over, really: intense, interesting and getting better all of the time.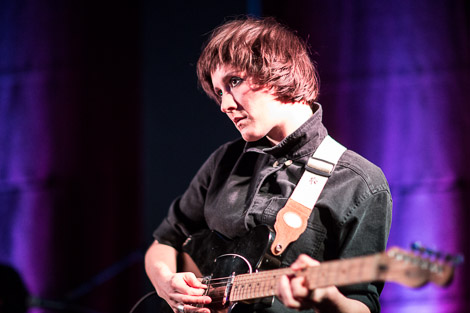 Cate Le Bon at Leaf Tea Shop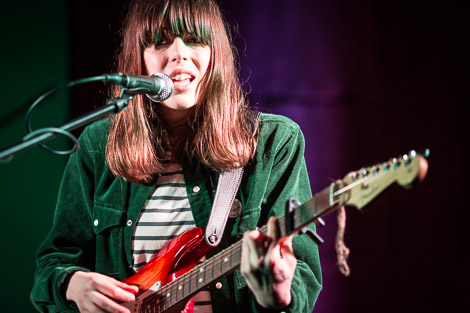 Sea Lion at Leaf Tea Shop
Earlier, Sea Lion began proceedings in hushed fashion, writes getintothis' Peter Guy. Hiding beneath a tangle of hair and racing green corduroy, the Gothenburg native weaved a beguiling spell of love-struck odes which implored the cross-legged masses in Leaf to rise to their feet.
Blending finger-picked clean electric guitar with a quite remarkable vocal – imagine a Scandinavian Joanna Newsom alternating between a whisper and a haunting howl and you're nearly there – Ms Lion, aka Linn Osterburg's, music was quite unlike any other. For one so young, Osterburg's tales had a traveller-wary feel which carried mystery and pained emotion, as she recounted being hit on in dive bars by whisky-soaked goons.
Sprinkling in a superlative cover of Damien Jurado along with evocative new single Sanna's Song, Sea Lion is very much one to keep an eye on.
Photography by Getintothis' Keith Ainsworth.
Further reading on Getintothis
Getintothis reviews Cate le Bon, H. Hawkline, All We Are: Leaf, Bold Street, Liverpool.
Getintothis on Cate Le Bon: Mugs, museums and Leaf.
Best new music – Låpsley.
We Are Catchers drop Tap Tap Tap ahead of debut on Domino Records.
Best new music – Getintothis on Abe.
Best new music – Getintothis on Etches.
GIT Award 2014 launches One To Watch prize.
Liverpool music's ones to watch in 2014 – the new breed to listen out for on Merseyside.
Liverpool's gig calendar 2014: Guide to essential gigs not to miss in the first third.
Comments
comments