The latest instalment of Singles Club sees Getintothis' Chris Burgess deal with Swedish-voodoo, rubbish clowns and the guilty pleasure of cheesy guitar solos.
Goat: Hide from the Sun – Single of the Week
Swedish psychedelicists Goat unveil their first ever music video, and it's a doozy, full of symbolic imagery and men in marvellous onesies.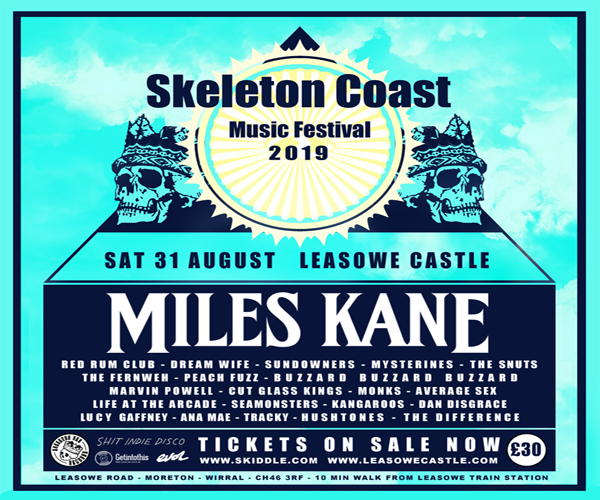 With a truly hypnotic, uptempo sitar hook and spookily soaring vocals from Christian Johansson, Hide from the Sun is a breathtaking song, full of eastern mystic vibes. A great single from one of the highlights of this years' Liverpool International Festival of Psychedelia.
Released on Sub Pop, this track is taken from the outstanding album Commune. The band's history is as otherworldly as their music – knowing what to believe is almost impossible. Are they really from the voodoo-cursed town of Korpilombolo? Has the band really been going for 40 years? Who knows? Just enjoy that they're here now!
Hollie Cook: Postman
Taken from her second album Twice, Postman is the latest in a series of excellent releases by Cook, once of the reformed Slits and daughter of Sex Pistol drummer Glenn Cook.
Produced by Mike "Prince Fatty" Pelanconi, and released on the Mr Bongo label, Postman sees Cook's sublimely smooth vocals soar above Pelanconi's modern reggae melodies. Cook has in the past toured with Prince Fatty and fellow collaborator Horseman, who makes a cameo in this video, but it's her solo work where she really shines.
tUnE-yArDs: Real Thing
The New Englanders return with a typically off-kilter tune, taken from May's Nikki Nack album.
Not quite as nursery rhyme-catchy as previous single Water Fountain, Real Thing is still a riot of beats, bleeps and Merrill Garbus' strong, quirky vocals. Also, this is the kind of video Lady Gaga wishes she could make.
Merchandise: Telephone
Laid back 80s vibes drip from this single, a collaboration between the Florida band and Scottish playwright/artist John Byrne. The video sees the band recreate roles from Byrne's play The Slab Boys, dressed as Teddy Boys – with Byrne himself making a cameo.
The song itself seems to float by, whispy guitar floating over the top of Carson Cox's melodic vocals. They're a strange little band, Merchandise. They sound different album to album, which is always a good sign, but somehow now seem on the cusp of crossing over into the mainstream without actually making that final leap.
Merchandise play The Kazimier on 26 November, towards the end of a massive US and European tour.
Deerhoof: Last Fad
Taken from their forthcoming album La Isla Bonita (their twelfth) the San Franciscan noise pop quartet return in fine form, with this slice of erratic indie choppiness.
The album was recorded in a week, live, in guitarist Ed Rodriguez's basement. This adds a certain lo-fi rawness to Last Fad – with singer Satomi Matsuzaki's surreal lyrics blending in perfectly.
The video shows the band jamming in the aforementioned basement, and having a whale of a time. There's always been something infectiously fun about Deerhoof – long may it continue.
Flying Colours: A Place In Your World
Hard to know where to start with the new video from this prog pop 'supergroup', featuring Dream Theater drummer Mike Portnoy.
Maybe it's the dreadful overproduction, the horribly dated guitar solos, the ultra-cheesy 'larking around in the studio' video or the sheer naffness of the lyrics, but something about this kinda…well…makes you smile deep inside.
I think the root of it is seeing a bunch of old guys rocking out without any pretence or faux bored-stiff attitudes. Look at the weird faces they all pull, either lost in their own musical world or egging each other on – it's magnificent!
A complete guilty pleasure, despite it ticking all the wrong boxes and being an amalgamation of everything I hate. Music is weird.
Steve Aoki, Chris Lake & Tujamo feat. Kid Ink: Delirious (Boneless)
Certainly video of the week, just for the cuddly Cyclops, this is a catchy electro-house tune, bouncing along as you'd expect of Aoki, the master of dance music collaboration.
Kid Ink's rapping is pretty meaningless, but fits nicely over the top of Aoki et al's excellently produced beats.
The Killjoy Club: Surprize
What's the opposite of a supergroup, a band where each individual member actually subtracts talent from the overall group?
The answer is The Killjoy Club, a meeting of mindless between Da Mafia 6ix and Insane Clown Posse.
Surprize is a dumb ode to stealing/mugging/jacking/who cares. It's horrendous.
Son Lux: Easy
Post-rocker (and Sufjan Stevens collaborator) Ryan Lott gives us an altogether classier affair with Easy, a trip-hoppy song so delicate you feel it could fall apart at any moment.
This minimalistic track slowly burns along, with a stunning (if slightly dark) video. With sumptuous vocals and rhythmic synths, horns and handclaps, the New York based Lott knows just how much to leave in a song.
Royal Blood: Ten Tonne Skeleton
The Brighton duo of Mike Kerr and Ben Thatcher have been getting mainstream attention for quite some time now, despite sounding to these ears like a White Stripes/Queens of the Stone Age hybrid tribute band. I get that they're decent enough musicians, I just don't see anything especially new about what they're doing.
Having said that, Ten Tonne Skeleton is the best tune I've heard from the band so far, a step away from the loudness-above-tunefulness of previous singles. If they manage to keep evolving, maybe they can forge a new path instead of following better-trodden roads.
Comments
comments