Another bumper collection of singles sees Getintothis' Chris Burgess take in Malawian troubles, atmospheric Norweigans and a Uruguayan living the American dream.
Mt Wolf: Red – Single of the Week
Releasing their first new track in almost a year, London collective Mt Wolf have dropped what must be one of the singles of the year, not just this week.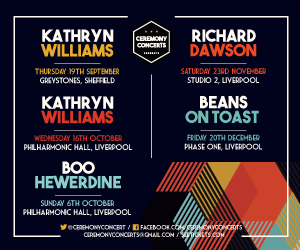 Mt Wolf are currently one of the most blogged artists in the world, and with Red, it's easy to see why they're lighting up the internet.
A slow-burning, intensely emotional song, Red is simultaneously large, delicate, warm and heartbreaking. Nothing feels out of place here, from the ambient acoustics to the sparse electronic elements.
The band inexplicably disbanded some months ago, following headline, sold-out shows in London, and they appear to make reference to this in their lyrics ("I'm going away for a long time").  A simple message of "Hello again, we're back" accompanied the link to this tune on their Facebook page, much to the delight of their fanbase.
Mr Oizo: Machyne
Flat Eric's French mate is back, with a barnstormer of a tune released on Brainfeeder. Machyne is taken from his new album The Church, released this week, his first album release in over three years.
All the Oizo hallmarks are present; a heavy dose of French house with a hard-hitting bassline and repetitive hooks. It might sound a little unhinged, but only in a very, very good way.
The Very Best: Hear Me
A distinctive and almost overbearingly moody track from the Malawian singer Esua Mwamwaya and Swedish producer Johan Hugo, Hear Me builds its layers up darkly, before stripping them back. Vampire Weekend's Chris Baio also makes an appearance, adding a bassline to the song.
The song was written on the eve of the Malawi general elections, and samples former president Joyce Banda, speaking on the 50th anniversary of Malawian independence. The whole song was written and recorded in a day, and details the frustration and anger Mwamwaya felt about the corruption, poverty and struggle in the country, and how little progress had been achieved since independence. A truly powerful song.
Arca: Zen
This is the title track from Arca's recently released debut album on Mute. The video was created by Jesse Kanda, a longtime collaborator. It probably should come with some kind of health warning on it though, as it's pretty strobe-filled.
Zen is a bizarre, unsettling and pretty sinister song, lurching from synth stabs to discordant glitches and rumbles. Ultimately, however, it's rather soulless, an exercise in style over substance that leaves you cold, despite its creativity.
Ed Ling: Swimmers
Londoner Ed Ling apparently wrote this song after spending time travelling between Mexico and an isolated life in London. This shines through on what is a charming and surprisingly emotional track, which constantly swings from the upbeat to the moody.
Swimmers is taken from his upcoming album Transatlantic Meditation, released in March of next year. With a swaggering and soaring chorus, Swimmers is a gloriously modern pop tune, Ling's melancholic voice working fantastically well against a backdrop of chiming guitars and chopping piano.
Juan Wauters: Nena
A latin American folk-pop song from the Uruguayan Wauters, now based in New York. A former factory worker, Jaun's songs all give the sense of a man happily living the American dream.
Perfectly lo-fi and underproduced, Nena is evocative of 1960's singer-songwriters like Cat Stevens. Wauters' warm, soothing voice sits strong against a simple melody and minimal percussion.
"Hope I'm not mistaken, this is a good song" he roars towards the end. He's got it spot on.
New Hands: Strange Attractor
A new tune from the Canadian/Leeds band New Hands, Strange Attractor is a disco/post-punk affair, complete with rich, eerie baritone vocals from frontman Spence Newell, who sounds much older than his years.
Starting out with here's a certain sway to this tune that brings a smile to your face, and enough electronic mayhem in the background to keep your interest from start to finish. An incredibly classy song, Strange Attractor was impeccably produced by Holy Fuck's Graham Walsh.
A very close contender for Single of the Week, this one.
Flyte: Light Me Up
Light Me Up is the latest from the London four-piece, released on Turned Out Nice/Island Records. The band are starting to make a name for themselves after recent tours with Bombay Bicycle Club and MS MR.
Light Me Up sounds like at least seventeen 80s songs meshed into one, which is no bad thing, as the Londoners manage to put a modern twist on proceedings.
The video continues the 80s theme, with intentionally badly filmed zoom shots and a concrete backdrop.
Despite over-egging the 80s vibe perhaps a little too much, there's no denying that Light Me Up builds to a magnificent climactic ending. Expect to hear it at the end of American indie film sometime soon.
Ohlayindigo: Summercrime
Liverpool-based Norwegian artist Ohlayindigo has released this beautiful and haunting single, the follow up to July's positively received Heartbeats.
The earlier single's energy has been replaced by an atmospheric and luscious arrangement, with Ohlayindigo's layered vocals hitting new heights. Bandmates Zak Shrapnell and Dan Stokes provide gloriously spacious drums and keyboard, allowing her the freedom to fly high above.
Jinkx Monsoon: Creep
And finally, simply one of the worst cover versions we have ever heard…
Comments
comments