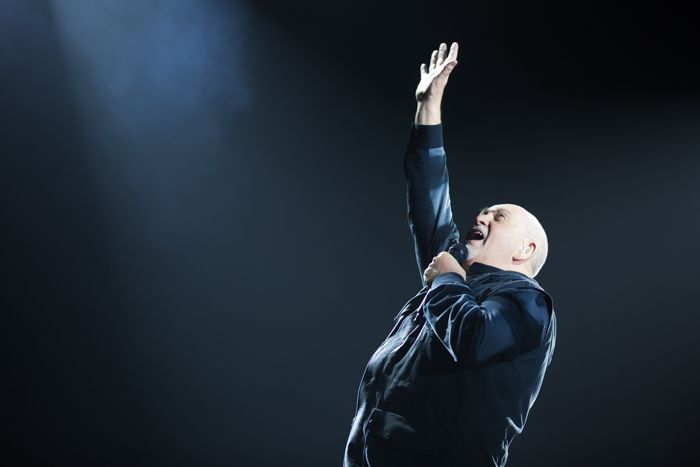 The former Genesis frontman brings his Back to Front tour to Liverpool, Getintothis' Shaun Ponsonby reflects on a set which consistently beguiles despite its unconventional approach.
There aren't many frontmen who have left a band to be just as successful as a solo artist, but Peter Gabriel's name springs to mind immediately.
Tonight, he performs his biggest solo album, 1986's So, in its entirety to an almost capacity house. Classic album shows can be simple nostalgic walks down days of yore, but Gabriel manages to side step this trap.
Firstly, the show is surprisingly experimental. In a rarity for an arena context, Gabriel begins alone at the piano, performing an unfinished song. The composition doesn't even have lyrics yet, and he gives us the vocal melody in gibberish and the house lights left on. It's an odd way to start a show in such a cavernous setting, but it sends a clear message: this is not nostalgia.
The next portion of the show begins halfway through a rendition of 1980's Family Snapshot. The house lights go down mid-song, the stage instantly transformed. This section was far more experimental, with rarer songs being brought out with some fascinating staging.
Gabriel has always taken care to consider everything, particularly the visual element. Tonight, five cranes with spotlights intensely stalk him around the stage for several numbers, essentially becoming characters within a play.
The music and visuals complement each other perfectly. It's just a shame that the audience includes an excessive number of wankers who feel the need to talk over numbers they don't recognise. The issue, however, is resolved with a mass singalong of Solsbury Hill.
The performance of So differs from the original. Like many 80's blockbuster albums, So is a little top-heavy, its three most significant numbers arriving in succession.
However, the track listing for the record has always been an issue of contention. Tonight, he plays the songs in the order he intended, which does much to redress the balance following the weight of the album's opening trio.
Of course, it is those three tracks that receive the warmest welcome. Red Rain and Sledgehammer predictably bring the house down, and Swedish backing singer Jennie Abrahamson does a fair job singing Kate Bush's parts of Don't Give Up (though anyone else singing Kate Bush always feels a bit wrong).
Gabriel has always been somewhat political, and an encore of Biko resonates powerfully. It hit us that, given recent events over in America, the issues raised in the song are still prevalent, and there are so few articulating them in music.
With the stage cascaded in red, the band walked off one by one as the audience continued the song's ending chant and an image of Steve Biko himself appeared on the screen.
Overall, Gabriel produced a show that achieved a difficult task: it could satisfy the uninitiated, the casual fans and the die-hards in a way that was entertaining, but still left you with things to think about.
Pictures by Getintothis' Matt Thomas
Comments
comments