As Holy Thursday exclusively reveal their new track, Getintothis' Adam Lowerson looks ahead to their show with psych-folk band The Paperhead.
Wirral newcomers Holy Thursday have revealed new track In My Mind, exclusively to Getintothis, ahead of their show with The Paperhead at the Shipping Forecast on January 30.
The psychedelic four piece, who have began to attract attention in the national music press through their previous two singles She and Hurricane, are fast becoming one of the most exciting prospects on the Liverpool guitar scene, and In My Mind further cements the buzz around them.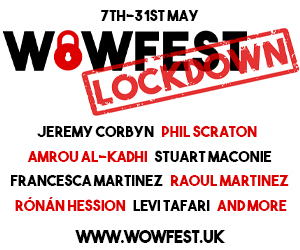 The new track sees The Beach Boys meet Tame Impala, with the west coast influenced sounds from the band's first two tracks given a modern sheen with a wash of shimmering synths. The vocal harmonies, which have become a staple of the group's sound, give the track a dark, eerie quality, before an eventual burst of intensity and colour, topped off with a Doors-esque organ wig-out.
With their support slot for The Paperhead being only their second live outing in the city, having performed alongside Thought Forms in late 2014, Holy Thursday are sure to soon be one of the main players on the Liverpool scene.
The night sees headliners The Paperhead head back to the city for the first time since their performance at Liverpool Psych Fest in 2013. The Nashville trio will be playing in support of their new album Africa Avenue, an acid-licked, folk record reminiscent of the Kinks and late Monkees. Africa Avenue has received solid reviews from across the board, and The Paperhead's sound is sure to feel right at home on Merseyside.
Support also comes from yet another hot Merseyside prospect in the Floormen, whose kaleidoscopic rock and roll saw them named as one of Getintothis' Ones to Watch in 2015. If singles such as The Rabbit on the Wall are anything to go by, they're certainly worth keeping an eye on.
Topping off a bill of mind warping experimentalism is the garage rock drone of Shrinking Minds. Their fuzz smothered, slightly shoegazey sounds take inspiration from grunge and will fit well amongst a line-up which covers all ends of the psych spectrum.
Listen to an exclusive stream of In My Mind below. 
UPDATED: This just in! The Floormen have thrown out The Place Where The Flat Things Are – another cut from their Back To Obscurity EP – a languid, floatation tank of Storm In Heaven-era Verve with a bracing rockist coda. Holy Thursday? More like Happy Tuesday.
Comments
comments