Liverpool's hip hop year ends with a packed out screening of Nas documentary Time Is Illmatic, Getintothis' Joe Thomas joins the Shipping Forecast masses.
Ask the teenagers, OGs and nasty kids / what their definition of classic is / Timeless, so age don't count in the booth / When your flow stay submerged in the fountain of youth. 
These are the lyrics spit by hip-hop legend Rakim on self-congratulatory 2007 collaboration Classic (Nike Air Force One Remix). While Rakim himself does not feature in the film his collaborator on that track, Nas, is the main subject of Time Is Illmatic, a documentary tracing the New York artist's breakthrough album.
And there can be few albums in hip hop history for which the aforementioned verse is more appropriate.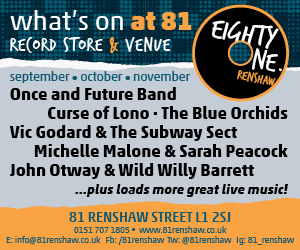 Illmatic is the definition of a hip hop classic – a belief accepted by the music gods at Rolling Stone who have it among their greatest albums of all time.
It also proves timeless too as 20 odd years after its release a documentary on the record fills a basement venue on the other side of the world with fans – some of whom were barely born in 1994.
The Shipping Forecast basement is a great little moody venue for a discreet film showing. Surrounded by brickwork as the beats from a Friday night in Liverpool resonate through the ceiling, it is low key and intimate. In fact as we arrive for the screening it seems things could be a bit too intimate but early fears of watching alone quickly disappear and eventually we're grateful to have a seat at all.
Sat in work clothes, a pure yuppie shirt and trousers, it's safe to say we felt out of place among the hi-tops, hoodies and students but that's the thing about Illmatic, it's such a revolutionary album that we became addicted despite it's release coming several years before our personal musical awakening, and even now people are still coming across it for the first time.
Despite it being the last Friday night before Christmas, prime time for the festive parties, students saying goodbye for a fortnight and colleagues suffering through work parties, this small cellar has a bustling crowd paying tribute to a hip-hop god.
Illmatic takes you back to the birth of modern mainstream hip hop, to the US city suburbs where disenchanted teens found a voice through hard hitting lyrics about life on the streets and fantasy verse about the lifestyle they aspired to.
From above, the Queensbridge projects Nas grew up in look like rough diamonds, the snowflake like buildings grimly standing side by side in the shadow of the bridge, which acts like a symbol for the life and opportunities passing over the community for the bright lights of city.
Nas harks back to the days of hip hop emerging from the suburbs, representing a community, as neighbourhoods trade insults lyrical blow to lyrical blow. There's a clear sense that identity is everything and every word in every song is filled with meaning.
Music, rap especially, is often accused of being vacuous and many times with good cause. But back in 94 music was Nas' life, it was the only means of escape for some of his peers, and lines are heavy with deep meaning as he gives a voice to the hellish environment all too often glamorised by those trying to follow in his footsteps – and even by the man himself.
The film takes you to grass roots hip-hop and the artists that lived the struggle and paved the way for those who followed and now brag about a hardship they know nothing about but abuse it in a bid to gain street cred.
When you are told he came from a world where most of his friends lucky enough to survive to manhood went to jail you realise just what Nas has achieved.
And yet the beauty of this documentary is it isn't a self gratifying look boasting at his rise. It's not a narrative told through tinted windows above spinning gold rims. Most of the talking is done by Nas' brother, clearly a big presence in the rapper's life. But it's never clear how he made a living, if he did it for himself. Did he too escape by himself? It's not even clear he's left. The brothers, one shot in an attack that saw one of Nas' best friends killed, the other an international star, a living example of how varied the paths could be of those brought up in the area.
Say what you want about hip-hop, or Nas, but his debut record, Illmatic is genius, bursting with meaning and an album surely to be appreciated by all music fans. From NY State of Mind to Life's a Bitch, this film gives an insight into Nas' background that, for once, didn't have the gloss of pseudo-success, the money, cars and women of some of his lyrics post Illmatic.
The documentary was illuminating, and the venue deserves credit not just for hosting cool little events like this, but for doing it successfully.
Comments
comments