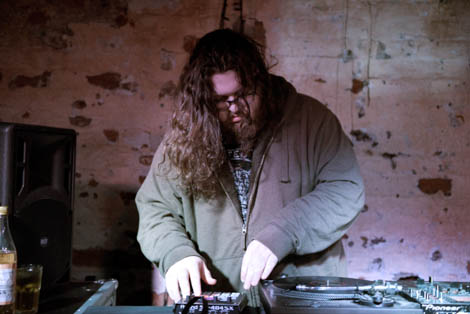 Stones Throw's South Californian MC Jonwayne delivers an intoxicating and intimidating set in Liverpool, Getintothis' Neil Docking reflects on an evening which is as uncompromising and as it is uncomfortable viewing.

Jonwayne cuts an imposing figure in person – a long-haired, bespectacled and bearded man mountain.
Sporting a black, skull emblazoned T-shirt you might expect to see on a doom metal band's bassist, he certainly doesn't have the appearance of your run-of-the-mill MC, nor a talent that could in any way be described as average.
The American is an artist who believes in ploughing his own furrow, and judging by a somewhat bizarre and challenging performance at the Shipping Forecast, he clearly isn't afraid to throw his weight around either.
The evening had begun much as expected, with an impressive set from GIT Award 2014 nominee Mad Brains, aka Cam Toman.
The former Widnes resident was joined by Ricci Queens, who prowled around in a Stetson hat and sparked things off with a fierce verbal volley.
Mad Brains brought things back to a more mellow vibe with Buggin, a hazy tale of lying in bed all day wasting time being wasted, complete with a burst of Biggie Small's classic Gimme The Loot.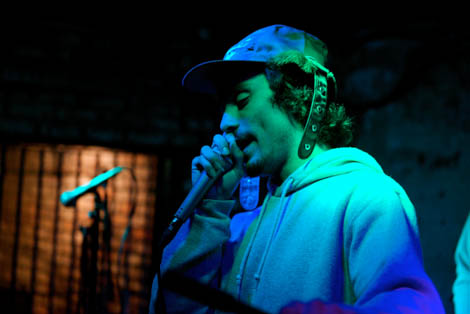 Mad Brains performing live at The Shipping Forecast
Up next was another lazy Sunday stoner ode, Exhaleee. His laid back flow complemented an early 90s hip hop summer sound and the message "roll one up and unwind, in the morning I'll be fine".
With the crowd suitably relaxed Cam admitted it was time to try something new, as minus a band "I've brought my trumpet with me". He gave a surprisingly accurate impression of the instrument, before he and the rest of the room burst into laughter.
It wasn't all blissed out beats and reflective musings, and the duo took things in a grimier and more aggressive direction, rhyming about meeting a "lovely lady" but warning her "if you got to know me then you'd probably hate me".
Somehow it's hard to imagine this lyricist being so antagonistic, such is his wit and the warmth of character he displays on the mic. Even his recollections of the grey skies and miserable surroundings of his youth in the North West came with the epilogue "I learned from it. I hope no offence was taken – it wasn't all bad".
His ability to shift modes from a casual and chilled host to a dynamic MC delivering scattered rhymes at pace was striking, so much so the audience was willing to forgive a haphazard finale, which ended with him admitting: "They say end with your best song – not a song you don't know the words to!"
If the primary role of a support act is to hype the crowd then Cam and Ricci had succeeded, because the basement was bouncing as a result of their infectious personality.
However, this was to be brought to an abrupt halt when Jonwayne emerged, the producer turned rapper making a low key start with no introduction.
Setting up residence behind the decks, he stood deep in concentration, beginning an intense, near 40-minute DJ set.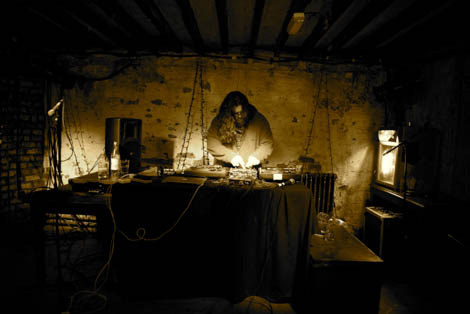 Jonwayne performing live at The Shipping Forecast
Interrupted only by swigs of beer, the lack of communication meant a lot of the energy built up over the previous hour quickly dissipated.
The crowd stood largely motionless, but the music was intoxicating, with snippets of what sounded like gospel choirs, classic 70s soul and soft rock, sampled and looped, and every once in a while bursting through the menacing beats and cutting snares.
Among the samples was Gallery's uplifting 1972 hit I Believe in Music, the lyrics "I could just sit around, making music all day long, as long as I'm making my music, ain't gonna do nobody no harm" providing some light relief during a period full of skill and dexterity, but short on crowd interaction.
With some in the audience growing restless, Jonwayne chose to drop Kanye West's Life of a Don, mouthing along to the hook as the crowd began to stir.
As he took to the mic he seemed irritated by a couple of drunken but good-natured hecklers, warning "If I'm going to talk I need to be confident you're going to listen."
Opening with Numbers on the Hoard, his reworking of the Pusha T track Numbers on the Boards, the room came alive, triggered by its fantastic opening: "Burn the sage on these corporate waves, they know that I'm a sadist, run these rappers grills on a lathe".
Jonwayne responded by urging fans to come close – "I don't want to see the floor" – and breaking into Blaq Cowboy, with the taunt "rappers are falling off like hip hop is having chemotherapy", and a delivery reminiscent of B.I.G.
Acclaimed tracks were now coming thick and fast, including some great wordplay like "just as soon as the sun touch the meadow, I was born, handcuffed to strings of Geppetto" from the Come Up Pt.1, and the expectant throng pounded on the basement ceiling.
The message of Pt.2 "if you can't understand the movement, then pay no attention" seemed to resonate even further, giving way to superb renditions of Find Me in the Future, from his 2013 LP Rap Album One, and Asbestos, from his previous record Oodles Of Doodles.
But wandering through the crowd the Californian still seemed ill-at-ease with his surroundings, making his displeasure obvious in a quiet moment when people could be heard talking at the bar.
He had a legitimate point, but a confrontational atmosphere began to develop, especially when he announced "I'm not doing this to pander to you, or so you like me".
So much of any gig is about the relationship created between artist and audience – a temporary bond vital to a successful show – and when it comes to hip hop in particular, the wrong vibe can be disastrous.bIt was a real shame to see his hard work undone when he swiped at a photographer's camera and grabbed at the phone of a fan recording one segment – neither of which seemed necessary.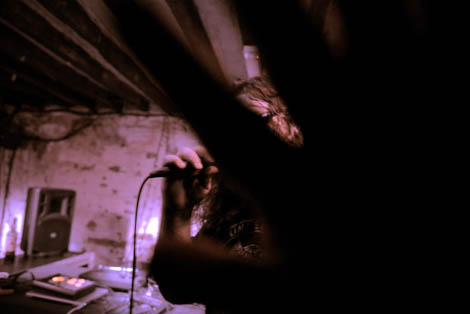 Jonwayne getting jiggy with the camera
By this stage an aggressive and surly presence, Jonwayne followed an impressive acapella by blasting "you can hate all you want but you can't deny I'm good at what I do" – to which fans could only nod their heads in agreement.
Finishing the set with the explosive Marion Morrison (the real name of the legendary Hollywood star John Wayne, who took his screen name from one of the rapper's ancestors) and proclaiming he was "iller than that actor cowboy", there was no response, with no clapping, and no calls for an encore.
The awkwardness of the situation dawned on the MC, who reappeared saying it was "the weirdest reaction I've ever got at the end of a show".
After a closing acapella verse, which again displayed his undisputed talent, he departed with laughter and a smile – yet many in the crowd seemed puzzled as to what they had just witnessed.
Pictures by Getintothis' Gaz Jones
Further reading on Getintothis
Liverpool Sound City 2014: Review round up and top 10 bands of the festival.
Liverpool Sound City 2014: Picture gallery from all three days of the festival.
Liverpool Sound City 2014 – all the bands reviewed from the three days.
Top 10: West Coast hip hop albums
Peanut Butter Wolf, Fingathing: The Kazimier, Liverpool.
The Pharcyde: Bizarre rides, the making of a classic and J Dilla's legacy
GIT Award 2014: Artist nominee profile – Mad Brains
Ugly Duckling, DLA: The Shipping Forecast, Liverpool
Pharoahe Monch, Boogie Blind: The Kazimier, Liverpool
Getintothis on The Label Recordings: Hooton Tennis Club and The Inkhearts.
Cyclist.
Moats.
Elephantom.
Nelson.
The new breed of tomorrow's LIPA artists.
Comments
comments