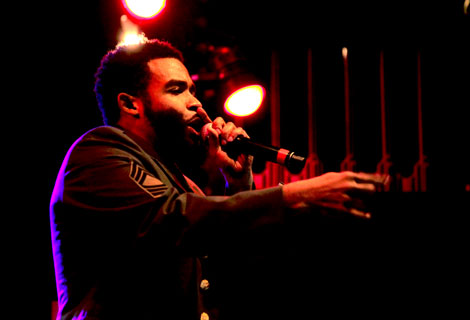 Pioneering hip hop king Pharoahe Monch delivered a one-two body blow to a packed Kazimier, Getintothis' Alex Woo insists his place on the throne is safe for sometime yet.

Over the past eighteen months, Liverpool hip-hop community have been treated to a plethora of talented artists performing in the city, many of whom played here for the very first time.
Whether it's the pre-eminent pros, such as Big Daddy Kane and The Pharcyde, or the precocious phenomenons, like Joey Bada$$ and Pro Era, the city's music scene continues to go from strength to strength.
This time it was the turn of Pharoahe Monch, undoubtedly one of the most underrated emcees of the past twenty years, to grace us with his presence.
Pre-show beats were provided courtesy of two stalwarts of the local scene, DJ 2Kind and No Fakin, who are synonymous with everything good this city's hip-hop community has to offer.
The Queens Native, who rose to prominence in the early nighties as one half of Organized Konfusion, boasts a career that spans well over three decades, and at 42 he shows no sign of slowing down. With the impending release of his highly-anticipated fourth solo album, P.T.S.D. (Post Traumatic Stress Disorder), finally upon us after several postponements, Monch sounds as sharp and incandescent as ever.
Backed on the decks by another heavyweight of the New York music scene, Boogie Blind of the X-Ecutioners, one of the most revered DJ groups of the past 20 years, Monch has the crowd in the palm of his hand from the get go and wastes no time blazing through his catalogue of hits.
His lyrics have always been consistently confrontational, epitomised by 'Fuck You' from the Training Day soundtrack a real crowd pleaser, as is 'Simon Says', from his debut solo album Internal Affairs.
His new material not only stands toe-to-toe with his previous work, but suggests that he's continuing to improve as an artist. His latest single Bad MF is vintage Monch: acerbic rhymes over a heavy yet soulful beat.
His Organized Konfusion days are well represented, too. Classics such as 'Stress' and 'Bring It On' go down a treat and have a raucous crowd vociferating the choruses at large.
There's are fitting tribute to Nate Dogg via their collaboration 'Oh No', perhaps the song that has garnered Monch the most commercial success in his solo career, and the Jill Scott featuring 'Still Standing', that explores his struggles with chronic asthma, which at one stage threatened to ruin his career,
By the time he closes off his second encore of the night with 'The Light', both he and the crowd are exhausted, but satisfied that it was worth such a long wait to see one of hip-hop's underground heroes.
More than happy to pose for photographs with those that stayed behind to meet him, Monch even invited those hangers-on backstage for a quick drink of Jameson's before the Kaz closed its doors.
It was a relatively small gesture in the grand scheme of things, but one that few other artists of such grand acclaim and stature would have done, and one that will no doubt be long remembered by the lucky few in attendance.
The Shipping Forecast and The East Village Arts Club are wonderfully intimate venues in their own right, but there's something about a packed out Kazimier in all its resplendent glory that really adds to a show, especially surveying the carnage from the balcony.
But whatever the venue, it will take some performance to try and abdicate the Pharoahe's throne.


Pharaohe Monch live at The Kazimier, Liverpool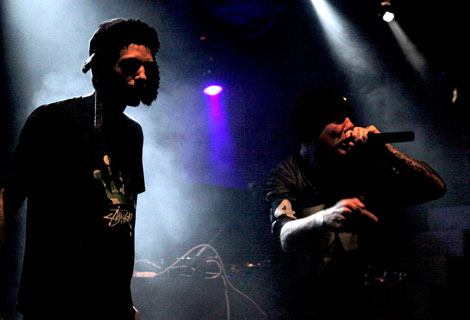 Boogie Blind live at The Kazimier, Liverpool
Pictures by Getintothis' Ian Gamester
Further reading on Getintothis:
Peanut Butter Wolf weighs in with heavyweight Kazimier date.
Parquet Courts set for Liverpool summer outing at Kazimier.
Brian Jonestown Massacre to decamp in East Village Arts Club.
Andrew WK to party hard in Liverpool's East Village Arts Club.
Getintothis' gig announcement for Pharoahe Monch
Getintothis' gig review of Big Daddy Kane, Innuendo, Tony Broke, No Fakin
Mad Brains: Wu-Tang, mixtapes and making Merseyside's finest hip hop record in years
Getintothis' Top 10: West Coast hip hop albums
The GIT Award 2014: the shortlisted nominees in detail
Comments
comments