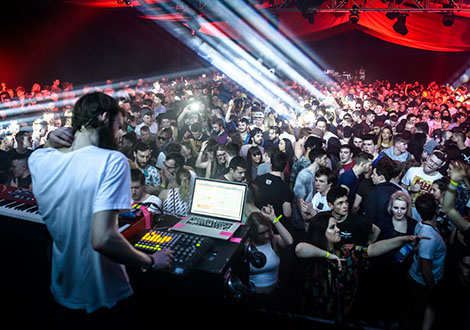 Not your typical weekend holiday camp getaway, Getintothis' David Michael takes a trip up the coast to discover what really scared off the squirrels.

Founded by Johnno Burgess and Paul Benny , Bugged Out! evolved from trend-setting magazine Jockey Slut, when Sankeys Soap owner Andrew Spiro approached them to put a night on.
Following Manchester, was Cream at Nation, bringing the likes of Daft Punk to Merseyside, before relocating back down south to London for the electro-clash period.
Bugged Out!'s success has come from their ability to stay relevant by following the evolution of dance music. As Bugged Out! celebrates it's 20th year it is more widely regarded for it's regular nights in the capital, but for the flagship Weekender event they've come back north to the relative sedate, out-of-time backdrop of sunny Southport.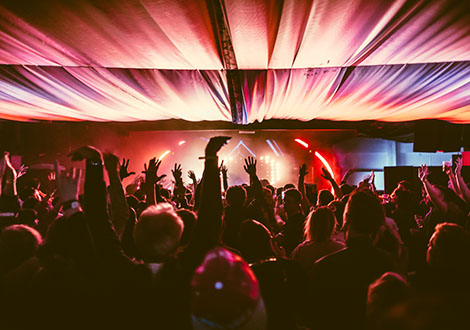 FRIDAY
As the queue for the chalets continue to stretch way out the door, early revelers wander past, getting their bearings for the weekend ahead. The main building, holding three rooms, each with their own carefully selected line up, was to be Getintothis' home for the next three days.
With fellow label mates, Erol Alkan and Daniel Avery playing later in the evening, it was Nadia Ksabia from Erol's Phantasy label and NTS' host Rhythm Connection, who begins to draw in the first crowd.
Ksabia, was the perfect way to get things rolling – her funky synth-house, filled the intimate Room 3 nicely; tracks such as her own dub edit of the disco-smash Virtual Lover and Mark E's The Kings Heath gently easing early arrivers into the weekend.


Another DJ who could of probably benefitted from a later slot, was Krysko, perhaps best known for his Warehouse Project resident duties, his flawless track selection really deserving of a larger audience.
The night really begins to step up with the first live set of the night provided by Danish producer Kolsch, who delivers a relentless set of warm anthemic beats, with waves of sound washing over the now near capacity crowd.
Unfortunately, having a lineup so strong comes with it's own downfalls and sadly clashes are inevitable, meaning having to leave Kolsch to catch the live UK debut of Todd Terje. For many, tonight was their first chance to experience songs from Terje's forthcoming debut album, delivered alongside with classics such as Ragysh and of course, Inspector Norse.
Think of the name Bugged Out! and you'd probably think of Erol Alkan too, the former Bugged Out!resident alongside two flagship compilation releases holds a special place in the brand's history, and it's impossible to even imagine celebrating 20 years without him here.


Over the course of the two hours, Alkan showed exactly why he's so respected and an inspiration to many newcomers throughout the dance community, the banner at the back of the room proudly displaying VIVA ACID HOUSE! And it's exactly this that Alkan delivers, alongside tracks from his own recent long-awaited first EP. A hold on love with its euphoric chords brings to a close another memorable Alkan set.
It's not hard to see why Dixon was recently rated Resident Advisor's number one DJ for 2013, the Innervisions label boss, accommodating the crowd with a peak time set that rarely lets up, the lights and heavy smoke capturing everyone present to just get lost in the moment.
It's at this point, you're grateful for the accommodation included within the ticket price. It's nothing fancy, but you're at a festival, and all you need to do is walk those tired legs mere yards to get your chalet, where you can put your head down in a warm bed, ready to rest up for the next day.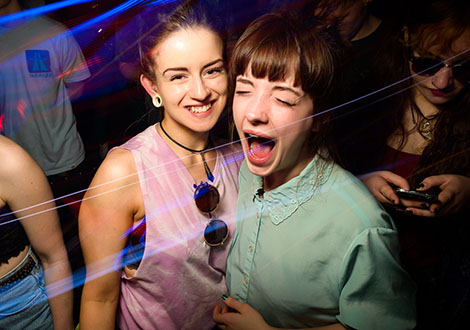 SATURDAY
Saturday begins early with one of Bugged Out's infamous pool parties hosted by 2 Bears, complete with flying inflatables while trying to maintain balance across the croc run. The music becomes more of a background with the less than suitable acoustics of the pool, but despite that there remains a good atmosphere all around.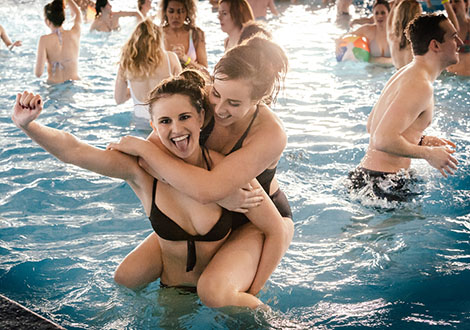 You couldn't go anywhere last year without hearing the heavy synth lines of Gotham and the mysterious Ten Walls who was behind it. Now in 2014 its come to light that the identity of Ten Walls is Latvian producer Mario Basanov.
Showcasing his live show tonight, the intense visuals added another dimension to the music, Basanov clearly demonstrating he's got plenty more to come, with unreleased Walking with Elephants easily fitting in with the big single releases such as Requiem.
In a near capacity Room 2, Kerri Chandler, gets things rolling with Boris Dlugosch's Ready, it's almost an instruction in it's delivery. Chandler provides two hours of different stylistics spanning across many decades with faultless transitions. Clearly moved by the reception he's received, Kerri takes to the mic to provide some history before finishing with MK's 1992 house classic Burning.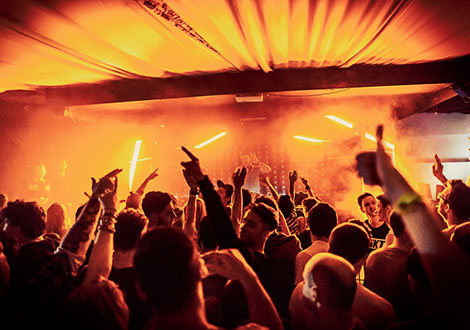 Room 2 tonight is hosted by Radio1 DJ Heidi, and it's the host – who's been side-stage dancing away all night – time to take to the decks, with her Jackathon-trademark heavy bass jackin house sound keeping the floor moving before tonight's closing set.
If ever there was a DJ that said party, Jackmaster is that DJ, playing from Bryon Stingily, to Boddika and Joy O to classics such as Oxia's Domino and more recent cuts like Kingdom's remix of Mapei's Don't Wait. Jack ensured the floor kept moving right until the early hours, a fitting end to Saturday… or was it?
For those lucky enough to move quickly, you may of heard about the secret Mixmag Chalet Party, as we arrive (Number 951 by the way), Jackmaster is already back on the decks, cramming 70 odd people into a chalet; it's a hot and sweaty affair, but free tequila cocktails keeps everyone cool and mass sing-a-longs to the likes of Cyndi Lauper, Donna Summer and Prince's Purple Rain ensure a joyous affair all around for those lucky enough to be present.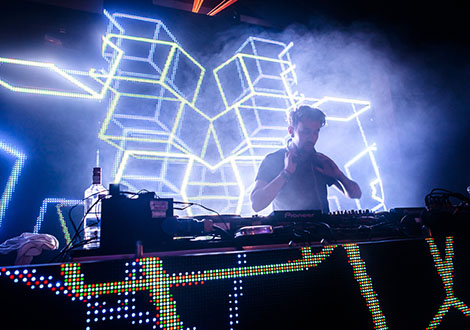 SUNDAY
As well as the music on offer, there are a few other activities to partake in; Pontins itself has clearly seen better days, but there's still mini-golf, fun bikes and go karts for when you're not resting yourselves from the heavy night before.
Another producer-come-DJ who has enjoyed a long and successful relationship with Bugged Out! is Justin Robertson – from acid house to more psychedelic disco numbers, Robertson manages to get the crowd moving and ready to take on the final night.
Following Robertson is Bugged Out! Weekender debutant Boddika, who doesn't waste any time in taking the music to a much more darker, frankly evil place. It's heavy, it's brutal but it's also a welcome change to everything we've heard prior. Following Boddika is usual back-to-back partner Joy Orbison, who showcases his ability of impeccable transitions, oscillating between multiple genres with minimal effort.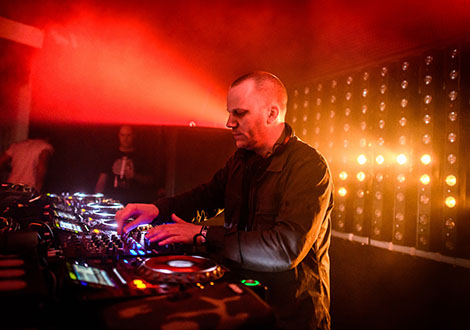 It's difficult to even begin to explain the importance of Carl Craig to techno as we know it today, and the Detroit legend doesn't disappoint, over the next hour and a half we're treated to an absolute master-class from Craig, ranging from dubbed-out house to Detroit techno in an all-encompassing groove.
With 20 years experience, Bugged Out! clearly know what they're doing, each room's production throughout the weekend is second to none, with impeccable sound quality throughout each of the three venues.
There's nothing too over the top or fancy too, it's very much a no-nonsense affair, sticking with the brands 'It's Just A Big Disco!' ethos, and when you're having this much fun, it's hard to really complain. If there's one real downside to note for the weekend, it's the queues, with attendees regularly complaining about getting searched every time they went outside for a smoke, or having to wait at least half an hour at the less than staffed bars. But having been accustomed to similar holiday park affairs like All Tomorrow's Parties, Getintothis sympathises with the organisers realising the restrictions imposed elsewhere.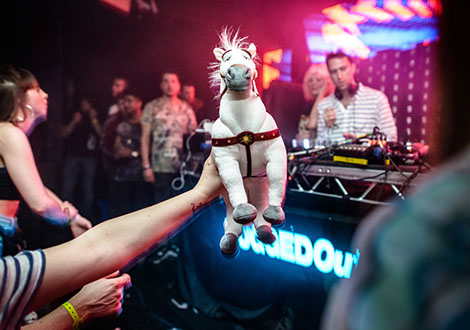 Last year Dave Clarke was stranded in Amsterdam due to the freak snow-storm grounding flights, this year thankfully he's here and the Baron of Techno – a name penned for him by legendary Radio 1 DJ John Peel no less – closes the weekender with a set filled with pounding industrial techno and electro all delivered in a relentless twisted assault. It's the ideal way to end Bugged Out! Weekender, and as founder Johnno Burgess watches it all come to a close beaming from the side of the stage – we just have one question…
Same time next year? Happy 20th Bugged Out!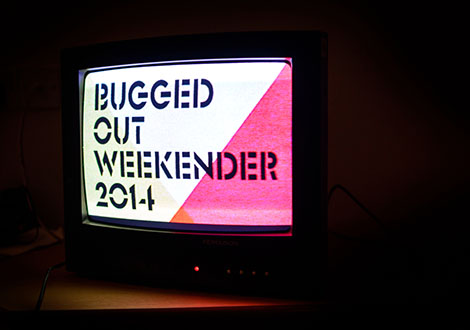 Pictures by Getintothis' Tom Horton
Further reading on Getintothis:
Andy C to drum up a treat at Chibuku's 14th birthday
Andrew WK to party hard in Liverpool's East Village Arts Club
Action Bronson serving up a delectable platter at East Village Arts Club
Creamfields 2014 line up featuring Calvin Harris, deadmau5, Avicii and Tiesto
Join The Club – The growth and future of Liverpool's club night scene
Comments
comments