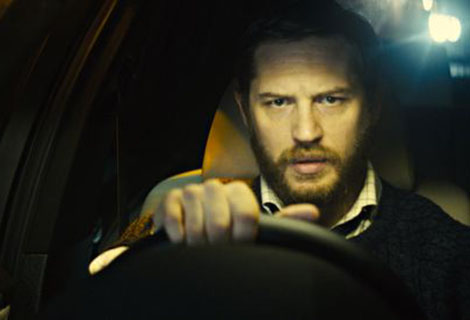 Tom Hardy's latest lead explores a solitary, soul-searching ride inside a BMW, Getintothis' Paul Baker salutes the adventure if not all the execution in a film maybe suited to a smaller stage.

The Road to Nowhere; The Road to Perdition; The Road to Hell… there's something intangible and dangerous about that endlessly stretching, curving, twisting, black snake of tarmac, taking us from places we know to places we don't.
It's an easy metaphor for life, of course. Each junction is a decision, every turn revealing a new unknown, a fresh feature, a place that may or may not be an important destination for us.
There's the rules of the road, the dangers of it, the threat that our journey may end at any point along it. Yup, it's pretty darn good fodder for the storyteller.
And then, driving along the road, alone, just our thoughts for company, well that certainly allows us the chance for a little reflection. But does it have the makings of a classic piece of cinema?
Well, with his new film Locke, British screenwriter Steven Knight – known for the movies Dirty Pretty Things and Eastern Promises – decides to find out.
The movie places building foreman Ivan Locke behind the wheel of a large automobile – a big 4×4 BMW, in fact – and sends him driving off into a long dark night of the soul which promises to change his life forever.
Brit actor and Hollywood A-lister Tom Hardy is the man tasked with the job of playing Locke. His iconic turn as Bane in the last of the Dark Knight films has seen his stock rise high in Tinseltown, but this is quite a change of pace from beating up Batman.
For the entirety of Locke's 85 minute running time, Hardy's is the only face that appears on camera. And once he gets into that car, he keeps on driving until he gets to wherever he's going.
It's a very clever little piece of experimental theatre, captured on camera. Knight both writes and directs here, but it's Hardy who puts in all the sweat.
Every second of the film, every step forward in the plot, and most of the emotion vested in the believability of the journey and the other characters involved has to come from him.
Yes, there are other characters in this piece, but they commune with Ivan Locke only through his hands-free in-car phone (which always has perfect reception, by the way). We, the audience, live the movie mainly through three cameras focused upon Hardy.
Filmed over five days, with Hardy in the car and the other actors calling him up from a motorway service station, the cast ran the script right through two or three times a night, between 9pm and 3am, on various stretches of three-lane carriageways around London.
Each take lasted 37 minutes and then there would have to be a pit-stop to change the memory cards in the digital cameras! No wonder the characters all sound so tired and emotional by the time Locke's journey's end rolls into view.
The film starts with Ivan Locke getting into his car and leaving a building site in the early evening. He sits at some traffic lights and then makes the decision that will drive the rest of the film, the decision not to go home. We soon learn that this decision, while momentous, isn't the true life-changing one.
Locke made that seven months earlier when he got a woman pregnant during a one-night stand. So now he's driving from Birmingham to London, as fast as he can, because he's just found out that she's gone into labour.
And slowly, layers of interest, pieces of back story and a growing sense of anxiety, crank up the atmosphere and stress levels within both the cinema and Locke's BMW, close to breaking point.
He's got lots to keep on top of on this journey, you see. Firstly there's Bethan, a woman he barely knows who's calling him up, alone, scared, and about to give birth to his child.
Then there's his wife and children (Ruth Wilson, Tom Holland, Bill Milner), who want to know why he's not coming home tonight, where he's going and why he's going to miss the big match on TV.
And then there's Gareth and Donal (Ben Daniels and Andrew Scott – Moriarty in the BBC version of Sherlock) two workmates of Ivan who want to know why he's just left the building site on the eve of starting work on the biggest new commercial building in Europe.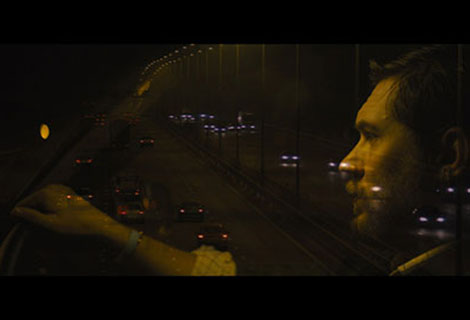 Tom Hardy in Locke
You can see how Mr Locke rather has his night's work cut out for him! What follows is an engaging and intriguing character study, as we learn how Ivan is driven by a desire to do the right thing and not end up repeating the mistakes of his absent father.
Indeed, the sins of the father weigh heaviest upon the rest of the film, heavier than the steel structure that promises to collapse if Ivan can't instruct Donal how to correctly prepare the site for the arrival of the many trucks filled with concrete, due the next morning. Ivan takes on the Herculean task of balancing his duty to his wife and children, alongside the birth of both his latest high-rise construction, and the baby he is responsible for creating.
Locke's name recalls the philosopher John Locke, who believed that the ideas and associations made when a child are the true foundation of one's sense of self for the rest of one's life. And, in the scenes where Ivan has angry, embittered conversations with his philandering father – whom he imagines is sitting in the backseat of the car – we see that Ivan needs to ensure his new child's sense of self is influenced positively, by a real and present father.
London-born Hardy chooses to give Locke a Welsh accent. It lends his voice a soothing lilt, while still allowing him to flex it and bear down with the gravitas and strength of Burton or Hopkins. It's a tremendously theatrical performance, and the first film of the year to be garnering serious 2015 Oscar buzz.
We were taken by the film and swept along by Hardy's excellent performance. Our only criticism is that, in being so theatrical, we struggled to see Locke's cinematic qualities. We feel this would have been much more powerful and visceral as a stage play, without the cinema screen and windscreen between us and the protagonist.
Still, the ride along with Ivan Locke was an interesting, entertaining and thought-provoking one. It might not have had the bristling, dangerous excitement that the trailer promised, but it was a worthy and enjoyable exploration of what both cinema and theatre can be.
And, if it encourages other writers and directors to try new ways of telling a story on screen, that can only be a very promising thing.

Further reading on Getintothis:
The Double, Ayoade and the making of a very British warped classic
Science fiction and music: Ballard, Carpenter and the joy of synth
Goldfrapp present Tales Of Us: FACT, Liverpool
Only Lovers Left Alive: Jim Jarmusch, vampires and a little night music
An Oversimplification of Her Beauty – Terence Nance's ode to humanity
Liverpool Sound City 2014: Review round up and top 10 bands of the festival.
Liverpool Sound City 2014: Picture gallery from all three days of the festival.
Liverpool Sound City 2014 – all the bands reviewed from the three days.
Getintothis on The Label Recordings: Hooton Tennis Club and The Inkhearts.
Cyclist.
Moats.
Elephantom.
Nelson.
The new breed of tomorrow's LIPA artists.
Comments
comments