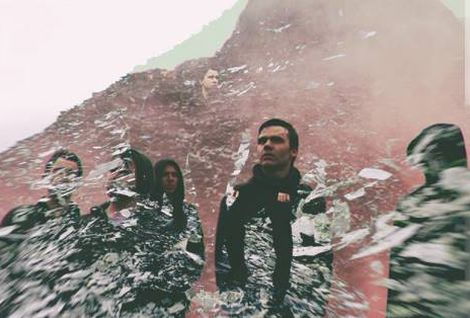 Soho Riots are set to bring their bracing urgent guitar pop to LIMF 2014, Getintothis' Patrick Clarke finds a band with plenty of promise.

As an ever-present fixture in Liverpool's nooks and crannies, Soho Riots have most definitely earned their stripes. No longer a band to merely stumble across, their swagger's undercut with the confidence of musicians well aware of their firm fanbase
It's probably predictable then that Mariello is an unashamedly populist affair, comfortably paced and highly accessible in the vein of Two Door Cinema Club, while singer Andy Woodhouse walks the line between exhaustingly emotive and easy on the ear with calculated grace.
Permitting barely a crack of the drums the band dives head first into proceedings, with layered, bouncy riffs playing effortlessly back and forth with Woodhouse's earworm chorus. It's a finely crafted piece, and Soho Riots are evidently a band with their sights rightly set on the summer's main stages.
Though that's not to say this is anything new. Mariello could take pride of place among the best of the last decade's indie-rock explosion, but in 2014 it seems just that slightest bit left of the zeitgeist. Where the five-piece do show signs of eccentricity, however, it's hugely promising. Nowhere is this more apparent than on the frenetic synth line that lurks beneath the song's surface, adding just that little bit of idiosyncracy to hint at another layer.
Lyrically the song is pretty basic, shooting for the singalong rather than the statement, hardly the sound of the musical revolution. What it is, however, is the sound of an extremely good guitar-pop band, and even on this early outing it seems safe to say that the best is yet to come.
Soho Riots play Getintothis' & Bido Lito! stage at Liverpool International Music Festival 2014. Full details here.


Further reading on Getintothis
LightNight Liverpool 2014: Cathedral, Black-E, FACT, St Luke's Church – picture gallery.
Liverpool Sound City 2014: Review round up and top 10 bands of the festival.
Liverpool Sound City 2014: Picture gallery from all three days of the festival.
Liverpool Sound City 2014 – all the bands reviewed from the three days.
Getintothis on The Label Recordings: Hooton Tennis Club and The Inkhearts.
Cyclist.
Moats.
Elephantom.
Nelson.
The new breed of tomorrow's LIPA artists.
Comments
comments