In our first dance music, club culture and electronica column, Getintothis' Martin Hewitt on the best new beats of 2015 and looks ahead February's month of parties. 
Thankfully we've finally seen the rear end of January. We've survived the New Year comedown, Blue Monday and sub-zero daytime temperatures, emerging from the bleak mid-winter into the final precursor to spring. The only way is up from here then.
OK, so February might have its fair share of problems, not least if you're single come the 14th. Nevertheless, standing on the balcony at Manchester's Albert Hall for the launch of Transmissions – a new series of events that will see the likes of Carl Cox, Sasha, Ben UFO and Karenn drop bombs on heads – will get us back in the party spirit. Revered reggae selector David Rodigan's Ram Jam party was well and truly rammed, sweaty and packed with faces looking to blow the cobwebs off and begin another 12 months of decadence.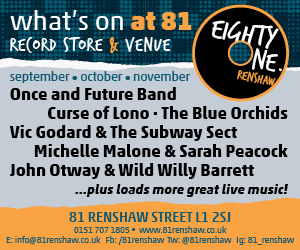 In between, of course, we've had plenty to listen to, keeping us going on those dreary nights in. Joseph Capriati's forthcoming Fabric mix album was enough to remind us that real techno should be a constant forward motion, referencing minimalism, industrialism and driving funk in one fell swoop. Being released on February 16, it's and meatier than a mafioso bodyguard.
Elsewhere, and on a far lighter note, the second LP from St. Albans-raised Rob Lee, AKA Wax Stag, is set to land on the Old Habits imprint come February 9. II is a slo-mo joy that calls into mind everything from Georgio Moroder to Todd Terje. A stunning collection of groove-laden synths, intricate melodic details and varied cosmic beats from someone who has worked with the likes of Bibio, Friendly Fires, Clark and Errors.
The latest long-player from John Tejada is also released the same day. The esteemed LA based studio whiz, perhaps one of the most talented EQ obsessives on the planet, follows up his critically acclaimed The Predicting Machine with Signs Under Test for German institution Kompakt. A dreamy but heady combination of tracks that veer between set-opening atmosphere setters and head-banging filth, it's not without reason people are already pointing to this being his most accomplished effort to date.
At the deeper end of the spectrum there's plenty to talk about too. SCNTST arguably has the most hypnotic techno offering you're likely to hear all year, which will be released on the genre-straddling Boyz Noise come February 16. Puffer calls into mind artists such as Echochord and the dubbiness of Basic Channel, yet there's still more to reference thanks to the focus on shimmering harmonisation, with tunes such as Sers reminding us of Jam & Spoon's epic masterpiece, Stella.
Suffice to say, we've been inundated with EPs and singles too. Bloc, a new label from the folk behind the Butlins-based festival which is set to return in March following a four year hiatus, opens the scoring with a double-A 12", Shona. Coming from first-timer Jake Chudow on February 9, it's packed with build and a slow release energy, not to mention plenty of emotion.
Busy times indeed, and this is before we even mention the inaugural EP from party, visual arts and general creative crew Derelicht, featuring delicate four-fours from Thermal Bear, ethereal ambience courtesy of Killawatt, and progressive breaks by The Soft. Meanwhile, the seven track cut from Rights (AKA Braille) The Meaning EP, has also been keeping us busy with its lunging bass rhythms (Cold In The B), staccato future house and broken steppers (Heartbeat, I Believe). Get your hands on it from February 23.
*** Like what you hear? Here's six February parties not to miss ***
* mUmU 7th Birthday at New Bird Street Warehouse – February 7, £20
The Liverpool session turns seven, and has invited Mathias Kaden for the celebrations. The Cocoon chap will be back-to-backing with Daniel Stefanik for four hours no less, with support from high flying Below boss Adam Shelton, Rossko (Fuse), and ressies Lee Rands and Henry St. Social.
* Hustle at The Magnet – February 13, £10
Baltimore legend DJ Spen is in the house. With a career spanning all the way back to the mid-80s, and namechecking institutions such as Basement Boys Records, Code Red, and Spiritually Sound, not to mention that long-standing partnership with Karizma, this one will be all about uplifting, gospel-tinged house.
* Obscure at the Soup Kitchen – February 13, £8
Arguably the simplest party of the month, Manchester's finest small venue is handing control of the evening over to the inimitable Bok Bok, the chap behind one of the most influential British labels from the last five years, Night Slugs. As such expect typically varied beats; from cheeky bass and garage to nu-school house.
* Bilderberg at The Road House – February 21, £8
The Bilderberg team – not to be confused with the Bilderberg Group of world leaders and their business pals – have managed to persuade Harri & Domenic to make the trip from Glasgow for the evening. The duo lay claim to the longest running residency on the planet, Subculture at Sub Club, so expect house, disco and techno with real pedigree.
* Soul Clap All Night Long at The Shipping Forecast – February 27, £12
As the name suggests, Boston's finest kings of slo-mo electronic goodness are descending on The Shipping Forecast to move feet for the duration of the evening. Known for throwing everything into their sets- from Prince and Ghadi Mizrahi to the kitchen sink- sleaziness would be an understatement. 
Comments
comments