The GIT Award 2015 shortlisted nominees are revealed.
Liverpool music prize, The GIT Award, can today reveal the 12 shortlisted artists for the 2015 edition.
The GIT Award 2015 shortlist is: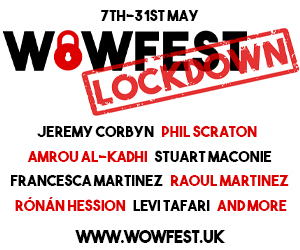 General manager at 4AD Records and GIT Award 2015 judge, Rich Walker, said: "What a great award to be asked to help judge.
"Working at 4AD, there's never a shortage of new music to listen to but I've particularly enjoyed discovering what a fertile and supportive scene Liverpool currently has. More cities really should copy the GIT template and do their own award." 
Now in its fourth consecutive year, The GIT (Getintothis) Award, champions the best of Merseyside music providing a snapshot of the year while recognising significant artistic achievement across a range of musical styles.
And the 2015 shortlist is no different…
From Double Six-signed groove funk trio All We Are to Transgressive Records' rock & rollers Circa Waves through to surf-pop Domino signees We Are Catchers; Tim Burgess-affiliated electro duo D R O H N E, XL Recordings hype star Låpsley, swaggering Heavenly Recordings' slouchers Hooton Tennis Club and Wire Magazine-endorsed enigma Esa Shields; emerging soul-pop diva Roxanne Jones, Finders Keepers-signed cosmic singer-songwriter Jane Weaver, swirling UK buzz band Gulf, Skeleton Key Records' revellers Sundowners and neo-soul rising star Xam Volo – this year's GIT Award shortlist represents a kaleidoscopic musical picture few cities in the world could match.
This year's shortlist was selected by national industry figureheads consisting of Bella Union Records' Simon Raymonde, The Quietus editor John Doran, Heavenly Recordings' boss Jeff Barrett, UK Music's Dot Levine, author and journalist Simon Price, 4AD Records' Rich Walker, Clash Magazine editor Robin Murray, Jarri Van der Haegen, editor of Belgian buzz blog Disco Naivete, XFM deputy programme manager Mike Walsh and Amazing Radio's Shell Zenner.
The judging panel was completed by respected Merseyside music players including Liverpool Music Week director Mike Deane, Arts Club manager Victoria Smith, Sound City and Club EVOL promoter Steve Miller, Liverpool International Music Festival curator Yaw Owusu, Bido Lito! editor Christopher Torpey – and GIT Award founder and Liverpool Echo journalist, Peter Guy.
Reflecting on this year's shortlist, Dot Levine, from UK Music, said: "It was a huge honour to be a GIT Award judge.
"The standard in Merseyside is exceptionally high and we have heard some incredible music. It was a very difficult task choosing the shortlist – but boy did I enjoy the debates!
"The whole process for the Award has been brilliant. As a national judge, who attended an evening of debate in Liverpool, just being surrounded by some of the most engaging and inspiring music lovers based in the north west was a great moment for me."
Dubbed 'the Scouse Mercury Prize,' backed by Yoko Ono and the cornerstones of Merseyside's flourishing cultural community, the winner of the GIT Award 2015 will be revealed on Saturday 4 April 2015 at The Kazimier in Wolstenholme Square. Like previous years, the winner will receive a specially commissioned trophy and cheque for £1,000.
Having relaunched for the fourth year at Liverpool Music Week in November 2014 up until the closing date at the end of January 2015, the GIT Award judges met on six occasions, discussing more than 330 eligible artists and bands, before carefully whittling them down to just 12.
Those 12 will now feature at the industry showcase on Saturday 4 April 2015 and will include performances from the shortlisted artists plus a dramatic aftershow featuring live music, DJs and specially produced set piece spectacles.
This year, a specially commissioned Merseyside team will transform the unique setting of the Kazimier into an Aztec Jungle while 50 lucky souls will also have the chance to log on to the Kazimier website and obtain a pass to this once-in-a-lifetime occasion.
Also on the night, a special Inspiration Award, recognising services to Liverpool's music industry will also be presented. Previous recipients are Africa Oye (2014), Hillsborough Justice Collective (2013) and The Kazimier (2012).
Bella Union boss and GIT Award judge Simon Raymonde, added: "The waiting is almost over. The GIT Award shortlist is now finalised – and what a near-impossible job that was!
"You have 12 outstanding talents, all equally deserving of the Award. Quite how we will whittle this down to one I don't know but the good news is that whoever does win will be a beacon of light for all future artists from the area. April 4, The Kazimier – enter it into your phone now."
All awards on the night plus unique commemorative mementoes for all 12 nominees will be created by Liverpool design agency ArchiPhonic who have overseen projects in the Baltic Triangle
GIT Award founder and chair of judges, Peter Guy, said: "The GIT Award 2015 shortlist represents a new phase in Liverpool and the wider region's artistic development; these artists are creating new sounds quite unlike any other and surpassing most other cities in the world.
"This year there's 10 brand new names on the shortlist selected by judges who travelled from all corners of the UK to Liverpool to listen to them and deliver the final shortlist – it proves what a vital time in Merseyside music's history this truly is. Saturday April 4 at the Kazimier is set to be another monumental occasion."
Limited tickets & event link here.
Comments
comments