Traditional folk at it's finest with Seth Lakeman at the newly refurbed Philharmonic, Getintothis' Emma Walsh can't help thinking she's seen that banjo player somewhere before… 
Dragging our satisfied, steak-filled bellies up Hardman Street from a pre-performance feed at Pogue Mahones, we arrived at the newly refurbished Philharmonic Hall just in time to catch the last of supporting duo Philip Henry and Hannah Martin and their mind boggling harmonica beatboxing.
Their last tune The Boy Who Wouldn't Hoe Corn was, they told us, a traditional English folk song that had received the bluegrass treatment in America and to which they had chipped in a medieval French twist – nothing fancy, just something they'd thrown together obviously. Henry played a Dobro guitar horizontally on his hip, splashing a glittering reflection onto the ceiling as Martin gave it beans on the fiddle. A brief glimpse, but an intriguing one. We'll be keeping ears out for these guys again in future, preferably somewhere we can get a jig on.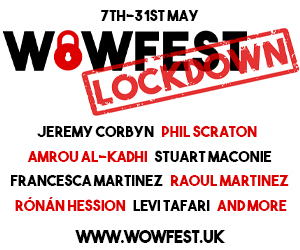 Seth Lakeman took to the stage to a raucous applause, jumping straight into proceedings with Stand by your Guns, a song from the Full English Project with whom he'll be returning to The Philharmonic on May 6. A series of rather samey slow pace songs passed us by with only The Shores of Normandy sparking a contemplative response – with such a rich history of war poetry, isn't it odd that the same heritage in song hasn't lasted the distance? Particularly when you consider the folk traditions of other nations.
It's fair to say the bland beginnings to this gig was to no fault of Lakeman or his band who were thrashing away on a parade of different instruments including accordion, squeezebox, double bass, banjo and bodhran. The sound took some time to level itself out, dampening things considerably for those of us in the stalls. Lakeman can rest assured that his calls for some audience participation in Hold Your Fire did not go ignored so much as muffled.
And here things shifted up a gear. As the rest of the band scuttled off stage, Lakeman lifted the fiddle to his chin and asked his drummer "Ready Cormac?" as a burst of life jumped into his bow and two women in the front row who bounded up and into action. This was more like it!
Portrait of my Wife raised a roar in the crowd and the singsong Lakeman had been waiting for. Perhaps aware of the sound issues he stepped forward from the microphone and sang out into the theatre with violin in hand, conducting the choral singsong with the nod and lift of his chin. From here he dived straight into a dramatic, classical violin piece, kicking up a storm with the flurry of movement on the strings that brought sweat to Lakeman's brow. To see a violin played well is always something of a "wow" moment, but to see it mastered really is something special, the performance made all the more dramatic as the lights caught Lakeman's giant shadow on the grand ceiling of the hall. A standing ovation was the least the crowd to do and with a welcome encore Lakeman kept them on their feet, bringing up the house lights and belting out Race to be King to a rambunctious audience.
On a sidenote, throughout the entire gig we couldn't quite shift the weird optical illusion of seeing Getintothis' own Jack Atkins' doppelgänger playing the banjo – much like lifting a pint, expecting cider and tasting lager, or pulling an unmarked vinyl from a hip hop sleeve and hearing traditional English folk. Bizarre.
Photos by Getintothis' Simon Lewis:
Comments
comments