Queens hip hop icon Action Bronson delivers a banquet of fun and freestyling at the Kazimier, Getintothis' Jack Atkins digests a night of chow, chong and cheap champagne.

What do you get if you mix Keith Floyd, Bam Bam Bigelow and Ghostface Killah? If you said anything other than Action Bronson then you need to give your head a wobble.
Originally slated for this year's Sound City, the Queens' NY native instead brought his solo show to the Kazimier for another boss Tuesday night in Liverpool's 'Year of Hip-Hop'.
Bronson has built up a reputation as hip-hop's new great entertainer, eschewing a personality strewn from the genre's forefathers (Biggie's penchant for fine food, Cypress Hill's love of weed) if they were spliced with a wrestling James Bond.
By the time he hits the stage the capacity crowd are buzzing with fervorous anticipation. Action Bronson cuts an imposing figure live; as wide as a couch and with a beard like a genetically modified Shredded Wheat. Accompanied by a DJ working mainly through a Mac, Bronson whips through a maelstrom of food, cars and prostitutes, switching to accapella at the drop of a hat and detailing how he'd cook a fresh octopus, among other things. In any other setting this wouldn't seem like anything special, but he has a bravado and a swagger that makes everyone present hang on his every word.
Even people complaining about the seemingly mainly male crowd are put down by the big man, advising them "if you want tits, go to a fucking Drake show", a phrase met by raucous cheers. He's clearly a man who doesn't give a shit, routinely lighting up Cheech and Chong style spliffs and passing them through the crowd, spraying champagne onto the front row, or slow dancing with security women plucked from the wings. He's here to have a good time and it shows, and you can't help but grin.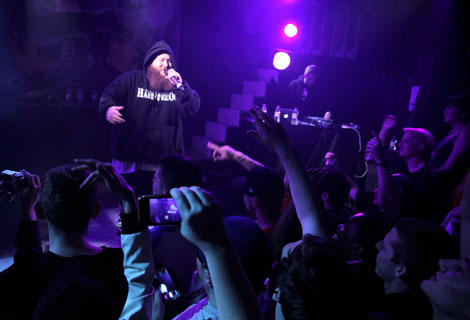 Action Bronson performing live at The Kazimier
As he's touring his Blue Chips II album, Bronsolini stuck mainly to it for his set, but compared to his earlier efforts like the sublime Rare Chandeliers it's relatively weak, primarily using samples of 80s greats like Phil Collins and Peter Gabriel rather than your more standard hip-hop fayre.
However, Bronson is such a good showman that he makes it work live, the crowd singing along enthusiastically to snippets of Sussudio and the like.
It's when he gets into the meat of his back catalogue that the crowd start going mad, his ode to 80s tag-wrestling greatness Rockers being the stand out of the set, the beginning of which saw Bronson proceed to launch himself into the crowd and wade to the back of the Kaz, the crowd booming along with his hook of "HIT YOU WITH THE DROPKICK MARTY JANETTY".
Bronson soaked up the adulation like a man of the people, hugging and hi-fiving the throng around him, before starting a mosh pit as Guns 'N' Roses' You Could Be Mine blared out over the PA.
The pit itself was a sight to behold, all Supreme caps and cans of Red Stripe flying all over the place as Bronson ran through people like a hippo on steroids.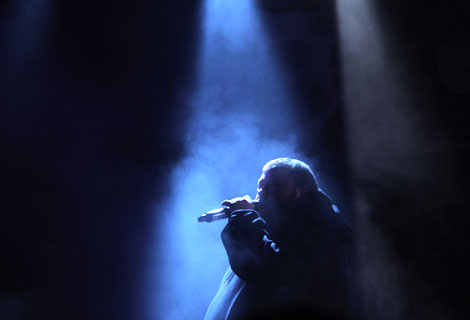 Action Bronson performing live at The Kazimier
It was a very hard gig to describe as Liverpool has seen more concise and tight rapping over the last few months, and the sound quality was far from brilliant, but the sheer spectacle of the thing was so good you'd think you'd just seen Richard Pryor resurrected in front of your very eyes.
One of the most entertaining nights of the year by far, and further evidence that Liverpool's live hip-hop scene is on the rise (credit to No Fakin, EVOL, Madnice and Bam Bam for continuing the recent revival), book early next time big Bam Bam comes to town, because based on tonight it's going to sell out quicker than you can say 'vermicelli'.
Pictures by Getintothis' Ian Gamester
Further reading on Getintothis
Liverpool Sound City 2014: Review round up and top 10 bands of the festival.
Liverpool Sound City 2014: Picture gallery from all three days of the festival.
Liverpool Sound City 2014 – all the bands reviewed from the three days.
Top 10: West Coast hip hop albums
Peanut Butter Wolf, Fingathing: The Kazimier, Liverpool.
The Pharcyde: Bizarre rides, the making of a classic and J Dilla's legacy
GIT Award 2014: Artist nominee profile – Mad Brains
Ugly Duckling, DLA: The Shipping Forecast, Liverpool
Pharoahe Monch, Boogie Blind: The Kazimier, Liverpool
Getintothis on The Label Recordings: Hooton Tennis Club and The Inkhearts.
Cyclist.
Moats.
Elephantom.
Nelson.
The new breed of tomorrow's LIPA artists.
Comments
comments