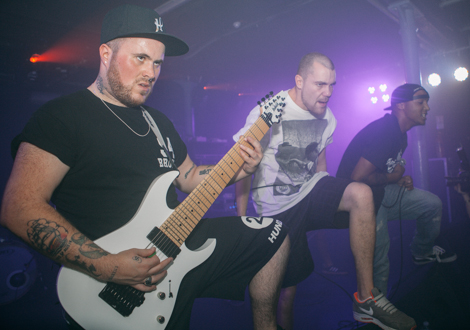 Radstock promises hard rock, riffs and an almighty punch, Getintothis' Mark Greenwood sifts through the wreckage with differing results.

With a severe hangover Getintohis stumble into Ma Egerton's desperate for a 'hair of the dog'. While we're transfixed by football and teenage kicks a fellow drinker sits alone and sings to himself, performing the occasional air guitar. Tonight is part one of Radstock, a strange moniker given the events bare resemblance to a festival.
Getintothis wander into the Academy about 7pm and catch Heart of a Coward immediately owning the stage with well-crafted metal-core interspersed with melodic hooks and fastidious plectrum precision. Ex Sylosis vocalist Jamie Graham is especially on form as the band plunder a punchy back catalogue. There's a decent crowd and they respond well with appropriate fist pumping and the occasional circle mosh, while a barely legal lighting rig ruins our eyes.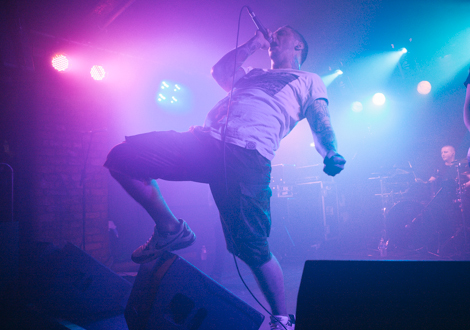 Heart of a Coward live at Radstock, O2 Academy
There's a long gap and plenty of sound checking before Hacktivist attack the stage with plenty of gesticulating, jumping about and general hooligan behaviour. We love this band. Loud and abrasive, they light up the Academy with anti-corporate diatribes spat out by a couple of lads you'd fear in a dark alleyway. Hacktivist wilfully build the crowd into a maelstrom, and groove relentlessly like a cocker-spaniel sniffing out skunk.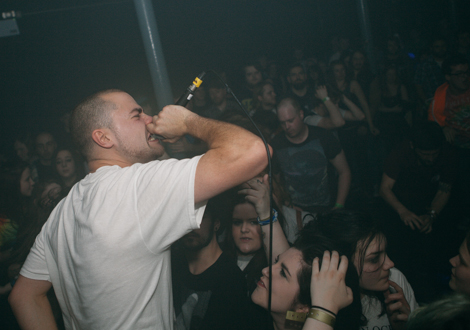 Hacktivist live at Radstock, O2 Academy
So a positive start in the heart of the O2 spectacle that begins to resemble a kind of afterhours theme park as I clamber around for anything that resembles beer. Guinness in a plastic glass doesn't really suffice as I meander through a generally teenage crowd interspersed with attendant parents.
A rowdy bearded man takes the stage and roams about the rooftops of a quality P.A as the implausibly named Feed the Rhino add a formidable fore-arm smash to the proceedings. Raucous and occasionally brutal the band excites a hot crowd into chaos with select slabs of macho-hardcore. They're a decent band but we can't help feeling that they're a bit overdone with supposed hardcore credentials that appear questionable given the commercial context of Radstock.
The plastic glasses, the strange yellow barcode guns employed by bar-staff that can't count and the inevitable pools of sick that spatter the bogs all add up to a strange inauthentic reality as attendants scour smartphones between bands and brag about mosh pit heroics. Friendly doorman escort dazed six formers to smoking areas as band members flamboyantly scuttle about, their back stages fluttering in a doner kebab mirage.
Somehow, despite the labours of the bands on show, a post-industrial urban reality seems inaccurately represented, considering the lo-fi sensibilities normally associated with extreme music. In other words, we feel slightly commodified into a structured schedule that sees all of the bands adhering to strict stage-times, the luxury of a professional sound and lighting rig and crap beer.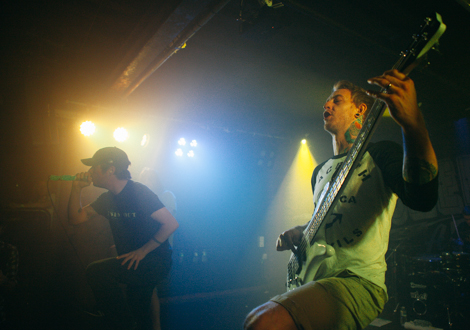 Funeral for a Friend live at Radstock, O2 Academy
Nevertheless, Funeral for a Friend awake the audience from a drunken slumber with a nostalgic set that settles into a coherent, honest and unashamedly punk utterance once Matthew Davies' vocals are warmed up. As expected, the band are tight and heavy, schizophrenically switching between pop melodies and speed metal riffage.
Funeral for a Friend are still a significant force musically and they expertly deliver the goods to a revived O2 crowd, celebrating drunk encounters and doomed romances that inevitably haunt the surrounding simulacrum of a professional rock band.
SUNDAY
So here we are at the Sunday instalment of the Radstock Festival.
Getintothis have entered into the festival spirit by foregoing alcohol and driving into town where there's plenty of vacant parking space. The audience are diminished from the previous night's proceedings as we dig in with a watery lemonade, just in time for Lostalone.


Lostalone live at Radstock, O2 Academy
The trio alternate between fresh pop-punk with strained bubblegum harmonies to all out power metal filled with frenetic guitar and nonchalant, over the top stage antics. The band throw themselves into an industrious set and spare no energy whipping the crowd into a bit of pogoing, doing more than enough to fulfil attendant teenage fantasies.
For some reason the venue's sound is a little ropey tonight with fat bass feedback occasionally muddying a usually succinct and compact P.A. Technicians wander about with worried frowns as they fiddle with bits 'n' bobs. However, this has little effect on the running order and on cue, the Fearless Vampire Killers take to the stage.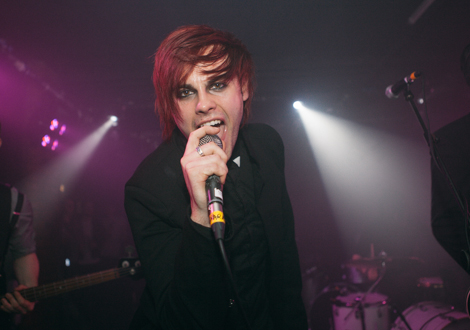 Fearless Vampire Killers live at Radstock, O2 Academy
Coming across as a kind of post-gothic Pet Shop Boys, the lads look like there's only a slim chance they could take your eye out with a sharply manicured fringe. Far from being self-proclaimed stake wielders, the band are underwhelming, with a set of uninspiring whinge pop hinged on a weak distortion pedal and pin-up pomposity. Nonetheless, the crowd appear amicable as the band strut form pose to pose.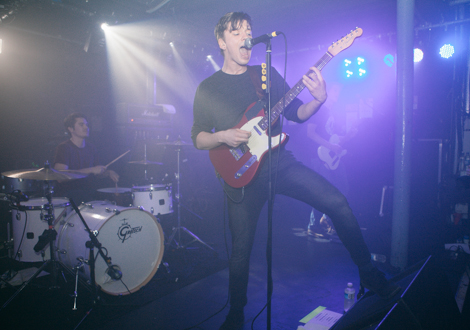 Cantbury live at Radstock, O2 Academy
Next up are Canterbury, and while Getintothis fantasise about a pint of ale and an unlikely Diamond Head pastiche, it seems all that these boys can only whip up is a half-arsed indie rock mix snatched from an episode of Dawson's Creek. The band really don't seem to be enjoying themselves as they try to animate a listless crowd, their singer acknowledging a sense of mystery as to why they're on the bill.
Nipping outside for a cigarette Getintothis anticipate a lingering of metal-core enthusiasts only to catch odd stragglers from the Liverpool game roaming the back of Lime Street station.
Given that the event was allegedly sold-out on Tyneside, the implications may be that this particular brand of young rock music appears unattractive to a north-west audience. From our point of few, the genre seems confused – suspended in an uneasy cross fire of boy band meets hardcore/metal, curiously presented in a gratuitous corporate context where Calvin Klein boxers peep over plastic bullet belts.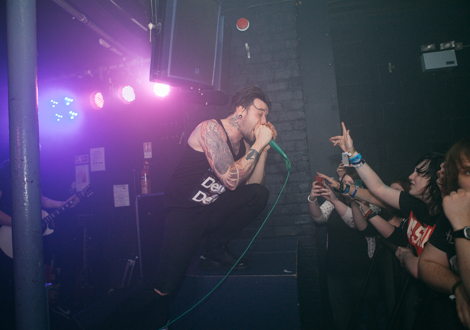 Yashin live at Radstock, O2 Academy
Tempted by a lager shandy in an unnatural glass we get to grips with Yashin.
The Glaswegians come out fighting with a harsher brand of metal-pop peppered with soaring melodic vocals and intelligent riffs. Their songs are nicely structured with punchy choruses and neat melodies residing in a tight metal formula while their accompanying histrionics describe an appropriate teenage angst teetering on the brink of self-destruction. The band are convincing enough in their attempts to rescue a lacklustre evening and deserve success.
However, as we leave the O2 and drive through a carnivalesque city centre, we can't help but feel an unquenchable thirst for realism and a bit honesty – something the Radstock 'festival' has failed to deliver on this occasion.
Pictures by Getintothis' Jack Thompson
Further reading on Getintothis:
Enter Shikari, Hacktivist, Baby Godzilla: Floral Pavilion, New Brighton
Liverpool Sound City 2013: including Hacktivist
Liverpool Sound City 2014: Fringe events and John Peel World Cup revealed
Ian Broudie and Royal Liverpool Philharmonic Orchestra: Liverpool Philharmonic Hall
Elephantom: Parallax
The Harlequin Dynamite Marching Band: The Harlequin Dynamite Marching Band EP
Andrew Weatherall set for Williamson Tunnels Easter Sunday three hour session
Science fiction and music: Ballard, Carpenter and the joy of synth
Comments
comments