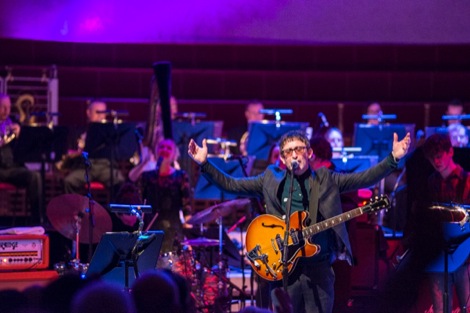 Ian Broudie and a supportive cast of Mersey's finest make for a communal night to remember for one of Liverpool's unsung yet very special music sons, Getintothis Jamie Bowman reflects on an evening of high drama.

"It's Broudie's testimonial isn't it?" quipped one football referencing wag outside the Philharmonic as an expectant crowd flooded in to pay tribute to one of Liverpool's more modest songwriting talents.
After years spent producing Liverpool's finest bands, it took until the late 80s for Ian Broudie to take his turn in the spotlight with the Lightning Seeds. Even then the bespectacled frontman seemed content to play the shy, sensitive songwriting, penning his tales of romance and wonder from behind a glossily produced studio sheen.
Well no longer it would seem. Tonight's version of the Seeds sees Broudie backed not only by an all-star line-up of numbering various Zutons and Coral members but also by the Royal Liverpool Philharmonic Orchestra who, together with a clearly moved Broudie, seem determined to breathe new life into both his back catalogues. But does it work?
Well sort of. Broudie's choppy rhythm guitar and Sean Payne's drums power the opening salvo of Marvellous, Ready Or Not and All I Want with the orchestra gamely trying to keep up but somehow the balance isn't right and the pop perfection of Broudie's songs is lost in the mix.
It's not until the appearance of the ever entertaining Ian McCulloch ('Broudie's a genius and he hasn't realised until tonight'), that both the gig and the orchestra suddenly click.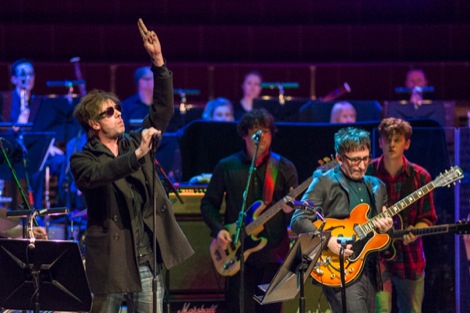 Ian McCulloch shoots another down alongside Broudie at the Phil by Mark McNulty
As the strings stab their way through a wonderful version of Echo & the Bunnymen's Back Of Love, McCulloch's stunning voice soars above the melody with a grateful Broudie visibly taken aback by his old friend's fulsome praise at the song's conclusion. The Cutter proves even better with the orchestra's string section slicing through the mix and an interval-busting Life Of Riley, complete with cymbal-clashing brass clangs, saw the entire crowd rises to their feet to punch the air.
From then on the guests come thick and fast. The Coral's James Skelly strums his way through a delightfully wistful Pass It On (with former bandmate Bill Ryder-Jones, who is an ever present on lead guitar, clearly enjoying the mini reunion) while a typically lugubrious Terry Hall, of The Specials, sulks his way through Lucky You and Sense. Only Miles Kane's rather embarrassing snake hipped rendition of The Byrds' You Showed Me fails to work.
Such is Brodie's Midas touch tonight that even the potential albatross that is Three Lions comes across less as a rebel rousing soccer anthem but more a poignant lament for "all those years of hurt".
Hall and McCulloch return to the stage for a tipsy slur through Lou Reed's Perfect Day and despite the Bunnyman's natural tendency to hog the limelight, it's clear which Ian is tonight's real man of the match.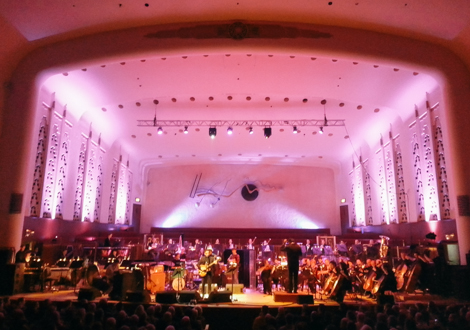 Ian Broudie at the Phil by Jack Thompson

More great pictures from Mark McNulty's blog here.
Further reading on Getintothis
Flying in the face of adversity – the demise of the music press in the digital age.
Word Magazine closes: The final word on a much-loved music magazine
Bob Dylan, Run DMC and the moral dilemma of selling out to advertising
Lou Reed: The man, the myth and Metal Machine Music.
Phil Everly: Why worry now? The Everly Brothers and their timeless legacy.
NME Awards Tour: Interpol, Temples, Royal Blood, Circa Waves: O2 Academy, Liverpool
Mellowtone cook up series of intimate gems including I Am Kloots John Bramwell.
Parquet Courts set for Liverpool summer outing at Kazimier.
Brian Jonestown Massacre to decamp in East Village Arts Club.
Andrew WK to party hard in Liverpool's East Village Arts Club.
Comments
comments