This week's Singles Club includes hobbit-like hippies, haircuts from hell and hairy boys pillow fighting – all in a day's work for Getintothis' Chris Burgess.
Waxahatchee: Under a Rock – Single of the Week
Sounding for all the world like a more raw and edgy version of the Juliana Hatfield Three, Alabama's Katie Crutchfield fronts Waxahatchee – named after a creek in her home state.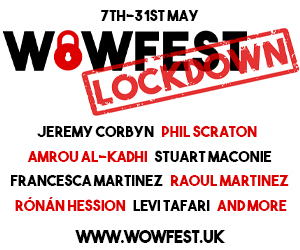 Under a Rock is a solid, crunching tune than wouldn't have been out of place in 1993's grunge peak. Crutchfield's guitar and vocals marry perfectly, swaggering along as the song's self-aware lyrics floats by.
This is a much more developed sound than her previous album Cerulean Salt – containing more bite and drive. We liked that too, mind you.
This track is taken from the album Ivy Tripp, released 6 April.
Two Cartoons: Lost Boys Club
A jangling, upbeat and playful tune from the London-based New Zealanders Isaac McFarlane and Bradley Craig, Lost Boys Club is ostensibly throwaway surf-rock, but with a strong chorus and sense of fun that was strikingly absent from previous Singles Clubs.
If you like hairy boys in pyjamas having pillow fights (and let's face it, who doesn't?) then this is the video for you.
Lost Boys Club EP is released on 16 March through Far South Records.
Wonderful Humans: Just What I Needed
Wonderful Humans – intriguingly billed as 'Amanda plus Brian' on their Soundcloud page – are a New York-based duo providing some pop-infused electronic tunes. Just What I Needed is a tropical-pop groove, slickly produced and catchy enough to bounce around your head for at least a couple of weeks.
It's also well worth checking out their cover of Taylor Swift's Shake It Off, which is much better than the original version.
The Wicked Whispers: Maps of the Mystic
All twiddly guitars, droning organs, Brian Wilson haircuts and Byrds-esque vocal harmonies, Liverpool's The Wicked Whispers are the hippiest band you'll hear this year.
Maps of the Mystic, with its references to birds, clouds and rivers of light, has a refreshingly old school folk-psychedelia feel to it.
The video appears to be an homage to Lord of the Rings – lots of hairy men walking through a forest over and over again. This track lands on March 2 on Electone Records.
Everything Everything: Distant Past
The inventive Manchester-based art-rock quartet are back, with one of the most hideous haircuts you'll ever see. Singer Jonathan Higgs appears to have asked for a 'Bobby Charlton' at the hairdressers.
Distant Past is far from the musical equivalent of a comb-over though, with slick beats, strong vocals and a complex, shifting arrangement – and is that a Star Trek sample?
Swiss Lips: Books
Why do all modern electronica bands' have songs that sound like Tarantula by Colourbox? Never has a single song inspired so many tracks I hear these days. Maybe it's just me, but I never found Colourbox (as good as they were) to be all that inspirational.
Books starts off in the oft-repeated vein of the 80's-synth style tune, before launching forwards with a brash chorus reminiscent of 80's hair rock bands. It's a weird mix, and I'm not sure it quite works out for the Mancunians.
Maybe it's slightly overproduced, maybe it's the over-familiar synth sound, I'm not sure, but it just doesn't do it for me personally.
Go and listen to Colourbox instead.
Sekuoia: Somewhere
This is more like it – a delightfully tripped out video created by Japanese artist Yoshi Sodeoka backs the wonderous and expansive sounds of the young Danish producer Sekuoia.
Somewhere is a charming, slick and sophisticated piece of electronic magic – at once light-hearted and containing real depth and warmth.
Sekuoia's Reset Heart EP, containing Somewhere, is released on 2 March.
Cairobi: Please
A truly international band, with members from Austria, Italy, Mexico and France; Cairobi are now settled in London.
Please is somewhere between pop and reflective experimentalism – never quite settling into anything solid, before fading away in a distinctly downtempo manner.
Alt-J: Pusher
Sorry, no, still can't get past that awful Adam Sandler voice.
Sleater Kinney: A New Wave
Sleater-Kinney are given the full Bob's Burgers treatment in the brand new video for A New Wave.
The result is as glorious as the song itself.
Comments
comments