Just in time for Spring, Getintothis' Chris Burgess find wispy jazz, Japanese shoegaze and garage-punk fuzz blooming in the Singles Club garden.
King Gizzard & The Lizard Wizard: The River – Single of the Week
A band that can seemingly do no wrong at the moment, the antipodeans have just announced details of a new album, hot on the heels of last year's I'm In Your Mind Fuzz.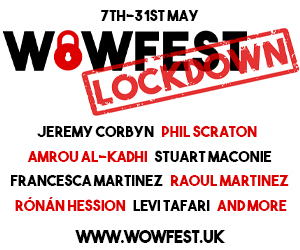 Quarters, an album made up of just four songs, each with a running time of precisely 10 minutes and 10 seconds, is released on 25 May, and signifies a change in direction for KG&TLW.
A move away from the truly glorious and frenetic freakbeat of their previous album, The River is a wispy and meandering prog/jazz tune, in 5/4 time. It shifts and grooves, as the band jam together.
One to listen to while driving along the coast to Bondi Beach.
The Maccabees: Marks To Prove It
Back after a three year hiatus, the London quintet return in blistering form, with the energetic and splendid Marks To Prove It.
It's a magnificent crunch of guitars – with excellent vocals from Orlando Weeks – that flashes along, before hitting a rather trippy breakdown.
It bodes well for their upcoming album Impacts, released mid-May.
One to listen to while cycling to work.
Wilsen: Garden
Garden is a perfect springtime song from New Yorker Tamsin Wilson, whose voice dazzles atop some dizzying guitar and crisp, almost minimalistic beats.
This track is taken from their debut album Wilsen, released later this year.
One to listen to as the dandelions grow.
White Reaper: Make Me Wanna Die
A close contender for Single of the Week, the garage-punk fuzzsters White Reaper have released this track, slotting in nicely somewhere between These Animal Men and The Sonics,
Make Me Wanna Die is an unrelenting wall of sound, with magnificent melodies just about bursting to the surface.
Singer Tony Esposito has fair nailed the punk rock sneering vocal too, so it's no wonder the band were considered to be one of standout acts at this year's SXSW.
One to listen to while riding a horse into battle.
Mt Wolf feat Alexa Hartley: VIII
A slow and sensuous track from the London-based electronic maestros and previous Single of the Week winners Mt Wolf, taken from their recent Red EP.
Guest vocalist Alexa Hartley's voice is on a higher plane here, floating above the sparkling, pared-down layers of synth and skittering minimal beats.
One to listen to while staring at the stars.
Black Neon Knights: Necromancer
Chuggy guitar rock from Liverpool's Black Neon Knights. With shades of Soundgarden and the first decent guitar solo I've heard in quite some time, Necromancer is a grungy alt-rock stomper of a tune.
Necromancer is taken from their forthcoming album Rise Up.
One to listen to as you air guitar.
Jolta: One Apple Tree
The second track to be released from their debut Sunset Surrender EP, the Brighton band seem to be full of energy and verve. One Apple Tree bounces along, with its poppy melody hiding underneath loud guitars.
One to listen to as you fall out of a tree.
Taffy: Young Times (Brian Jonestown Massacre Remix)
An interesting song on many levels, Young Times has here been remixed by the 90s nutters Brian Jonestown Massacre.
It's a nice fit, as the Japanese Taffy aren't too far away in musical sensibilities from Anton Newcombe's psychedelic outfit. Young Times is as tuneful as shoegaze gets.
One to listen to somewhere between Tokyo and San Francisco.
Tim Burgess: Like I Already Do
My namesake Tim, due to bring his popular Tim Peaks Diner to this year's Sound City, has released Like I Already Do, co-written with Peter Gordon of the Love of Life Orchestra.
It's a marvellously chilled out tune, with a glacial pace and instruments floating in and out of the space around it.
One to listen to with a damn fine cup of coffee.
Lost Faces: Bella Fever
Liverpool's Lost Faces are due to play Sound Food & Drink on 18 April, so here's a slice of them playing at last week's River Cool Records launch at The Zanzibar.
One to listen to as you drink cider inside a caravan.
Best Friends: If You Think Too Much Your Brains Will Fall Out
The Sheffield four-piece Best Friends have been making waves recently. Their previous single Fake Spit was playlisted on Radio 1, they've performed with Merchandise, Eagulls and The Black Lips, and their new album Hot. Reckless. Totally Insane. is hotly anticipated.
That doesn't stop this single being a bit…well…crap, though. The singer sounds as though he's listening to a different song and the whole thing is just intensely grating.
One to ignore.
Comments
comments