As Ad Hoc Creative aim to find a way to use abandoned spaces and buildings, Getintothis' Paul Fitzgerald has the details of a unique collaboration between Bill Ryder-Jones and Marco Lawrence.
As we move through our city, from the centre to the suburban residential areas, from the business district to the dock areas, we're surrounded by empty, unused and often unloved  properties of every type, shape and size. Look around you. They're everywhere. And as long as they're left empty, they're vulnerable to neglect and disrepair, or to vandalism.
So how best to care for them? How best to look after them? How best to put them to use? Well, that's where the Ad Hoc Property Guardian Scheme comes into play. Why not find a way to put them to use, these churches, shops, office blocks, even stately homes? Charge a low rent, and let people move in to use them as living spaces, as art studios, as rehearsal spaces. Creative spaces for creative people to create in. A low cost solution for both owner and occupier. Win, and indeed, win. The scheme provides space, new artistic freedoms and opportunities UK and Europe wide. People such as All We Are, whose rehearsal room/studio in Toxteth doubles as the home of the band's Richard O'Flynn, benefit from this innovative scheme. For many years, this building was one of these vulnerable, disused spaces.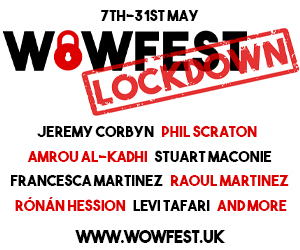 The Mansion House at Calderstones, a beautiful collection of Grade II listed neo-classical buildings at the heart of the park, is currently occupied as part of the scheme, by The Reader Organisation, a hugely successful and charitable social enterprise of dedicated and committed people, working to unite people and communities through reading and literature. On the May 28, our good friends over at Bido Lito! will be hosting the first AD HOC Creative Expo, which will see the gallery space used for a new exciting and intriguing collaboration between Wirral songwriter Bill Ryder-Jones, and Marco Lawrence of the London Print Studio. Lawrence, a long term fan of Jones' work, has been one of the schemes property guardians for over five years in four separate properties, and is currently based in an ex-council flat in London's Old Street. His work, which comprises vibrant geometric images and patterns, will be paired up as part of an immersive audio visual installation with uniquely created new music from the songwriter, producer and ex Coral guitarist. Bringing new ideas to a rediscovered, re-used and re-imagined space.
Andrew Schofield, the Ad Hoc North West Area Manager, said of the Ad Hoc Creative project, "For some time now, Ad Hoc have wanted to recognise and celebrate the creative individuals who live within and secure our properties. This collaboration with Bido Lito! and the creation of Ad Hoc Creative is the perfect platform to do this and we are very excited about it. We want Ad Hoc Creative to be as much about showcasing the talents or our Guardians, as it is about raising the awareness of the Guardian community".
Entry to the event, at 6pm on May 28 at The Mansion House in Calderstones Park is free but has limited capacity. Advance registration is essential. Register for free tickets here.
Comments
comments