In the latest edition of the nation's favourite singles review, Getintothis' Chris Burgess brings you black metal jazz, Miley Cyrus' bum and some pretenders to the Earl Brutus throne.
White Blacula: Zero Hours – Single of the Week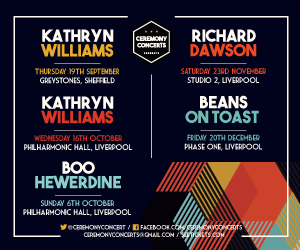 Madcap warriors White Blacula capture both the pre-and-post election political mood perfectly with this blast against capitalist imperialism and the lies peddled by politicians.
It's almost impossible to describe White Blacula's sound and do them justice. Yes, there's a big nod to The Cardiacs, but really this is a band who have created their own nightmarishly funky little world and are having tremendous fun crashing it into ours. Lovely stuff.
The video also feature Getintothis' own Laura Coppin, being generally awesome as always.
White Hills: Wanderlust
"Some of us will be kings, while others go to work lying face down in the dirt, not right"
New Yorkers White Hills appear also to have summed up the public's post-election mood with their new single, a gloriously fuzz-laden statement of a tune.
The band are currently touring with grunge legends Mudhoney and Wanderlust, full of squealing, distorted guitars, is on a par with any of the Seattle band's output – singer Ego Sensation's vocals sumptuous throughout.
Wanderlust is taken from their new album Walks for Motorists, out now on Thrill Jockey.
Chris Savor ft Spctra: Drowne
The UK's own Savor has relocated to New York to ply his trade, and here has teamed up with the Philippines-born fellow producer Spctra.
Drowne is their second collaboration, a soulful yet disparate piece of electronica – dark and melodic.
Mamaleek: Nothing But Loss
Out now on The Flenser, perhaps one of the most esoteric labels out there, Mamaleek's brand of black metal/jazz/who knows what is typified in Nothing But Loss.
To describe this as metal seems appallingly wide of the mark, yet it ticks all the boxes I guess. Mamaleek's experimental, at time psychedelic, sound is both beautiful and nightmarish at once.
Their album Via Dolorosa is out now.
Sleaford Mods: No One's Bothered
The ever-upbeat and cheery Sleaford Mods release this tune ahead of their new album Key Markets, out in July.
Is it just me or are Sleaford Mods just a tiny bit overrated though? This isn't anything new, a bog standard punk beat and (admittedly nicely played) bassline with Jason Williamson shouting over the top.
Earl Brutus were doing this whole 'everything is crap' malarkey back in the late 90's, but were a whole lot better musically. Go and listen to them instead.
Scarlett Parade: White River
A lovely bit of folk from the Isle of Man's best (only?) band, White River is a simply gorgeous tune.
The band have filled this song full of legends, fantasy and heroics, so it's no surprise to hear it was inspired by Game of Thrones.
White River is available on their upcoming EP Wildwoods – available in June.
Royce Wood Junior: Clanky Love
Taken from his forthcoming album, The Ashen Tang, Clanky Love is a soulful ballad that draws on many influences yet somehow feels fresh.
"At the dark end of the lullaby there's a garden and a waterslide" Junior sings, moments before the track goes a bit batshit, veering itself into a melee of distorted guitars and fuzz.
Mammút: Salt
A superbly hypnotic track from the Icelandic quintet, Salt is a delight from start to finish. The song rises and falls brilliantly, swooping to a climactic, otherworldly end.
Singer Kata's vocals are epically strong, layered and underpinned by a very strong rhythm section, allowing her room to breathe throughout. Glorious.
Arctic Lake: Only Me
Lancastrian trio Arctic Lake have been doing rather well for themselves lately, and well deserved their success is too.
Only Me follows up their Radio 1-playlisted debut Limits. It's minimalist, vulnerable and emotional stuff, as atmospheric as it is striking.
LOLAWOLF: Bitch
LOLAWOLF, for those who don't know, are led by Zoe 'Lenny's Daughter' Kravitz, who stars in this lo-fi, deliberately provocative video with her friend Miley 'Billy Ray's Daughter' Cyrus.
Surprisingly, the tune isn't too bad, with its G-funk synth moments and ridiculously catchy chorus. The video is pretty shite though, if we're being honest. Miley is about as sexy as Sue Pollard.
Stereophonics: C'est La Vie
C'est merde.
Comments
comments