Reborn from Friday's late night Roni Size party, Getintothis' Phil Morris knows a good thing when he sees it and returns for seconds, this time with Evian Christ.
God Damn; the bands' name rolls off the tongue like an involuntary response to their thunderous volume. The high-octane Wolverhampton duo generate a tumultuous wall of sound for a membership of two;
Although we're glad they took it upon themselves to make the comparison, God Damn have a lot more credibility than their chart topping contemporaries. Amplified by a fortress of Orange stacks, the band blast-beat their way through a cataclysmic set of speed metal, sludge and grunge.
The Kraken stage was host to this years' Australian showcase. The international expo has become a regular feature at Sound City, highlighting the best in emerging Ozzie talent. Delightedly, Saskwatch weren't just another shrimp on the barbie. The Melbourne 6-piece amass and engage a considerable crowd with their upbeat garage rock vibes.
The sassy 
Nkecki Anele
 gives an unshrinking performance of 
I Get Lonely
; dancing and weaving as she delivers soulfully stirring vocals. We're reminded of 
Alabama Shakes
 and the pixelated FX of 
Deerhoof
. In their sets' closing moment, the lead guitarist went as mad as a meat-axe; impulsively climbing an adjacent speaker in adrenaline fuelled gratification.
Slovenian producer Blaz Perus followed the energetic Saskwatch with some rather bland balearic beats, occasionally accompanied by timid and fumbling trumpet embellishments. We found ourselves willing the ornamental kraken into existence.
There was a lustre from the city skyline as we approached 
The Atlantic Stage
 to see scouse folklore 
Stealing Sheep
. The trio had retained a huge crowd following on the heels of recent collaborators' 
Dutch Uncles
. We were at once struck by the level of artistry achieved in this seamless performance. The regimented, rolling rhythms of 
Lucy Mercer
 underpinned a trance inducing choir of harmony from 
Rebecca
 and 
Emily
. The visuals were magnetic; a sort of
Escher
meets
Monty Python
animation that were played alongside synchronised slices of the group's recent video for crowdpleaser 
Not Real
.
DOOMSQUAD
 were quick out of the traps at the intimate 
Mail Chimp Records
. The Canadian trio were already playing their penultimate track by the time we had squeezed ourselves between the crowd and the crates. We were greatly impressed with their immersive high fidelity.
Over at the Baltic the crowd grew restless in anticipation of Unknown Mortal Orchestra. Responsively, they duly replied with emphatic opener From The Sun, as spotlights and strobes began to illuminate and cascade around the warehouse space, we are momentarily interrupted by a giant skeleton maisonette. Tracks from new album Multi-Love reach our ears for the first time.
Absolutely no prisoners are taken when Fucked Up were unleashed upon Sound City. Security were forced to disperse some of the ensuing aggression, as Damian Abraham barked and jostled with his mosh-ready faithful. Hardcore would be a fitting description for Fucked Up's chaotic live performance.
Tim Peak's Diner catered for the spiritually wounded with its Northern Soul discotheque cum dance move masterclass.
Evian Christ played us out with down pitched hip-hop samples and cinematic textures. The Ellesmere Port producer, who purportedly keeps a low profile, had all eyes on him as he conducted the beats and bass until the early hours.
Photos by Getintothis' Martin Waters, Martin Saleh, Michael Hegarty, Jack Thompson, Tom Adam, Vicky Pea, Chris Flack:
Comments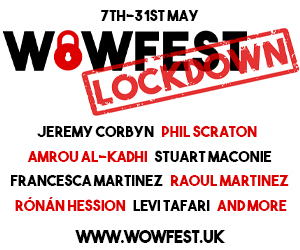 comments