With Sound City recognised for showcasing far-flung artists from across the world, Getintothis' Phil Morris profiles the most anticipated international talent heading to play Bramley Moore dock in May.
Ask any Liverpool Sound City regular about their festival highlights from over the years and you can sure that the headliners rarely get a mention.
That's not because they're no good, quite the contrary. No, it's because the festival prides itself on unearthing 'the next big thing'. So for every Albert Hammond Jnr there's a Willis Earl Beal. For every Walkmen there was Thee Oh Sees or Bear In Heaven. The list goes on… Indeed, during its seven-year history, the festival has attracted some of the best emerging artists from around the world to play alongside the UK and Merseyside's finest – and this year is no different.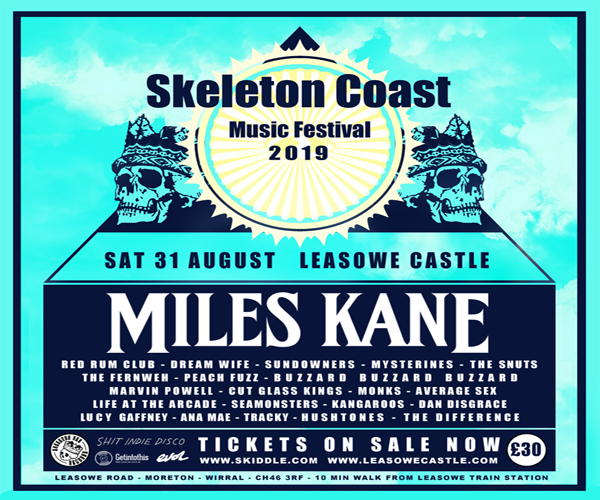 At the top of the bill, cult stars and pioneers in their genre such as the Flaming Lips and Sonic Youth's Thurston Moore will be flying the flag for America along with indie rockers Cymbals Eat Guitars. New Zealanders Unknown Mortal Orchestra return to the festival, two years after a triumphant performance in the Duke Street Garage at Sound City 2013, while Canadians Fucked Up make their second Sound City appearance after tearing up the Kazimier in 2011.
However, among the array of international acts who are either household names making a Liverpool debut, or bands returning to the city after successful shows in the past, there are several globally spanning acts who may have slipped your radar. So we've put together a guide of international acts you simply can't afford to miss this Sound City.
Who knows, they might turn out to be your new favourite band.
10. Garbanotas Bosistas at The North on Friday May 22
Garbanotas Bositas
 could well be our favourite Lithuanians, though admittedly we're more familiar with the Baltic Triangle than the Baltic States. We are however, curiously drawn – to see what is left behind the iron curtain. The Vilnius-based quartet are a psych-folk cream dream – which we would pitch as; part 
Tame Impala
, part 
Beach House 
with a smattering of 
Paul Simon
. Having made their name in their home country the band have cut their teeth on the live circuits of Latvia and Poland. We intend to float away on their psychedelic wash of soviet soft-rock.
9. Sekuoia at Cargo on Saturday May 23
German-born Patrick Bech Madsen grew up in Detroit before relocating to Denmark at the magic age of 8. This pattern of upheaval; having to constantly hurdle language barriers and adapt to new environments, played a profound part in his immersive retreat to the studio. As Sekuoia, the young Dane blends elements of ambient, electro and hip-hop. Pitched vocal one-shots and sophisticated mood-synths form a charmingly stuttered canvass of introspection. After a dynamic performance at Roskilde Festival, Sekuoia has built a stellar reputation across the continent. If you like to bob your 5-panel to the metre and the beat, stop by Sekuoia's set for chill jams at the optimum tempo.
8. Tei Shi at Cargo on Saturday May 23
Tei Shi is billed as the future queen of sensual bedroom-pop. Born in Buenos Aires, her seductive and often scintillating vocals are reminiscent of the arresting qualities of reigning empress Sky Ferreira. Imagine a sleek and glossy production over an angst bitten finger nail; a glitter sprinkled melancholy, occupying a space between modern pop and shoe gaze.  
Now based in Brooklyn, the fluid songstress revealed her five track pop gem Verde EP on April 22. The slow burning collection would be heartily recommended for fans of The xx and Bats for Lashes. If you haven't yet wrapped your ear canals around Verde, you may recognise Tei Shi's sultry tones from her guest appearance on Glass Animals banger Holiest. 
7. The Lytics at Cavern on Friday May 22
With a Drake-shaped flag; Toronto has staked its claim as Canada's hip-hop capital, but it's not the only city in the Great White North to have embraced its culture. A thriving Winnipeg scene has produced a credible alternative in the form of The Lytics, a five man crew dedicated to making music "real people" can relate to. If you're of the hip hop persuasion, seeing The Lytics should be your number one priority at Sound City this year.
Taking influence from the esoteric motivation of A Tribe Called Quest and the street smart wisdom of The Pharcyde, the group blend Afrobeat and R&B samples with an authentic boom bap formula. More than a crew, The Lytics are a brotherhood. Quite literally in fact; brothers Andrew, Anthony and Alex Sarnie have been making basement beats since way back when. Long lost brother DJ Lonnie Coe and legit cousin Mungala Londe complete a formidable family line up.
6. Olivier Heim at Mail Chimp Record Fair on Saturday May 22
Olivier Heim was born in the States to Dutch parents. If his national identity wasn't skewed enough; he grew up in Luxembourg, developed his musical personality in Copenhagen and is finally settled today in Warsaw. The EMI signed act wouldn't be out of place on 4AD's quirk pop roster. It's easy to conflate Heim with the retro stylings of Ariel Pink. The mellow tones and slap delays present on debut LP A Different Life would also appeal to fans of Connan Moccasin, or any of the lo-fi sunshine pop composers idealising the 1970s. Heim, who once performed as part of Tres.b and under the alias of Anthony Chorale, will add Liverpool Sound City to his growing circuit of live festival appearances, some of which include; Open' Er, Primavera and Reeperbahn. 
5. Iceage at Baltic feat EVOL on Friday 22
There's often something inherently lame about modern bands espousing the punk aesthetic. Most are pale imitations of the the sub-cultural icons who once snarled in the face of authority. Copenhagen cool kids Iceage are here to change that; and they could well be punks saviour. The four young friends from Denmark have taken the industry by storm since their debut LP New Brigade. Now signed to Matador Records, the band strike a moody medium between post-punk, goth and post-rock.
4. Remi at Cavern on Saturday May 22 
In 2014 Melbourne rap sensation Remi was awarded the Australian Music Prize for his album Raw X Infinity. We know what you're thinking – Australian hip hop? But believe us, this kid is the real deal. 23 year old Remi Kolawole has insane lyrical ability and is representing his country in the global hip hop arena. As well as performing sold-our headline tours, Remi has shared the stage with Danny Brown, De La Soul and Joey Bada$$.
His appeal is also diverse as demonstrated by his appearance with Damon Albarn and Gorillaz. Remi's dialect is distinct amongst his peers, though we think his bars sit a bit like Bristol-born rapper Tricky. Remi's Nigerian and Tasmanian heritage has made him an unlikely success story in a country with misguided views on immigration. We implore you to see what all the fuss is about, before the arena's and inflated ticket prices beckon. 
3. Aquaserge at The North on Saturday May 22
Qu'est-ce que c'est Aquaserge? Well, there is no short answer. Euro-trash? French-folk? Franco-kraut rock? Post-contemporary classical? The band are a melting pot of sonic references from the anglo-saxon avante-pop of Zappa, to the 60s new wave revivalism of Nouvelle Vague, Aquaserge embody that certain 'Je ne sais pas'. The group's eclectic tastes are reflected in their membership; Tame Impala drummer Julien Barbagallo, Benjamin Gilbert of Melody's Echo Chamber and Stereolab's Julien Gasc were all once members of successful French outfit Hyperclean. Sonically adventurous and instrumentally unorthodox, Aquaserge bring joy, drama and effortless French chic to Liverpool Sound City.
2. DOOMSQUAD at Mail Chimp Record Fair on Saturday May 22
DOOMSQUAD have grown to be one of the most exciting young projects in Canada. The band were comically founded as a Christian-folk parody, hence their ridiculous name. The irony of it all was apparently lost however on a national funding initiative, who on seeing the group, granted equipment and recording time to the would-be hell raisers. With their new found talents, DOOMSQUAD started making techno music; and it was good. Today, the band fuse bewitching noise with poly-rhythmic soundscapes to evoke a mesmerising orchestration of mood and menace. The Toronto situated trio make music that would please disciples of Arcade Fire, Gang Gang Dance or Gazelle Twin. 
1. Swans at Baltic feat EVOL on Friday 22
With a fearsome reputation for viscerally immersive and sonically confrontational live performances dispatched at ear crushingly loud volumes, we recommend you get to the sweet spot of the Swans set before it's inevitably over-capacity. Michael Gira has an outrageously puritanical ethic towards performing music. His live arrangements are entirely fluid affairs of swelling rancour. Expect something monumental. Monumentally loud and monumentally impressive. To paraphrase Getintothis' head honcho Peter Guy; "these guys are seriously evil". 
Comments
comments