As The Pop Group finished only their second ever UK tour at the Kazimier on Monday night, Getintothis' Will Neville reports from the post-punk legends' first gig in Liverpool for more than three decades.
The Pop Group originally formed in Bristol in 1977, releasing three seminal albums before disintegrating in 1981. They reformed in 2010, releasing a new album, Citizen Zombie, earlier this year to widespread critical acclaim.
The current line-up is basically the same as on second album For How Much Longer Do We Tolerate Mass Murder?, led by singer Mark Stewart, a real bear of a man who dominated the stage with his bandmates largely constrained to their own square foot to avoid his exuberance.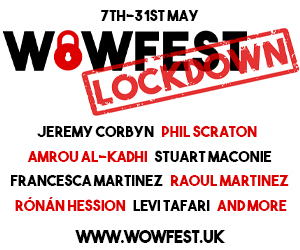 Guitarist Gareth Sager, who also added occasional, intriguing electric clarinet, Dan Catsis on bass and drummer Bruce Smith were joined by newcomer Alexi Shrimpton on guitar.
The whole band looked thrilled to be treading the boards again throughout their searing hour-plus set, which went well past the official curfew due to overrunning sound checks leading to the venue opening its doors around 45 minutes late.
Their set was a mix of tracks from the new album and classics from their time as post-punk trailblazers, as promised in Mark Stewart's recent interview with this writer. They opened with the angry, largely spoken word Nations from the new record which was greeted as enthusiastically as the following Thief Of Fire, the opening cut from their debut album Y.
Words Disobey Me from the same release was introduced as having been played at Eric's the last time they performed in the city, while the 1979 single We Are All Prostitutes was winkingly dedicated to "comrade Pete Wylie".
1980 single Where There's A Will There's A Way took on extra poignancy post-election with its chant-along lines "No one is defeated until they're prepared to admit defeat… join the undefeated". All the new songs went down almost as well as the old with a crowd that included a healthy quota of old school punks, as well as those much too young to have been born first time around.
A rousing We Are Time was an apt encore, with its "no fear of tomorrow" line that encapsulates much of what the band was, and also now is, about.
The main support was Zun Zun Egui, described by Stewart as "like a weird mix between jangular Television and mad Afrobeat chanting". There were also elements of post-punk, soul, hard rock and many other genres in their free-wheeling sound. They were like Malcolm McLaren's wet dream from the early 1980s for the future of pop, to the nth degree.
Mauritian guitarist and singer Kushal Gaya, in fetching brown boots with orange laces, began the set with some Creole audience participation, jumping off the stage to gather those nearest the stage around him for some traditional chanting.
They successfully overcame the hindrance of having drummer Matt Jones and Japanese keyboard player Yoshino Shigihara placed up high on a different level of the stage to the rest of the band. Their last song epitomised their range as it started off quite like Cornershop before a bass solo from Luke Mosse, then going all reggae and ending in a guitar frenzy.
First on had been local mainstays Strange Collective, who have moved on a lot since this writer last saw them at the Getintothis relaunch party in the Kazimier Garden last year. Back then, there seemed to be elements of Allah-Las, DC hardcore punk, Scientists and surf music in their hard-to-pin-down sound.
This time, Pixies and Creedence Clearwater Revival were added to the mix as they battled with some ongoing sound issues in front of a small but enthusiastic crowd. After playing what was proudly introduced as their first ever single, Sun, they closed with the epic Super Touchy.
A nod also goes out to the DJ who spun an eclectic series of records between bands, including Funkadelic, Pere Ubu, dub reggae and The Pop Group themselves.
Pictures by Getintothis' Peter Goodbody
Comments
comments