After riffing along the airways for 35 years Getintothis' Vicky Pea looks at why there's no stopping AC/DC's Back in Black, a runaway train that started in tragedy but ended in triumph. 
AC/DC's 6th album (7th if you're residing in Australia, in which case G'day) was one that could have easily never have been. After the sudden death of frontman Bon Scott at the age of 33 there was much speculation, and expectation, that the world had heard the last of the Aussie (but mainly Scottish) five piece.
Of course the album that followed will forever be recognised as a dedication to their fallen brother and as such every milestone anniversary of the record is equally and unfortunately the anniversary of his death.
On the morning of 20 February 1980 the lifeless body of Bon Scott was found slumped in a car in south London after a night of heavy drinking, and the world had lost another one of its stars to excess and misadventure, all too soon. As you would imagine in the wake of this loss and the subsequent tabloid controversy, the band had seriously considered separating. But with the support of Scott's parents they continued, quickly enlisting Brian Johnson who, of course, remains the front-man to this day.
Released just six months after Scott's death, this roller-coaster journey proceeded to be a record breaker in almost every way. Back in Black remains to this date the second highest selling album of all time. And the top selling album by a band… or an Australian artist… or hard rock album. In fact Thriller by Michael Jackson is the only thing that's ever outsold it.
On the way to shifting over 50 million copies they also became the first band since The Beatles to have four albums in the UK top 100 British charts (on release the band's three previous albums all re-entered the list).
Strangely, despite its universal success since, Back in Black only peaked at number four in the US charts resulting in another victory for British taste in music, as we sent it all the way to the top, hooray! Singles from the album varied in impact. You Shook Me brought AC/DC into the US top 40 for the first time and Rock and Roll Ain't Noise Pollution was crowned the highest charting track from the album at number 15.
The album's appeal does not just lie in its 'balls to the wall' rock 'n' roll, but also in its universally praised sound quality, which is even more impressive when you discover part of the recording process was based at Compass Point Studios in the Bahamas, creating drama of its own. Customs officers held a selection of their equipment which initially delayed progress and, due to sweeping tropical storms (the noise of which was inspiration enough for Hells Bells), electricity was occasionally intermittent.
Recording picked up again in the Electric Lady Studios in New York where it was produced by Robert John 'Mutt' Lange (Highway to Hell) and later mixed. So competent was this process in fact that Music City Studios use it to check the acoustics of some of their rooms and Motorhead use it to tune their sound system before gigs. High praise indeed.
Stepping up to the mic in place of a roaring Bon Scott wouldn't be easy. However, Brian Johnson sounds so incredibly alike to the former singer that it comes as no surprise that younger fans of the band can't tell the difference between the two.
Johnson got the gig after Bon himself had mentioned a performance he had seen by the lead singer of a band named Geordie, comparing him to Bon's idol Little Richard. It was coincidentally the same evening that Johnson was diagnosed with appendicitis, which explains his writhing onstage antics. We assume this means he has had to continue screaming in fake-agony ever since.
It was an easy choice for the band once they tracked him down. The first good sign came when they found him playing pool under the studio with the roadies (ever the newsboy-capped working gent), the second was his genuine fan's sadness for Scott's passing. The deal was sealed with a 'cut the mustard' rendition of Whole Lotta Rosie, and what a decision it turned out to be, especially when the only other singer in contention was Noddy Holder. Oh how different the world could have been…
The star of the record however is undoubtedly Young the…well younger, Angus. From riff to glorious riff, we would challenge you to find a record with so many popular hooks. You're probably singing one of them in your head now (do-dododo-dododo-dodododododo).
When kids across the globe pick up an electric guitar these are the riffs they start learning, they are the riffs that have ignited the passion in hard rock guitar players everywhere.Remember the satisfaction and the pride you felt the first time you pulled off Back in Black? 
Earlier this year we were at a folk gig where the artist took to the stage playing exactly that, just to quieten the chatter and give the audience an unexpected hit of warm, familiar notes. These are important riffs and not throwaway rock tunes, they put smiles on faces and bring out the air guitarist in even the most unexpected of people. Yes they are simple but AC/DC have always kept it basic. It's what makes them so accessible.
And, yes, there is something of the gimmick about schoolboy Angus but we'd say it's the perfect pre-emptive protection. Rock bands always risk becoming a caricature of themselves after enough time and the best way to deal with it? Be a gimmick in the first place.
There's no point taking yourself too seriously, especially when it comes to rock 'n' roll, and when you go to a show and see a 60 year old man hopping up and down the stage in a school uniform it's exactly what you'd expect. You'd be disappointed if he didn't, right?
It's a sign of a great musician to have the ability to make a mockery of oneself yet remain respected by both fans and peers alike. The proof of the pudding is in the eating – being officially named the greatest ever Australian guitarist ain't half bad, for a Scotsman.
The elder of the Youngs and the business brain of AC/DC takes the role of COO on the record, keeping everything on point and in balance, a world leader when it comes to rhythm guitar. Using open chords and going against the rock 'n' roll grain by keeping a tight leash on volume and gain, you won't find much overdrive in Malcolm's work which tends to be as understated as they come, and surprisingly understated is a word that applies to this record as a whole.
Yes, REALLY! A team player, Malcolm does what needs to be done, playing a major part in the creation of most of the material on Back in Black, as with a majority of the band's tracks. Cliff Williams follows Malcolm's lead throughout the album, both literally and in approach. Bass lines filled of mostly eighths and written in conjunction, or by, the Youngs, he openly admits he plays pretty much the same thing on every track and we ain't gonna hold it against him.
Honestly this isn't the type of music that would benefit from Flea on bass and their strength comes from knowing that. Paul Rudd's drumming was already an integral part of AC/DC's style by this point and once again relies on its simplicity. Everything about the sound of this album is punchy, together and formulaic. It's a huge credit to the band as a whole that they were able to produce such a great record, one that is also a lesson in teamwork and collaboration. You'll find no egos here.
Now in case your iPod is set to shuffle or you're a playlist playa we'd like to give you a lesson in hard rock history. In an album of ten tracks, five could arguably be up there with the most popular rock tunes ever.
The record starts with the slow and ominous tolling of Hells Bells as the signature double guitars make their presence known, followed five minutes later by Shoot to Thrill, the record's sexual awakening.
Bloomin' heck. Two tracks that went on to be included in every greatest hits, guitar anthems and Father's Day compilations for the next three decades. Songs received with joyous warmth by a crowd of 100,000 people of different ages, nationality and preferences.
That's just side 1, side 2 starts even stronger.
Back in Black, less of an ode-to and more of a celebration-of, is where we hear the first of Johnson's lyrical skills with the impeccable line, "Nine lives. Cats eyes. Abusing every one of them and running wild" summing up the endearing spirit of Bon. Strip club staple You Shook Me All Night Long became the first single to feature Brian on vocal and writing duty. To many fans it also cements Johnson's belonging to the band.
And they cap it all off with the record's highest charting single,the hard rock protest of Rock 'n' Roll Ain't Noise Pollution. Slotted between these hard rock hall of famer's are What Do You Do for Money Honey, the innuendo laden Given the Dog a Bone, the more literal Let Me Put My Love Into You, the bar brawler Have a Drink on Me and slacker story Shake a Leg.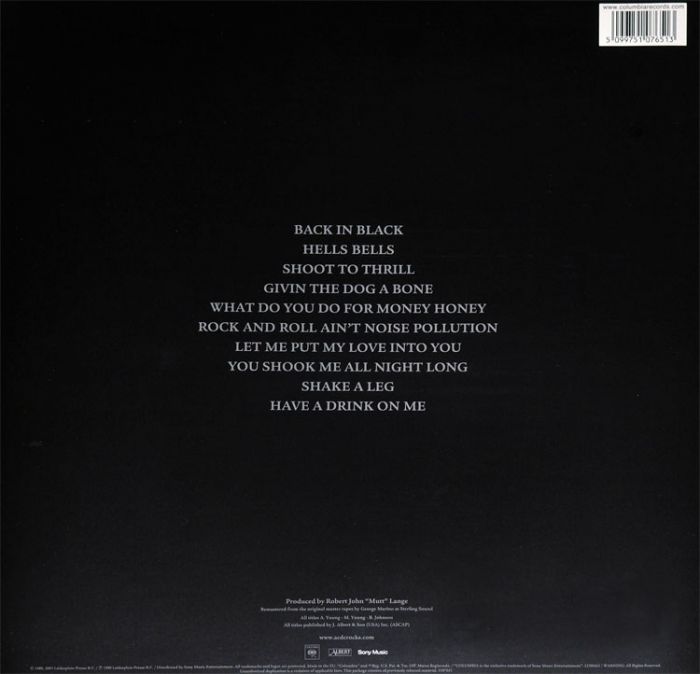 It wouldn't be a classic rock record without the iconic artwork to match. In a typically commercial discussion Atlantic Records had strongly disagreed to the all-black cover (it's called Back in Black for Christ sake! What were they expecting? I mean they were lucky to get an album at all, honestly!) however the band stood their ground. In tribute to Scott the release went ahead with its all-black cover art, if not for a small outline around the equally iconic AC/DC logo.
An image, and an album, that will last forever.
When the earth is in post-apocalyptic ruins we have no doubt that somewhere on a crumbling wall or cliff face there will be the same faded carving, that which has engraved school desks and been doodled in notebooks countless times over countless years. Four letters and a lightening bolt. Whatever mutant species rise from the ruins and find a strange stringed instrument to entertain themselves before the reinvention of the internet, this will be their gospel.
Comments
comments