As Tate Liverpool offer two readers free tickets to an exciting new exhibition, Getintothis' Paul Riley takes a look at the work of Jackson Pollock and his relationship with freeform jazz.
Jackson Pollock's art is divisive. Some rave about it while others dismiss it as infantile, yet it rarely fails to elicit a strong response. As a music blog, we infrequently take a leap into the world of art criticism, but Pollock's work has so much musicality in it that we felt the need to shout about it.
Most famous for his 1940's drip painting phase, Tate Liverpool's new exhibition will be the first in 30 years to contrast these with less familiar pieces including his later 'black pour' works.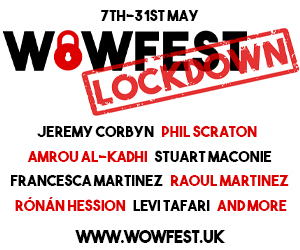 Born in 1912 in Wyoming, Pollock studied art at LA's Manual Arts High School before moving to New York in 1930 to study at the Art Students League.  He took a number of courses, seemingly undecided on what discipline he wanted to enter, but was influenced in this early period by artists such as Thomas Hart Benton, David Alfaro Siquieros and Pablo Picasso.
Picasso was, for Jackson, both a trial and an inspiration.  In 1939 he first saw Guernica, the famous piece Picasso painted in response to Nazi Germany's devastating casual bombing practice during the Spanish Civil War. Pollock repeatedly visited the exhibition, studying and sketching elements of the mural. This new direction was oppressively original, tantalising Pollock with its possibilities while daunting him with its brilliance. There is even a report of a temper tantrum: later in life, while studying a book of Picasso's works, he was seen to throw it to the floor, shouting 'God damn it, that guy missed nothing!'
Luckily, Pollock had other interests besides art.  He was a Jazz obsessive, and 1930's New York saw him regularly at venues such as the Five Spot club. This second love had a massive influence on his work, and on his eventual emergence from Picasso's shadow as the most important painter in contemporary Western art.
Helen Harrison, Director of Pollock-Krasner House and Study Centre, argues that are many similarities between Free Jazz and Pollock's work, as both show the technical mastery of an artist and his medium:
'There is form, structure and intention in the apparent randomness of both artistic offerings, and both the painter and the player, at the peak of their powers, rely on the skills, knowledge and technique of a lifetime's practice.'
Lee Krasner, Pollock's wife, described her husband as having no musical talent himself; he couldn't carry a tune and was an awkward dancer. He owned more than 150 records, mostly '78 rpms from the 30s and 40s, which can be seen at the preserved Pollock-Krasner house in New York. The collection is mainly concerned with traditional Dixieland, Ragtime and New Orleans releases including Jelly Roll Morton, Fats Waller, Count Basie and Louis Armstrong.  Krasner picked out his love of Jazz and specifically Bebop as a key influence on the development of his action painting technique:
'He would get into grooves of listening to his Jazz records, not just for days, day and night, for three days running until you thought you would climb the roof. The house would shake. Jazz? He thought it was the only other creative thing happening in this country.'
Many of the fragile shellac disks have suffered with the warm summers and cold winters, while all of them are battered and well-played – bearing out descriptions of Pollock's obsessive listening habits. However, contrary to the myth, Pollock never listened to music while he worked; there was no record player in the studio. In fact, until 1953, just three years before his death, there was no electricity in the converted barn. He painted to the accompaniment of silence, sunlight and cigarettes. Jazz, for Pollock, was a respite from his work as his intense painting sessions were often followed by low periods.
'Painting is no problem. The problem is what to do when you are not painting.'
The most commonly cited link between Pollock and Jazz is the improvisational nature of his creativity. This was noted by key art critics as well as musicians such as Ornette Coleman, whose 1960 album Free Jazz, features 1954's painting The White Light on the cover. Improv was the key to Coleman's musical revolution and to Pollock's work. Although Pollock himself was dead before Free Jazz came onto the scene, his disregard for established traditions helped show the way for the musicians who would go on to create that movement.
Pollock's most famous work can be seen as recordings of a live performance, 'I think it should be enjoyed,' he said 'just as music is enjoyed'. Beginning with a blank canvas laid on the floor, he would walk around and sometimes onto the canvas itself as he added colour, dripping paint from a height using hardened brushes, sticks and even turkey basters. In painting in such a way, Pollock created art that is a multisensory experience, physical as well as visual; his paintings see the with raw emotion, allowing the viewer to imagine his movements as he created them.
As he spurned the depiction of objects and worked from all sides of the canvas, there is no natural resting place for the eye.  Splashes of his subconscious are evident on close inspection of the work, a hint of a figure there, a familiar shape here, only for them to merge back into the painting on a second look. The observer naturally looks for meaning in the work, and the vibrant scraps which can be picked out through careful consideration of the patterns and colours are not unlike watching clouds: recognisable shapes come and go through their consideration, only to be repeated elsewhere, rather like recurrent themes and motifs in a jazz record.
It is sometimes asked whether his painting technique consciously emulated the improvisational playing of Dizzy Gillespie, Charlie Parker and Thelonious Monk, or whether the music had a more subtle influence.  For the purposes of this article, we will leave this unanswered, as what matters most is that one way or the other, Pollock's paintings are soaked in music. More cerebral discussions of his art are readily available for all to read, but we feel that too much rationalisation undermines the power of these canvases. In his own words, his art was a physical process devoid of any abstract thought, 'Painting is a state of being… It has a life of its own. I try to let it come through. I want to express my feelings, not illustrate them.'
If you are planning to visit the exhibition, you could do worse than organise a playlist for yourself. If you are a bit of a jazz novice, then allow us to give you some direction. Check out the tracklisting for New York's Museum of Modern Art compilation album, released to accompany their Jackson Pollock Retrospective, which features tracks hand-picked from his own record collection by the museum curators.
Tate Liverpool are celebrating the opening of Jackson Pollock: Blind Spots with performances in the Tate Cafe from the Martin Smith Band (Sat 4th July) and pianist David Fischel (Sunday July 5).
We are offering two free tickets to the event.
The winner of the competition will choose a date and we'll pass your details onto the Tate and you can pick your tickets up the day. Simply share our pinned Facebook post of this article for a chance.
* Lead image: Courtesy of The Pollock-Krasner Foundation ARS, NY and DACS, London 2015/
Munson Williams Proctor Arts Institute/Art Resource, NY/Scala, Florence
Comments
comments