As LIMF's summer delights wound down, Getintothis' Del Pike returns to Sefton Park to enjoy a perfect day in the sun, where he discovers the joys of The Shipbuilders, battles with ukuleles and rejoices in the sounds of his beloved Clinic.
The idea of spending a Saturday afternoon in front of Sefton Park bandstand listening to live music brings all sorts of expectations, depending on who you are. Those with memories of Larks in the Parks, Earthbeat and previous LIMF events will compare with previous afternoons spent, newbies may expect something different. Whichever camp you fall into, this weekend's final event in the park could not fail to disappoint and captured the vibe of a free summer festival perfectly, but with a definite sense of winding down into autumn. Later on in the day Alex Gavaghan described it as an Indian Summer which pretty much summed it up. More cardigans than last Saturday but chilled bottles of wine were still in evidence. The atmosphere was most definately chill.
Daniel Saleh opened the day with gentle folky acoustics that Shipbuilders' guitarist Andrew likened to Fleet Foxes, albeit a one man version. The bearded troubadour looked tiny on the stage that has always kept the audience a little apart from the artist, but a clear day and good acoustics ensured that his sweet vocals were heard. Saleh set the mood and was followed by the first of a series of truly inspired sets by DJ Walrus, who more than anyone today kept things on an even keel. Black Sabbath's dreamy Planet Caravan and Max Romeo's reggae classic Chase the Devil were absolutely the right choice, as was New Order's Blue Monday later in the day.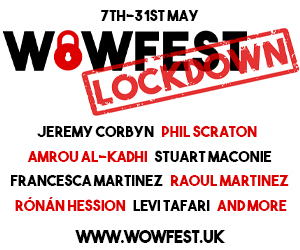 The Shipbuilders followed up with a clutch of songs, the likes of which, that could easily have been heard emanating from a Dock Road pub in the 60s. Working class Merseyside shanty-folk not a million miles from The Spinners of old but with a mystical Coral edge.  Opener Stranger's lament builds up with widescreen Ennio Morricone chords before blossoming into classic scouse folk rock. The band that includes two brothers Matty (Vocals) and Andrew (guitars) Loughlin have a strong catalogue of originals to draw from with Darkening vale, The Digsy's Diner-like River on the rise and Metempsychosis standing out. We caught up with the Old Swan brothers and asked them about their often uncanny likeness to much missed Merseysiders The Bandits. Matty told us this was a common remark but there was no intention there to imitate. They admitted to obvious comparisons with The Coral but insisted that they were more influenced by Michael Head, Arthur Lee and Galaxie 500.  Matty told me that their aim was to be a gypsy folk band and he has been driving his girlfriend mad with Bulgarian wedding albums. The Shipbuilders earned at least one new fan today (that would be Del).
Simply Dylan are not simply a Dylan tribute band, but in their words; a tribute to Bob Dylan. Vocalist John O' Connell does not imitate Bob but simply performs, in much the same way as The Byrds were once prone to do, with a tight as cling film band. It all sounds right too. Opting out of just playing the obvious tracks too makes for a refreshing performance, so classics like Just like a woman and Don't think twice it's alright sit comfortably with lesser heard songs like Precious angel and Senor. The band, particularly the female backing duo place the songs firmly in early 70s territory and recall the sound of Eric Clapton and Moondance era Van Morrison as much as Dylan from that time.
The Liverpool Ukulele Orchestra fill the bandstand and are very good at the expected retellings of old favourites like Blue moon of Kentucky and I saw her standing there. The ukulele craze is a lot of fun, and there appears to be much of that occurring on stage, but they stay in their comfort zone and don't break out of the good time sing-alongs which does make for limited entertainment unfortunately. They did bring a more mature audience to the park though which was good.
Alex Gavaghan, an enjoyable singer songwriter in the vein of a Liverpool Billy Bragg but slightly less agit-prop, opens with songs about ice cream men and bin men, which recall Bragg's The milkman of human kindness and the late afternoon crowd are happy to lap up his engaging lyrics and indie strumming. Mamatung also fit the summer festival bill to the letter too with their shared earth image, all red skirts, bells and beads. They make a beautiful sound too, East Asian influenced vibes with a range of instruments and a mean xylophone. Lyrics that yearn to go back to the land, and see lands with no borders are quite pertinent against the current news stories of unrest abroad.
Clinic finish the day with a much mellower set than expected, or maybe it's just the hazy atmosphere of a dying summer's day. This is the second time in as many months that GIT have found Crosby's Clinic playing to a diminished audience (see LIV-BCN review) but they seem oblivious (hard to tell under the masks), as they deliver another career spanning set in a short given time. TK is brought to a semi-dramatic close and the show is stopped for a few tense moments. Bassist Brian Campbell informed me the P.A. had blown up and gone on fire.  Brian was excited as this was an unlikely "Rock n Roll moment for Clinic".  Classic live favourites See Saw, Evil Bill and Children of Kellogg bring the audience back and close the day with a final burst of surreal energy. If the P.A. was knackered it was hard to tell as the fuzz-tone feedback of the final songs embraced the damage. We wish the band the best of luck for their gig in Tokyo on Tuesday but Brian informs us this is another Clinic whose news feed managed to get onto this Clinic's website. The surrealism continues. They are playing Oslo soon though!
The day was a brilliant way to end the LIMF / Sefton Park festivities and was easily as enjoyable as the events e previous la weekend.
Comments
comments