As Ian McNabb brings The Icicle Works back to Liverpool, Getintothis' Nick Maw finds out if they still have it 35 years on. 
Support for The Icicle Works comes from Thomas McConnell, a solo artist by title, but backed by an eclectic mix of six supporting musicians, who together deliver a set so attention-grabbing that it could have stood alone as a separate concert. McConnell's self-confessed Beatles obsession is immediately apparent in his choice of instrumentation, but his songs are never predictable, and are punctuated with abstract flourishes.
It takes a daring musician to improve a song by adding train sound effects, yet McConnell does just that. Having seven people on stage playing various synths, guitars, vocals, bass and drums perhaps sounds excessive, but it is McConnell's wide-ranging backing instrumentation that makes his act.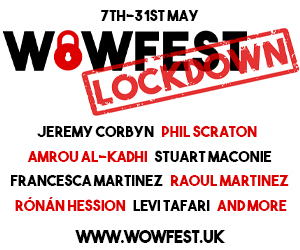 The Icicle Works arrive on stage to a now sizeable crowd, and kick straight into the powerful opener When It All Comes Down. McNabb happily tells his audience that he will be playing them 'a lot of songs', and the following two hour set doesn't disappoint in terms of material.
Although McNabb is the only member of the original Icicle Works group, his three bandmates on bass, drums and keyboard are excellent, and play and act as enthusiastically as McNabb himself.
As to be expected, McNabb makes various sarcastic comments and mock criticisms of his audience, much to their delight. His dry sense of humour and down to earth character is immediately entertaining, and his stage presence could teach some modern artists a thing or two about how to engage with an audience.
In between songs, he jovially takes us down memory lane with anecdotes of Liverpool nightlife of the 80s and 90s, before performing Hope Street Rag – itself a nod to an older Liverpool.
McNabb's wistfulness finds its way into many of his songs, and his offhand comment that "we've got an awful lot of great songs for a band that did fuck all" comes across almost as regret that The Icicle Works never quite achieved the level of appreciation that McNabb believed they deserved.
Regardless of this, his performance is exemplary: his voice is just as strong now as it was 30 years ago, and remains as central a part of the songs as ever. Equally, his lead guitar playing never once falters despite countless wild solos.
The final half hour of The Icicle Works' set is when the band fully gets into their stride, performing favourites Whisper To A Scream (Birds Fly), Love Is A Wonderful Colour and Understanding Jane.
After returning for two separate encores, McNabb makes a point of telling the audience how much he appreciates that there are fans who are still coming to see him play; yet, after witnessing the two-hour concert, it's easy to see why they do.
Pictures by Getintothis' Peter Goodbody.
Comments
comments