Shaking off the post-Psych Fest blues, Getintothis' Paul Higham dusts himself down for a night of intense, brooding and atmospherically ambient drone.
Putting on an event with what could perhaps best be described as having a niche appeal in the immediate aftermath of Liverpool's Psych Fest must be a promoter's worst nightmare. With tonight's acts drawing heavily on atmospheric and doom-laden ambience it is fair to assume that much of the target audience will have spent the preceding weekend ensconced within Camp and Furnace. And as we ourselves can testify, a psychedelic hangover can last for days.
From the outset It is immediately apparent that this gig will fall foul of the excesses of the weekend. Which was a crying shame as a sparse audience numbering in the low double figures witnessed an absorbing set of contrasting electronica from London's Moon Zero and New York's Oneirogen. The filling in the sandwich came from Liverpool's Dawn Ray'd, the members of which are perhaps better known for their work as We Came Out Like Tigers.
Opening act Moon Zero delivered a deeply ambient set that was redolent of strongly classical influences, bringing to mind pioneering mid-twentieth century composers such as Pierre Boulez and Karlheinz Stockhausen. A cinematic room-rattling opening – sounding like the opening scene from a Vietnam war film – gave way to a reflective and enveloping ambience.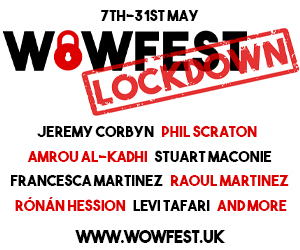 Creating beautifully sonorous effects, much like listening underwater, Tom Garrett weaved looped textured vocals and bow-played cymbals around hypnotically, mournful ambient swirls. In a perfectly paced set, this abruptly gave way to an arrestingly jagged cacophony of eerily gothic noise before returning to gentle soothing ambient textures as subtle changes in tempo and pitch beguiled and bewitched. Experimenting with noise, the volume lifted with endless swirls of whirring and hiss before gently and safely returning us to the underwater tranquility of the ocean bed.
Overall, an unclustered and profoundly beautiful set.
Offering something more arresting and altogether more powerful were Dawn Ray'd. Those who have seen We Came Out Like Tigers will not need any introduction to the threesome's bristlingly visceral post-hardcore. Offering a leaner yet, if anything, more intense sound than their former band, the group thundered and pummelled their way through a ferocious set.
The temporary lightness provided by delicate violins soon descended into something darker; the gentle replaced by a frantic bow-shredding frenzy as singer and violinist Simon Barr howled his tortured vocals into the Kazimier's empty spaces. In a perfect contrast to the electronic ambience that had preceded it, this was the sound of apocalyptic guitars that nonetheless carried its own sense of uncertain foreboding.
This was exemplified by the final song which, delivered after a lengthy condemnation of authorities across Europe and their reaction to the refugee crisis, shuddered with an authentic anger. Their set was short, but fans of We Came Out Like Tigers can be sure that, in Dawn Ray'd, there is a successor band more than capable of carrying the torch forwards.
Headline act Oneirogen has steadily built a reputation of one of the finest purveyors of dark, doom-laden ambient electronica that there is around. Not having heard his recent EP, and with this in mind, it is fair to say that his set was a surprise, if not an altogether unwelcome one.
What was clear from the beginning was that his music has evolved from the percussion-free brutality of the distorted ambience that was so characteristic of his earlier work. Introducing brighter synths and crisper beats, much of the music had a rhythmic pulse that contrasted with the accompanying walls of ambience.
This broadening of his palette, particularly when coupled with the addition of vocals, in some ways detracted: it removed a sense of cohesive singularity from the music. Of the vocals, they worked better when dark, howling and hinting at personal demons; later forays into more formulaic MC fare were less effective and we were grateful for the temporary failure of his microphones.
That said, the range of noises created together with the more-to-the-fore rhythms alluded to a sense of overwhelming claustrophobia and confusion that complemented the, at times, aggressively dark nature of his music. In a sense it mirrored the unease and uncertainty that we see around us, both at present and as we look ahead to an increasingly more precarious future.
Indeed, where we have been critical of a lack of cohesion, it is perhaps this very absence that gives Oneirogen's new work its own sense of being.
Pictures by Getintothis' Keith Ainsworth.
Comments
comments