As John Cooper Clarke prepares to pay two visits to Merseyside before Christmas, Getintothis' Del Pike looks back on his life and considers his status as a National treasure
Depending on your age, John Cooper Clarke can be one of many creatures. If you are old enough to have been a teenager at the dawn of the British Punk movement in the 70s then he was the spiky haired stick insect with death black glasses, ranting about how You'll Never See a Nipple in the Daily Express and obscenely expressing his dismay at living in Chicken Town. As a kid growing up in the 80s he was the slightly inappropriate friend of the Honey Monster in the Sugar Puffs ads. Newcomers to the world of John Cooper Clarke will find him in his probably least likely role as the voiceover artist on ads for Chips and The National Trust.
Doctor John Cooper Clarke is now embarking on a UK tour calling in at both The Philharmonic Hall (Oct 5) and The Atkinson in Southport (Dec 12) and who knows what to expect? On recent support to slots with The Buzzcocks, he appeared to leave his poetry pad at home. When we last saw him he shoehorned about three poems into his entire set and appeared to have become more of a raconteur and a social commentator in prose rather than rhyme. Given the evening to himself we can only hope that he pulls out his trademark musings and we get a taste of the JCC of old. His increased quota of poetry reading was certainly evident in his appearance at this year's Glastonbury, as was an unusually floppy hairstyle.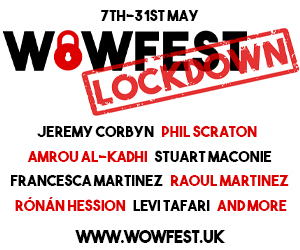 When on form he can astound. His rapid fire delivery of his multi-syllable verbal ammunition would leave the most able rapper standing. He was a rapper before rapping was invented. See how Plan B uses this to effect in Clarke's stellar cameo in his Ill Manors movie. Undoubtedly the best sequence in the film. His poems whether spoken or set to music are incredible, dark, funny, angry and often moving, check out Beasley Street to find all of those descriptions in one.
Salford born Clarke has been part of the Manchester story since the legendary Sex Pistols gig at the Lesser Free Trade Hall in '76. Popping up on the era defining Live at the Electric Circus mini-album in '78 alongside The Fall, The Buzzcocks and Joy Division, shacking up with Nico during her final destructive years in Prestwich and he was produced on album by God-like Martin Hannet, better known for his drug fuelled mental yet genius sessions with Joy Division. He even turned up as himself in Michael Winterbottom's Tony Wilson biopic Twenty Four Hour Party People in 2002.
This most Northern of National Treasures demands to be re-assessed as it has been a very long time since we have seen him doing what he does best, so we are blessed to have him visiting Merseyside on two occasions this year. His admirers include Stewart Lee, Mark Radcliffe, Jarvis Cocker and Paul Morley who amongst many others queued up to heap praise on the man for 2012's BBC documentary Evidently… John Cooper Clarke. The Arctic Monkeys are clearly fans too, utilising his GCSE syllabus-bothering poem I Wanna Be Yours for their lyrics on the same named closing track on their AM album in 2013. Uncannily it sounds like one of their own.  At 66 he is showing no signs of slowing down, and he sounds as fresh as he ever did on TV appearances, so we are expecting great things from these gigs.
Tickets are available now for both shows from the usual sources and evidence of the great man's genius can be found below. This writer can't find a good for you, but he can…Twat.
Comments
comments