Catching a swagger filled set by the Bohicas, Getintothis' Chris Flack finds himself more impressed with the two Merseyside support acts.
The word Sankofa comes from Ghana and means to reach back, to return. Being first on stage is tough, competing with chatty lads out front, chatty lads backstage, banging doors and flushing bogs while you wonder if you've locked the van. But there's an intrinsic joy in the noise Sankofa make, familiar yet different, a fresh sound that evokes the memory of another place in time. For a snappy set killed off too early the lads deliver that look back, bags of originality and attitude, a lot of appreciation and enough sparkle to drown out the noise. (And that's just the ethereal noise of the decapitated mannequin heads in the back room).
We stumbled across Sugarmen in a very literal sense. We were drinking with a friend from Dublin on the look out for a proper snug, somewhere we could talk about people safe in the knowledge they were in Dublin and we were 166 miles away, in a snug. We ended up in the Magnet, followed the noise downstairs and our curiosity was rewarded; unlike other ventures where we end up in cheap pubs that stay open longer than wiser, more suitable venues.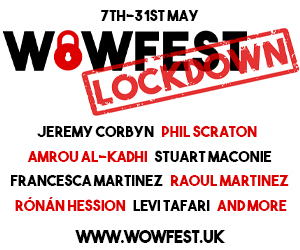 Read our review of the Bohicas set at Sound City 2015.
On this occasion, Sugarmen are a different beast. That punky, spiky pop that reminded us of less well received mid 90s bands has slipped into the middle distance. Replaced by a faster, almost electronic sound that comes with lyrics that mean something, come from somewhere and make sense. They were adrift in the middle and could have done with more room to experiment as the crowd swelled but we've got an itching for more.
The Bohicas are the big money, the final bout. When the moment arrives, the drapes are pulled off a beautiful drum kit, the bass player pulled away from conversations in the main room and the crowd gather. For us, The Bohicas are a bit too indie, the jeans a bit too skinny and they're a bit too reliant on rock and roll mainstays to seem original, but you can't fault them for decent start.
From the moment the bell goes on round three they're off, with barely time for a tune up between songs and a vitality that makes your reviewer feel old (and look tubby) it's obvious they know their craft and practice it well.  What they miss in originality they make up for in riffs and cockiness. The stand out track, bathed in sweat, fuzziness and red light is of course XXX, it's full of swagger but there's still that feeling of unfulfillment, the need for a greasy double cheese burger after the haute cuisine.
When the guitar tech is stood on stage, one foot on the wall, hands tucked in behind him like he'd rather be reading a book and you're thinking about making the last bus home then maybe that snug in the Magnet is the best place for you. Just don't rule out those late night tacky pubs and remember to buy bottles.
Pictures by Getintothis' Chris Flack.
Comments
comments