Punk's not quite dead! Getintothis' Joe Woodhouse finds Buzzcocks and The Membranes lingering on with the old spirit and energy.
Never mind the Buzzcocks, first there is The Membranes to contend with. A lot of support acts can easily slip through the cracks of the mind, forgotten by all once the main act arrives, but The Membranes wouldn't allow for that to happen.
The universe loving Blackpool band pulled out a collage of punk to post punk sounds, from Sex Pistols to Black Flag, with even a moment of Sonic Youth style instrumental experimentation! Strumming a guitar with a piece of metal piping is almost akin to Lee Ranaldo taking a drill to his guitar.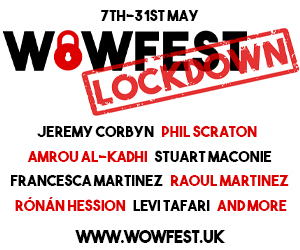 Lead singer John Robb wasn't ready to go down as a tepid support act either. He was jumping to the front of the stage, strutting back and forth to the noise, and even walking into the crowd while playing away. Space Junk was a hit, and the insights were invaluable. On the closure of the Kazimier, Robb mourned the idea of more flats and Starbucks being built in its place. Just how much coffee must one drink?
They might have looked like relics from the punk movement, but they didn't go down without a fight.
Ahead of it's closure, check out our retrospective of the Kaz's greatest moments. 
The Buzzcocks as the main act were a different type of beast. One much more accessible, but still part of the punk era. It's just a shame they began without the material which everyone knows and loves them for.
As a band which still releases new material (2014's The Way being the latest), you have to support it when touring live. Not doing so would display a lack of confidence in your own songs. And whilst a "best of" gig would go down better overall, it would feel like they aren't moving anywhere, a musical act purely on stage for monetary reasons. It's a Catch 22, so what are you going to do?
It wasn't for lack of talent nor enthusiasm, there was heaps of that. It was just an absence of creativity seen in their heyday. The speedy pop punk numbers blended together, like how a bag of different flavoured jelly beans always taste the same, despite what the labels say. People would tap their feet, but is tapping your feet really the action a punk song demands?
But the Buzzcocks had a plan, with an instrumental which led to all the hits everybody was hungry for. And the buzz only grew from here on out. It was like they were only doing sit ups at the start, before cracking out the heavy weights once they'd warmed themselves up.
What Do I Get? beckoned the mosh pits, and the mild intro was all but forgotten. Buzzcocks are a singles band, rather than an album band, and this was them playing to their strengths. They have a whole heap of alternative anthems, something most other bands can only dream of. It was only a few weeks back that this writer was watching Deerhunter play Why Can't I Touch? as their sing along finale, showing just how much influence the Bolton group have provided over the years.
It finished with a double whammy encore of Ever Fallen In Love and Orgasm Addict, leading to  the existing  mosh pit swallowing up the rest of the crowd who had stayed put for the previous numbers.
It made for a night full of upbeat punk fuelled energy, and one which carried the spirit of the Kazimier. Both are old, but both aren't ready to die just yet. Even when the doors close and the building crumbles, the spirit will surely live on.
Pictures by Getintothis' John Johnson 
Comments
comments