Circus founder Yousef talks to Getintothis' Ste Knight about his early influences, current mentors and what lies ahead for Liverpool's biggest club night.

Yousef has become somewhat of a Liverpool institution since the inception of his electronic mega-night, Circus. For 13 years, Circus has been drawing top acts from around the globe and the success of the night is testament to the hard work, dedication and passion of Yousef and his small, yet close knit, Circus team.
The club night began in 2002, when Crosby-born Yousef was looking to play his beloved house music to a crowd of like-minded individuals in his home town of Liverpool. It is fair to say that Circus has certainly intensified Liverpool's reputation as a glowing forum for dance-heads the world over – since Circus' opening chapter people have been coming from miles around to enjoy the night.
Championing emerging and established house artists alike, Circus has cemented itself as a global brand, enjoying popularity as far-reaching as Ibiza and Miami. The past is rich with glorious bills finely curated by their in-house team with Liverpool playing host to the likes of Sven Vath, Green Velvet, Richie Hawtin, Laurent Garnier and the like. All household names and all artists with whom Circus is synonymous.
Find out more about Laurent Garnier, the multi-faceted diamond of dance, here
As well as pushing his his club-night, Yousef also manages his own record label, Circus Records, and is a producer in his own right with a list of releases and remixes under his belt. With Camp & Furnace hosting the next big party on November 28 in a special double celebratory day-night combination, Getintothis thought it opportune to catch up with Yousef to find out a bit more about the man himself, the history of Circus and what to can expect for the future.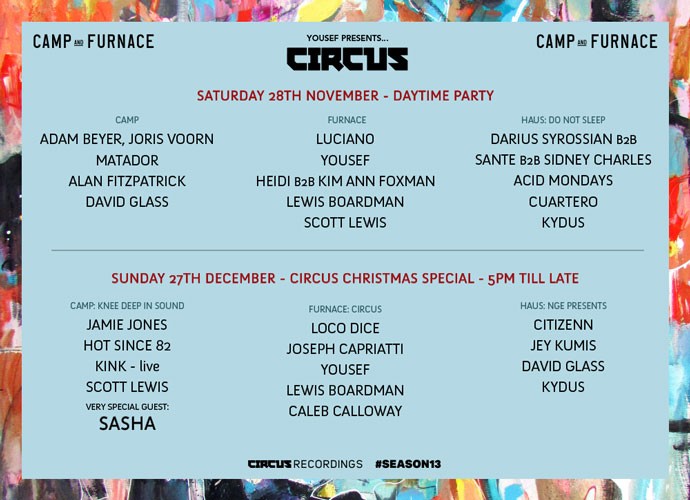 Getintothis: First off Yousef, for those not completely in the know about yourself, can you tell us where it all began?
Yousef: Hahaha! Bloody hell, well it first started from a love for alternative music. I grew up listening to hip-hop and early acid house then went on into rave culture and from that more sophisticated house and techno, and it was just really something I was always into from a fairly young age. I always wanted to be a DJ, so I just followed the path I had set for myself. Even from the age of thirteen or fourteen I wanted to be a DJ.
Getintothis: So that's where you really started off then, in your early teens?
Yousef: Yeah, I was trying to find a set of decks when I was about fourteen but we never really had any money at all, which sounds like a bit of a sob story, but it was true – growing up I was always skint so I never really had a chance of getting a set of decks. One day, lo-and-behold, some money arrived out of the blue and I managed to buy a set of turntables when I was sixteen, and that's really where it all started.
Getintothis: So what gave you that initial push to become a DJ?
Yousef: Well like I say, I was into hip-hop culture when I was young – I really liked the dancing side of the culture – but I was always kind of mesmerised by what the DJ was doing when he was cutting between two or three records. That is where my real interest lay.
Getintothis: From listening to you play over the years, it could be said that your style has certainly changed over time. You started of playing out a lot of Latin-style house, moving into a more of jacking house theme and now more of a tech-house or techno playlist for you. Do you feel this has been a natural progression for you or do you feel you have had to make these changes to move with the times?
Yousef: I wouldn't necessarily say it was a case of moving with the times, it is more the case that I would play what I thought was a hot record at the time. Before playing the Latin style house I was playing a lot of Derrick Carter style Chicago house, and techno as well. For me it doesn't matter whether it is Latin house or jacking house or techno – it's all house music to me. If it is a record that I'm really into, which connects with me in some way, be that as a DJ tool or a record I'm going to play through from start to finish, it's going in my record box.
Nowadays I seem to be recognised for having a more eclectic taste than perhaps I myself realise, including in terms of productions. I think this is because when you have been a DJ for 20 years you develop a really wide palate – you understand that playing a Latin record right next to a techno record is what is going to work.
Digging through history – read Getintothis' anthology of the greatest remixes of all-time
Getintothis: You've been working a lot with Carl Cox. Has he been a mentor for yourself both in terms of production and DJ style?
Yousef: I wouldn't necessarily say Carl was a mentor in terms of DJ style and certainly not my productions, but just seeing him play and being on the same stage as him is inspiring. One thing that Carl has taught me – subconsciously – is to do whatever it takes to rock the crowd. He is there to make sure that everyone in that room is having a good time.
I think that is one thing I've taken from him. I really respect all of our customers who have paid to come to our nights, so I have a rule. Even if there's one person in that room, I want to make sure he has a brilliant night. So many DJs will complain if the atmosphere in the room isn't working. That isn't fair on the people who have worked hard all week and have paid to come and have a great night. I really make an effort to make sure that no matter what the circumstances, I give them 100%.
Getintothis: Who else would you cite as an inspiration to what you do?
Yousef: Well in the very early days definitely Roger Sanchez, when he was a lot more underground when he first appeared on the scene. His deck skills were amazing and even to this day he's a phenomenal, unbelievable deck-smith, he's just ridiculous. Similarly, Derrick Carter for the same reasons. He plays different music but just seeing what Derrick can do with three decks is outstanding. More recently Laurent Garnier – what he does is second-to-none. It does change daily for me though and I never really stay in one place in terms of that. I love listening to Cassie – the energy she creates is really interesting.
Getintothis: Thinking about Circus, the club night has gone from strength-to-strength and it is now arguably one of the biggest house and techno nights in the UK. With Circus now entering its teenage years, what has the journey with Circus been like and what are the plans for Circus in the future?
Yousef: It's funny, someone pointed out to me that Circus was a teenager to me last week and my reaction was "shit, yeah, it is!" Circus has the same ethos now as it has had from day one. It was set up originally for me to be able to play in my home city of Liverpool, it is really important that I have a residency in a city that is so important to me and to be surrounded by people who want to hear great music.
It's about making people feel welcome and having a laugh. It has never been about one-upmanship, it's not about people coming in and trying to outdo each other – the whole point of it is to listen to new music, have fun and feel a part of the whole family vibe. That hasn't changed. Obviously the night has grown but on the whole the message is the same and that is about having a laugh. We're thirteen years in, but we are still trying to find that perfect storm of a night.
We've been bringing what are now huge DJs to the city for the first time – we gave Loco Dice his first UK gig. Similarly, with Davide Squillace. We do our best to keep a broad idea of what is happening and it is made a little easier because a lot of the DJs we have on are my mates prior to playing Circus. When I met Loco Dice, for example, he was tour manager for Timo Maas. Now he's one of the world's biggest DJs. There's no exact science behind Circus, we are just trying to have a party and move forward in Liverpool, in London and the parties in Manchester have been unbelievably successful. We couldn't quite believe it – they sold out in twenty minutes.
Getintothis: Does that come as much of a surprise for you? People have flocked from all over to go to Circus – if you're putting a party on there then the tickets are bound to sell out fast are they not?
Yousef: This is the big conundrum. Being right in the centre of it I can't see the wood for the trees sometimes. I'm just doing my best to try and rock the party from both a DJ and a booking point of view. Maybe I just don't always see Circus' popularity for what it is. It is great to have some success outside of Liverpool as well. We've done tours of Sydney, South America and it is really good fun. The record label is doing well now so the two facets help each other out. I've never been prouder of anything.
Getintothis: Have you got any horror stories you want to share with us from Circus over the years?
Yousef: It's not necessarily horror stories but things happen year-upon-year. A long time ago we had Jeff Mills playing Circus. Somebody in the audience threw a plastic cup at him and then the same person threw another plastic cup at him to get his attention. Understandably Jeff was was not happy and walked off stage. It turned out the cup thrower was in fact from a rival night who were really upset that Circus had booked Jeff and they hadn't, so they sent this person down to heckle Jeff and put him off.
That actually happened, and the individual involved wrote a letter to Axis Records and to his DJ agent (whom we know well) apologising. That was a horror story. On the flipside to that though even before we had woken the next day Jeff had been in touch to say it wasn't our fault and he had walked off stage out of respect for himself and us as a night. He gave us 50% of his fee back. That was amazing, that even though it was nine years ago Jeff held us in such high regard.

Getintothis: Obviously there's no time for petty squabbles when you've got such a heavy roster like you have.
Yousef: Yeah definitely. I haven't got the energy for it. The energy I have got; I want to do something constructive with it.
Getintothis: You've got a cracking back catalogue of solo productions under your belt up to now. What's next on the agenda? Are there any new releases coming up for us to look forward to?
Yousef: I'm making music every day in the studio for three or four hours. There's a new remix that has just come out on Bedrock for John Digweed and I'm really happy with it. It has been near the top of the DMC buzz-chart this week. It's called Track for Life. There's a new remix coming out on Stereo Productions in Madrid which is probably the most out-there record I've ever made.
There's another remix for Noir and my new EP coming out on Circus which is called Are You Ready? Its three tracks – Are You Ready?, Touch Me and another track called Wannabe. It kind of encompasses where I'm at now. One of the tracks is a big funk-based house record which is really chunky, the other one is a slow but tough techno record and another one on there is a more kind of straight up techno record. So you are probably right in what you said earlier, maybe I am more techno based at the moment but I just see it, when I play it, as house.
Read our review of Derrick May's Detroit Techno at Constellations
Getintothis: It's probably different for the listener. You're creating the music, but we absorb the music as a consumer and we possibly notice that progression a bit more perhaps.
Yousef: Yes, when I start playing I go through my playlist and my record box and I might have maybe 400 records that I want to play that I'll whittle down to about a hundred. When I walk in the room I have to decide whether I'm going to play it up a gear or down a gear or keep it in the middle because it's hard to know until you actually start what is going to be appropriate. Sometimes going the other way works – instead of playing a big tough record, play a deep one and then you'll really understand what the room needs at that point.
Getintothis: What kind of studio equipment do you like to use? Are you a hardware connoisseur or do you prefer to stick to VST?
Yousef: Both really. It's really important to have various textures. If you just use digital – which is fine, you can get some immense sounds out of it – you can tell. I've got my Korg MS2000 which is nicely analogue. Sometimes they're great even if you just want a bass sound. I've got my Moog Little Phatty and I got some really tight, gnarly analogue drums out of that which I used on Wannabe. If you couple that with a wide range of sounds that's how you get a thick dynamic and that's what I always like to play.
You probably notice that most of the tunes I play are chunky and I like to think some of the tunes I make are quite chunky too. That is achieved by having a wider palette in the studio. You can tell if someone has made a track in Ableton using the internal soft synths because, unless you are a real master, the track can sound a bit rough around the edges.
Getintothis: You're never really going to beat the sound of the analogue equipment.
Yousef: No, you're really not and I'm finding myself going more and more back towards analogue. But I do use a softsynth package called Arturia, which has got an amazing collection of classic synths on there. In fairness it doesn't sound that different, you'd have to be a real tech geek to tell the difference and pick out if it is analogue or digital. I like to have a wide mix of equipment.
It's all about experimenting and to be honest I do find it easier to use the digital packages at times. Even though I'm a somewhat accomplished producer in some respects I'm still not a super tech-nerd – I don't sit in my studio all day reading manuals. I just work through trial and error.
Getintothis: Last of all Yousef, we've got some amazing acts coming to the fore from all corners of the earth. Who would you say was hot right now and have you got any tips for some upcoming artists we should be keeping an eye out for?
Yousef: I've got to give my boys Acid Mondays a shout. Alex Wolfenden has been with Circus since day one and has been living out in Ibiza for a while now. He's recently reinvented himself as Acid Mondays. They're doing really well.
Obviously I've got to mention our resident Lewis Boardman – he is rocking at the moment. He's got releases on Moon Harbour and Cadenza. Lewis is going form strength to strength and he's on the tongues of people like Tanzmann, Squillace and the DC10 crew as are Acid Mondays, so they're definitely my tips to look out for.
Yousef and Circus have got their all day party coming up on the November 28 so get yourself down there if you want to catch some amazing acts including Adam Beyer, Alan Fitzpatrick and Luciano.
Comments
comments