Ahead of a Studio 2 slot supporting Tom Low, Getintothis' Paul Fitzgerald sings along to A Lovely War's new single – and enjoys their video of lighthearted tomfoolery in Barcelona.
A Lovely War is the product of one Sean Keogh and a cohort of his good friends, and he's been rolling out his brilliantly constructed and instantaneously likeable brand of quirky pop songs for a few years now. More quirk, in fact, than you could wave a particularly quirky stick at.
Taking influence from everywhere he can, from The Beatles to Monty Python, TV adverts, jingles and all points in between, his love for the old, the quaint and the downright wonky knows no bounds. Often, what Keogh gets up to under the A Lovely War moniker shouldn't work. It really shouldn't. But good lordy it does.
Read our introducing piece on A Lovely War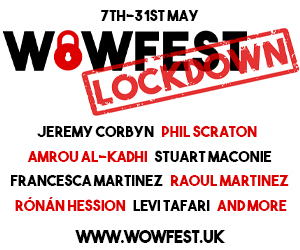 With Maxine, We're Alive, he's constructed a song of such breathtaking simplicity, such in-your-head-for-days catchiness, its hard to believe the song isn't 30 years old. The sort of song that's familiar before you've even heard it. Yeah. We know. Mad. A harpsichord intro, some old school, (by which we mean actual school, as in school music lessons) keyboard riffs, an offbeat reggae strummed acoustic guitar, and a quintessentially English pop vocal styling, all add up to the whole of this beautifully dumb, and wonderfully pleasant tune.
Maxine, We're Alive sees him in a playful mood, relying on his trusty second hand shop Yamaha 80s keyboard and its on-board 'synth' sound, he finds a simple melody and runs with it. It's a proper poptastic, and in parts, a psychedelic breath of fresh air, free of pretence, and absolutely lacking in bullshit. It's honest, true, and ridiculously simple. But it works.
As he prepares for a support slot for his good friend and one time collaborator, recent Deltasonic signing Tom Low (who supplies the guitar solo here), at Studio 2 on December 16, he's released this new video for Maxine, which finds him and the band partaking in considerable amounts of tomfoolery on the streets of Barcelona, and there are cartoonish moments of Monkees influenced madcap behaviour to emphasise that of the song.
A Lovely War – an interesting, and often fascinating pop propostion, to be sure. One man, some daft and lovely ideas, a bunch of mates, and some frankly brilliant moments of musical wonder. Another one to add to the already overstretched 'one to watch' list for 2016. It's all really rather splendid, and more power to their quirky elbow.
Comments
comments