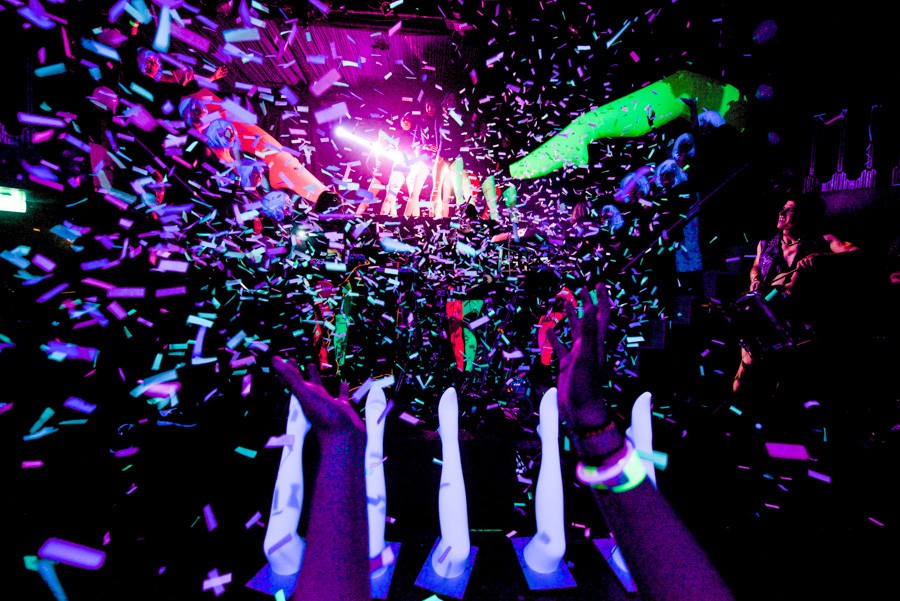 For their final Mythopoeia at the Kaz, Stealing Sheep pull out something truly special. Getintothis' Glyn Akroyd went along for the ride. 
Having ushered in the New Year with Mythopoeia ll Stealing Sheep usher in the end of the Kazimier era with Mythopoeia lll, based around their experimental electro dance piece, Legs. As always, an evening with Stealing Sheep promises to be rich and varied, both musically and artistically.
Looks like John Lewis are missing some legs from their shop window display because here they are, spookily disembodied, hanging from the ceiling in front of the Arts Academy stage, glowing alternately pink and green as Bathymetry kick things off to prove that they are on a steeply curving upward trajectory. The trio deliver a sure fire set of well crafted songs performed with panache and passion.  As the applause dies down a detached, robotic voice proclaims "The party continues next door with James Canty, the party continues next door…"
James Canty has an easy, personable manner and his poetic reflections on love and life are delivered with utter conviction in rich tones which hint at his Essex background. A good sized early crowd appear to be either already aware of his music or quickly learning to appreciate his well balanced blend of folk balladry and rootsy rock. There are hints of early, acoustic Bowie and Nick Drake in songs like Love and Putney Bridge but when the band kick in Canty proves he can come up with a killer riff when he wants to.
Ahead of it's closure, check out our retrospective of the Kaz's greatest moments. 
Nadine Carina shifts the perspective with a set of danceable synth pop and back in the club Lunch perform a set which veers between wildly discordant electonica and dance floor fillers, the go-go dancers on the gallery giving it the visual feel of a '60's pop show.
The device of using the automated voice to announce the act about to start works really well ("dance, cry, are you ready…?") and it's interesting how, despite it's increasingly prevalent use in our daily lives, this can still seem futuristic and – although firmly tongue in cheek – slightly disturbing.
We are directed back to see Joey Fourr blast out a superb, CBGBesque set of power pop androgeny before being informed that "The Main Spectacle of the night begins – do not miss…"
….a swirling organ plays to a darkened, packed club illuminated by the odd lightening flash before searchlights begin to sweep across the stage and the crowd. Stealing Sheep's Legs is a visually extravagant fusion of Black Light Theatre, Busby Berkeley choreography and Mary Quant fashion, all played out to a pulsating electro-dance soundscape which leaves the crowd open to a charge of dancing whilst looking amazed. The Deep Throat Choir descend from the gallery, egg-shakers in hand, for a shimmeringly percussive finale.
If that is a hard act to follow, Stealing Sheep have a few tricks up their sleeve, most notably Figs In Wigs, who come on like extras from Woody Allen's Sleeper via Hot Gossip on laughing gas, sporting hairy silver jumpsuits and illuminated bum bags. They can play too. "I love your guitar" shouts one member of the audience as a plexiglass axe is strapped on. The singer swigs from a water bottle and proceeds to gargle out a vocal, water spraying the cavorting crowd. A Cilla tribute, Cilla Black Bean Sauce, which food-puns the likes of Edwina Currie, Marc Almond, Madonna Kebab and Kale Winton, brings the house down, its titular refrain being randomly repeated long into the night.
Dutch Uncles, with vocalist Duncan Wallis' notable 'tai-chi on speed' dancing, Outfit and the Deep Throat Choir all throw down accomplished, well received performances.
Bearded boys in sparkly skirts dance with beautiful girls, but there's no time to mourn the impending loss of all this because right on cue Pins come along and literally blast any such thoughts out of our minds with a high energy, post-punk blow out of infectiously sleazy riffs, black dress-blonde hair posturing, great melodies and watertight rhythms.
Stealing Sheep delivered on the promise. Absolutely fabulous.
Pictures by Getintothis' John Johnson
Comments
comments