Getintothis' David Hall reports on a somewhat inauthentic but nevertheless enjoyable evening spent with 60s survivors The Zombies.
The psych circus wheeled into town on Thursday night, as the Arts Club hosted the welcome return of The Zombies.
Their reformation is a precious opportunity particularly to take in their Odessey and Oracle work, released when the group were in their youth and straining at the creative leash. Rather than seeing them as visionaries to rival The Beatles or the Stones, or even to tap into the evolving psychedelic movement of the time, record company suits sniffed at the group's efforts, and they eventually disbanded without ever really promoting their finest work.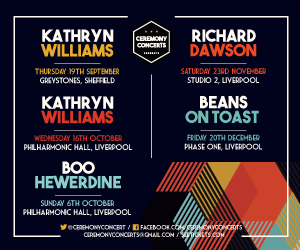 First onstage however was Josh Flowers and The Wild, whose support slot UK audiences have apparently taken such a shine to, the band had run out of CDs at the merch stand three dates short of their run. It's hardly surprising, given the hugely enjoyable mix of gutsy, rootsy Americana with the addition of cello they served up. With a stomping, bluesy sound bordering on the gospel at times, the London four-piece lit up the Arts Club stage with cellist Squiff's contributions of barked, soulful backing vocals. He's their trump card on almost every song, his strings at times adding a chugging body to the bass, at others plaintive, snaking melody lines atop some pummelling but intricate drumming and solid, catchy songwriting. Altogether a wonderful thing – a wonderful thing indeed.
The Zombies' core members have spent the years since their dissolution in troubadourish fashion, singer Colin Blunstone going solo whilst keyboardist Rod Argent and songwriter/producer/performer Chris White formed 70's pop-rock band Argent; more on that later.
White has since called time on his involvement with the band following a reunion tour in which Odessey and Oracle was played in full, leaving Blunstone and Argent as the remaining original members. Blunstone's voice is still absolutely on point – a curious mix of fey affectation and operatic foghorn – and his slightly gawky charm came across endearingly throughout. He powered through opener I Love You and delivered a very good Tom Petty impression on I Want You Back Again (who has covered the song several times since its Zombie origins), its hanging, suspenseful piano chords paying off deliciously in the chorus. The band and Blunstone also clicked well on a faithful cover of Solomon Burke's Can't Nobody Love You which matched the band's sound well, full of masterly 60s chord changes.
Guitarist Tom Toomey finally coaxed a decent clean tone from his gear on Caroline, Goodbye halfway through the night, his default slightly crunchy, overdriven guitar sounding slightly inauthentic at times. His chops elsewhere like on You've Really Got A Hold On Me similarly are impressive but misplaced, although the majority of the crowd lapped it up.
As Argent announced five songs clustered together from Odessey and Oracle, both the tightness that the mini-set brought to the band and the excitement imparted onto the audience was palpable. Brian Wilson or Lennon and McCartney would have been lauded to the skies for writing a song like A Rose For Emily; a lurching, peculiar time signature gave its piano a pleasingly woozy seasickness, capturing the spirit of Wilson's long-lost composition Surf's Up or The Beatles' For No-One. Its stripped-back arrangement and gothic lyrical theme provided one of the set's highlights, as did following up with Odessey opener Care of Cell 44. Another troubled narrative which connotes a male narrator awaiting the release of an abusive partner from prison ("Kiss and make up and it would be so nice" sings Blunstone over a ringing, high-fretted bassline), it flourished into braying, psychedelic backing vocals and climbs in key. Time of the Season's Latin drumbeat and offbeat handclaps still captivate, even if some lines such as "What's your name? Who's your daddy? Is he rich like me?" came off as a little creepy when sung by men old enough to collect their pension.
From there, the band diverted into a smattering of tracks from their recent album Still Got That Hunger; the new material came with both positive and negative aspects, as you might expect of a group not readily known for their recent compositions. Maybe Tomorrow came complete with a just-about-believable anecdote revolving around Paul McCartney – a publishing tiff Macca apparently stepped in to sort, as the outro segued needlessly into the chords, lyrics and vocal melody of Yesterday – which is really the most remarkable aspect of the song. Edge Of The Rainbow stood out as the most classically Zombies-esque offering, its lovely baroque pop piano chords and This Will Be Our Year (which also got a well-received outing) backing vocals in particular, but its unoriginal guitar line only descended into cliché.
With the set drawing to a close, the band tangentially took off into a ten minute-plus version of Hold Your Head Up and a set-closing God Gave Rock and Roll To You, and suddenly we were at a fucking Argent concert. To be fair the crowd seemed to love it, but forgive us for thinking we'd come to see The Zombies, not the many projects and keyboard solos of Rod Argent. Which there were a lot of, the band going through the motions, holding things down as Argent went off on one, Blunstone either motionless or disappearing offstage entirely. It was indulgent to say the least, not to mention a little too prog for comfort, and clearly signposted that The Zombies is definitely Argent's baby.
Which prompts the question, what makes Argent a facepalm dinosaur act and The Zombies quirkily cool? The answer is undoubtedly that The Zombies' strength lays in glistening micropop gems like Tell Her No and She's Not There, both of which stood out for a lightness of touch missing from the Argent tracks, although it's understandable that more expansive material was drafted in to embellish their set.
We imagine it's difficult to play dozens of two-and-a-half minute pop songs from the 60s every night. Then again, that sounds pretty much ideal.
Comments
comments